Stadion Luzhniki
Capacity
81 000
1,700

(VIP seats)

5,976 (1,944 in 102 boxes)

(Business seats)

292+292

(Disabled seats)

Country
Russia
City
Moscow
Clubs
-
Floodlights
2000 lux
Inauguration
31.07.1956
Construction
1955–1956
Renovations
1979, 1996, 1999, 2007–2008, 2013–2017
Cost
RUB 26.6 billion (2013–2017)
Design
SPeeCH, Mosinzhproekt (2013–2017)
Engineer
Metropolis (2013–2017)
Contractor
Mosinzhproekt (2013–2017)
Address
Luzhnetskaya nab. 24, 119048 Moskva
Luzhniki – stadium description
In late December 1954 USSR authorities decided that Moscow Leeds a major stadium, worthy of the empire it was supposed to represent. Uncovered terraces for app. 103,000 people were designed and construction started already in Spring of 1955. The massive stadium took only 450 days to be ready for opening, despite the need to install some 10,000 piles in the ground to secure future stability. Resources needed for construction and equipment were brought to Moscow from all parts of the USSR, including Belarus, Lithuania, Armenia and distant regions of Russia. Cost remains unknown, but to show how important it was to finish this stadium in time, let us just say that a whole district of housing was halted in order to have sufficient resources for new Luzhniki stadium.
Single-tiered bowl for spectators was erected on reinforced concrete and hidden behind monumental facades from the outside. Over the whole venue were four giant floodlight masts that lasted until roof was installed in 1996. Then came conversion to all-seater mode in 1999, that decreased capacity to around 80,000. Corruption charges were raised when it turned out seats were provided by a company belonging to Russia's richest woman, wife of Moscow's mayor.
It's hard to name one sporting event that hasn't been played or planned in the near future here. Summer Universiade in 1973, Summer Olympics in 1980, Youth Olympics in 1998 and Athletics World Championships in 2013. The list goes on with football fixtures – UEFA Cup final in 1999, Champions League final in 2008, World Cup final in 2018. Then comes rugby World Cup 2013, domestic cup finals, major Moscow derbies and other games by Moscow's largest clubs.
There are also many non-sporting events in history of Luzhniki. Concerts of World's biggest stars (Madonna, Michael Jackson, U2, etc.) and political rallies are on the list. There is also a tragedy that took place here in 1982, when many people died. Due to official propaganda, number of victims remains unknown to date, estimates starting at the official 66 victims and ending at over 350, according to independent journalists.
2018 reconstruction
The largest ever reconstruction in the stadium's history took place ahead of the 2018 World Cup. Several variants were under consideration, including demolition of the whole stadium and construction of a futuristic weatherproof arena in its place. Eventually a compromise was found between old and new as Moscow authorities decided to retain the historic walls and existing roof of the stadium. This created a shell under which reconstruction was to take place.
Such move was possible also thanks to FIFA who agreed to lower the minimum capacity requirement from around 90,000 to 80,000. With lower number of seats it became possible to create a brand new seating bowl inside, for the first time in history without a running track. The new layout fits just perfectly, with the uppermost row being placed 37.5m above the field, just under the roof. Eventually almost 81,000 seats were enabled, divided into two large tiers and a thin strip of 102 private boxes between them.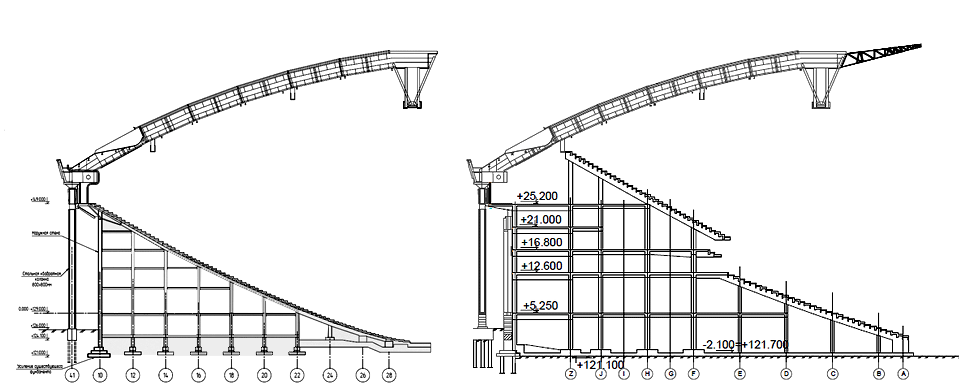 Removal of the olf seats began in the summer of 2013 and, following demolition of the old stands, actual construction followed in early 2014. Though the contractor received 42 months to carry out the project, the company did what was possible to deliver it earlier, eventually allowing handover in June, 2017.
Thanks to the stands being moved closer to the field, vast new infrastructure was created underneath the auditorium. The stadium grew to 6 floors and with floor space of 221,000 m2 it became one of the largest in the world. This created room for extra facilities, like VVIP parking sites under north and south stands, which in turn helped to preserve the green realm around the stadium itself instead of covering it with asphalt.
Change in seating layout forced a change of the roof itself. While all of the old structure was preserved, additional 7,000 m2 of translucent sheets were created around the inner edges to properly protect fans in new front rows. The whole roof received new cladding with lighting installed within it, which makes Luzhniki's roof the largest video screen in Moscow.
Extension of the roof also prompted a change in the field type. Instead of natural (2008-2013), the world's most modern hybrid turf was installed to withstand limited ventilation and sunlight access, as well as harsh Moscow winters.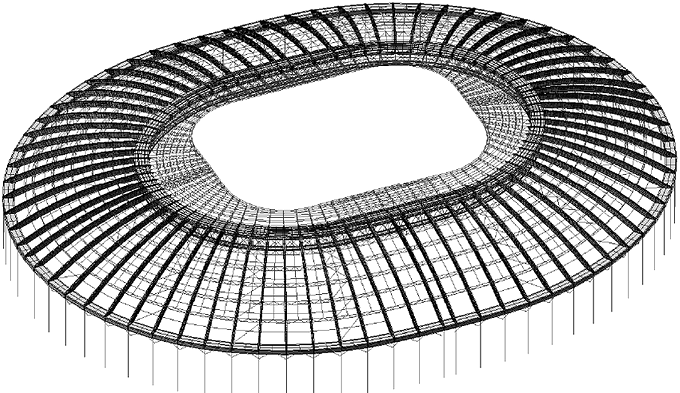 Related news
2018
2017
2016
2015