Lyon: Financing secured, construction to start in August
source: info-stades.fr; author: michał
Time is running out for Euro 2016 venue in Lyon, but finally the funding is in place and works can restart on site. Olympique owner plans to spend over €400 million ($530 million) on the new home.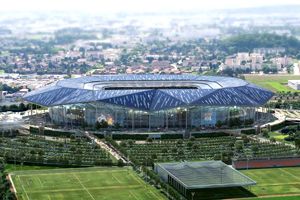 Although preparatory works in the outskirts of Lyon began in early 2012, actual construction works haven't began to date. In February the contractor was selected (Vinci), but without all funding in place the club could not go ahead with its plans.
The problem for Lyon's new stadium is its 100% private funding, a unique case among Euro 2016 venues. Only the road infrastructure and ground works are covered with public resources.
Meanwhile the stadium's budget stands at impressive €405 million (or $530m). This sum is to have two major sources. According to club president Jean-Michel Aulas €135 million ($180m) will come from the club's own resources, while further €144 million ($190m) is a bank loan, now secured. Remainder is to come through club revenues and construction deal structure that sees Vinci participate.

This seems like a huge burden for any football club, but Aulas assures that once finished, the stadium will give Olympique a competitive advantage over all of the Ligue 1 rivals. Stadium revenues are estimated at €70-100 million annually.
Construction is to start on August 1 to end in the middle of the 2015/16 season, within the 6-month buffer set by UEFA ahead of Euro 2016.