Lyon: Contract signed, new stadium in 30 months
source: StadiumDB.com; author: michał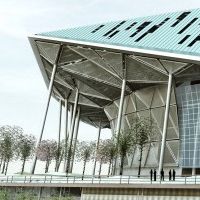 Despite not having all necessary funding sorted out yet, Olympique Lyonnais signed the contract with Vinci to deliver their new 61,000-capacity stadium within 30 months. This means yet another delay compared to initial plans.
Yesterday OL signed the contract with Vinci to carry out construction at the site of future Stade des Lumières. Despite this step being long anticipated, it brought some relief with delays being a real plague. Should the stadium be built along initial schedule, it would already be operating (!), while it's only at preparatory works, before actual construction.
No wonder media in France seem very satisfied with Olympique and Vinci breaking the deadlock – the two sides have been negotiating contract terms for several months. As a result, previous schedule giving delivery date at late 2014 is already outdated. The new 61,000-seat stadium is now expected in mid-2015, within 30 months of yesterday's deal.
This means Stade des Lumières is already at UEFA's deadline for Euro 2016, set at one year before the tournament. Any further delays may mean special attention from the European body.
Ironically, neither the complete cost, nor funding sources are safe yet. Olympique Lyon is reported to hope for a €300 million price tag, but a €400 million one is more probable. Meanwhile public authorities (the stadium is expected to be financed by federal, regional and local authorities) are still fighting opposition to the project, in order to secure necessary funds.