Tongling Sports Center Stadium
| | |
| --- | --- |
| Capacity | 30 000 |
| Country | People's Republic of China |
| City | Tongling |
| Clubs | - |
| Inauguration | 2015 |
| Construction | 12/2010 - 2015 |
| Cost | CNY 700 million |
Tongling SC Stadium – stadium description
New provincial sports complex in Tongling was envisioned as part of a Massie expansion of the city to the North. New districts were planned and delivered (from 2008 onwards) largely within previous wet farmlands. No wonder the sports complex required 2,500 piles to be driven into the ground to stabilize future structures.

The stadium itself occupies 44,111 m2 out of vast 23.5 hectares and stands at the heart of the complex. Next to it a 5,000-spectator indoor arena and a secondary stadium were built. The main stadium itself provides 6 floors of infrastructure at peak (west stand), but majority of its infrastructure, including numerous changing rooms, is located at ground level with the 2nd floor being devoted to the main promenades with toilets and catering facilities.
The stadium clearly stands out in local landscape thanks to its bright red colour and dynamic, sharp shape. At the tallest point it rises to 47 meters and is designed to resemble a blooming flower bud, celebrating vitality and nature.
The only problem of it is actual delivery of the stadium. Ground was broken back in December 2010 and was then halted due to funding shortage just several months later. In August 2013 it restarted again to see the stadium almost complete by 2014. Except that it then took several more months until the international-standard running track and actual field were laid in mid-2015. The project was 99% ready back then and was considered delivered by the end of 2015, but to this day we haven't found a single photo with all 30,000 seats installed inside…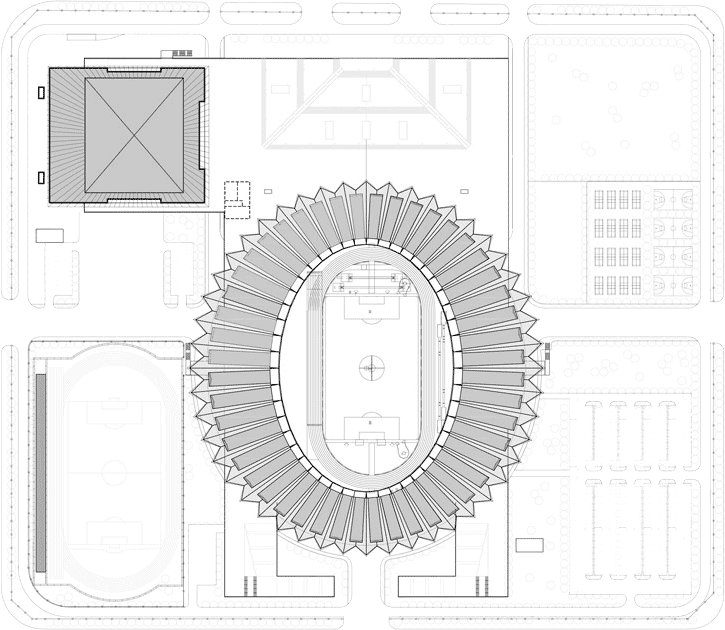 Related news
2016