USA: Your stadium guide for MLS 2021 is ready! [Western Conference]
source: StadiumDB.com [KT]; author: Karol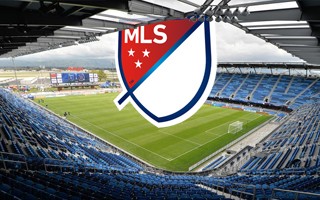 MLS is finally back! Ahead of the new season, first ever with 27 clubs, we have for you a stadium preview. Time for the 13 venues from the Western Conference.
The 2021 season will see all 27 MLS clubs compete in 34 regular season matches, 17 home and 17 away, with an emphasis on intra-conference regional play. At the end of the regular season, the top seven teams from each conference will qualify for the Audi 2021 MLS Cup Playoffs, which begin on November 19. The MLS Cup final will be played on December 11. Find here the following update from each stadium, including presentations of few brand-new places, several with significant improvements and many unique and classic ones.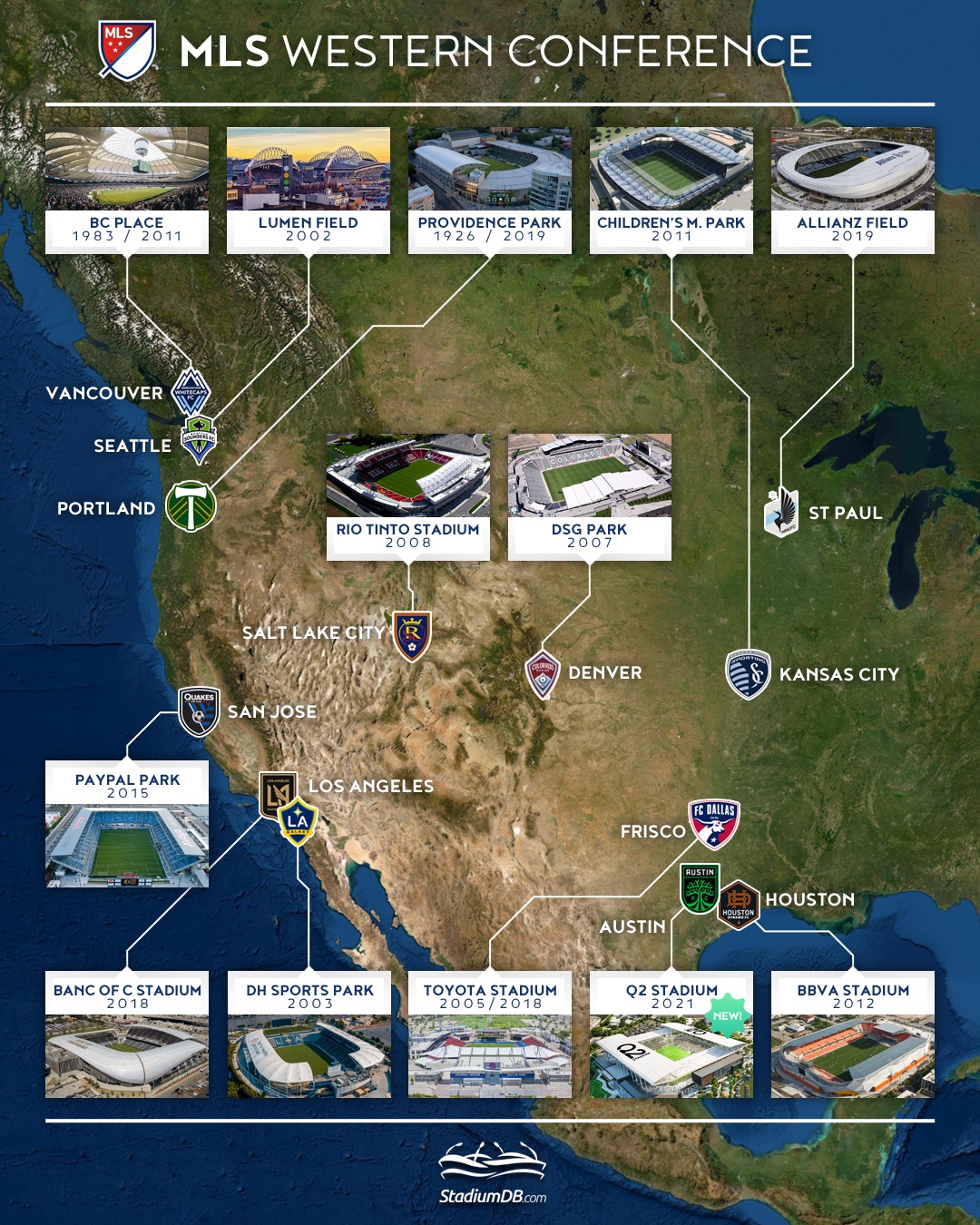 Fan attendance for the beginning of the 2021 season will be limited in order to follow social distancing protocols set in place by local and state guidance. What is more, due to travel restrictions between the U.S. and Canada, the three Canadian clubs will play MLS regular season matches in the following U.S. cities and venues until a return to their home markets is permitted: CF Montreal at Inter Miami CF Stadium, Toronto FC at Exploria Stadium and Vancouver Whitecaps FC at Rio Tinto Stadium.

Austin FC | Q2 Stadium
Austin FC joins Major League Soccer for the 2021 season, also opening the brand-new 20,500-seat Q2 Stadium. The venue designed by Gensler will host its first game on June 19. MLS debutant will compete against San Jose Earthquakes on that day. The multipurpose venue has been strategically designed to accommodate a variety of community and spectator events, including (but not only) professional soccer events ranging from MLS to U.S. Women's and Men's National Team matches.
The 27th club in MLS has recently announced a major sponsorship deal. Long-term stadium naming rights agreement with financial solutions provider Q2 Holdings seems to be a very important step in the new football history of the capital city of the U.S. state of Texas.
The $260 million brand new stadium is equipped with a unique species of grass which will be used in MLS for the very first time, picked to meet the demands of the MLS season, and also as a solution to the shade created by the stadium design. It will also be used during the 2022 World Cup in Qatar, as the exclusive turfgrass for all stadiums and training sites. 6,000 seats are also equipped with the breathable mesh seating technology so that the seats won't be as hot if in the sun all day.
Colorado Rapids | DICK'S Sporting Goods Park
Rapids, eliminated by Minnesota United in Round One of Audi MLS Cup Playoffs 2020, have not said their last word in the MLS competition. Predicted by experts to finish the next campaign 5-7 in the West, the team will compete in DICK'S Sporting Goods Park. The fully-lit soccer complex comprises the 18,000-seat home stadium of the Colorado Rapids and 24 full-size fields (22 natural grass and 2 synthetic turf pitch) within its close surrounding.
Capacity of the stadium could grow to roughly 26,000 during concerts. Apart from MLS and the entertainment events also international friendly games and matches of the US and Mexican national teams are held here, followed by rugby, ultimate frisbee and lacrosse events that complete the ground's calendar.
FC Dallas | Toyota Stadium
Based in Frisco, Texas, which is a suburb of Dallas, the club plays its home games at their 20,500-capacity soccer-specific Toyota Stadium. Last year marked the 15th anniversary of the stadium's official opening. FC Dallas played a 2-2 draw with the NY/NJ MetroStars then. Just over three months after that game, the newly-minted venue was given the honor of hosting the 2005 MLS Cup between the LA Galaxy and New England Revolution.
The stadium, previously called Pizza Hut Park, with a permanent stage behind one of the goals, is also the home of the National Soccer Hall of Fame. It was opened in Toyota Stadium's south end in 2018 as part of a more than $55 million renovation to the facility. Improvements included new locker rooms and two new club spaces, the Hall of Fame Club and Gallagher Club.
Houston Dynamo FC | BBVA Stadium
BBVA Stadium is undoubtedly one of the most original football stadiums in the US. All thanks to Populous – architecture practice responsible for design. Exterior angular shape is achieved by putting together panels of steel mesh (upper parts) and lively orange polycarbonate (lower). The venue with a total capacity of 22,000 (including 7,000 seats for lower sections) was inaugurated in 2012, and according to the joint commitments of the city of Houston and the Houston Dynamo finally priced at $95 million.

© B. Tse

BBVA Stadium was one of the first MLS stadiums which implemented Wi-Fi 6 technology. Such a solution aims to enhance the game-day experience for fans of all ages. The network creates the opportunity to enable mobile ticketing and wireless food ordering.
Los Angeles Galaxy | Dignity Health Sports Park
Dignity Health Sports Park is the official home of the record five-time Major League Soccer Cup champions LA Galaxy. The soccer stadium can seat 27,000 fans. Previously named Home Depot Center and StubHub Center, it's located on the campus of California State University and has recently gone through upgrades (including a fresh safe standing section in club colours), with further changes to come.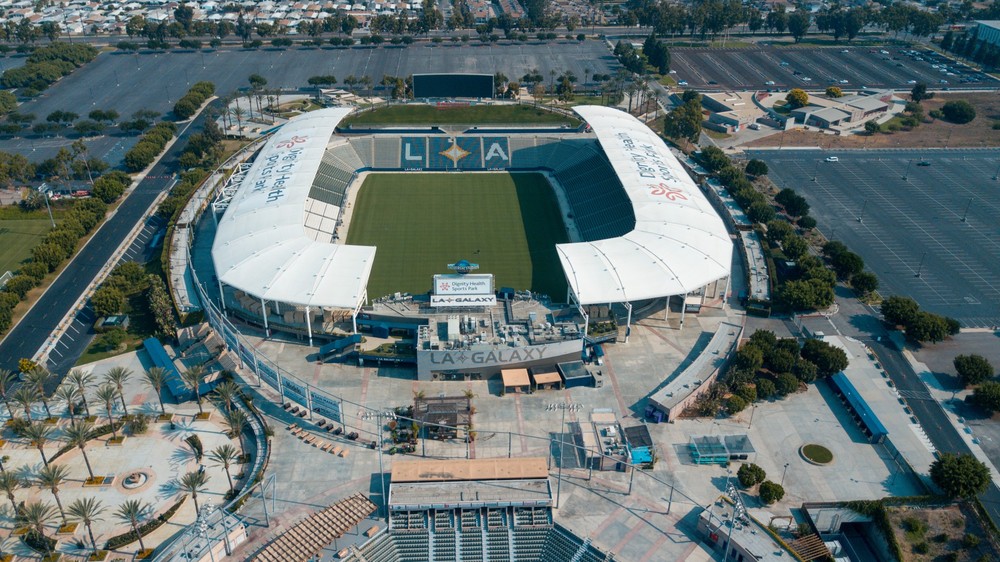 © Alexis Avila

According to the schedule, the home opener is set on April 25 against New York Red Bulls. Fixture 11 of the regular season, planned on July 4, will feature a contest against Sporting Kansas City, marking the return of the Galaxy's tradition of hosting a game on Independence Day.
Los Angeles FC | Banc of California Stadium
Banc of California Stadium - the first new open-air stadium built in the city of Los Angeles since Dodgers Stadium in 1962. Opened in April 2018 and constructed on the site of the former Los Angeles Memorial Sports Arena, it will potentially play a role as the host venue of the 2028 Olympics.
A 22,000-seater is among the steepest venues in MLS, with the stadium's seating at 34 degrees. LAFC's $350m stadium designed by Gensler will be also the future home of the National Women's Soccer League's Angel City FC (expected to begin play in 2022).
Minnesota United FC | Allianz Field
Allianz Field is being described as a dynamic icon for the city of Saint Paul and the state as a whole. From 2019, it's a part of the Allianz stadium family. The venue with capacity of 19,400 includes safe-standing sections, featuring a 2,920-seat, pyramid-shaped supporters' section. Designed by Populous, it has a 360-degree canopy which provides shade to 85% of all seats.
Since its opening in 2019, Allianz Field has collected plenty of awards in various stadium running areas, including engineering, environmental impact, illumination and fan experience.
Portland Timbers | Providence Park
A true Portland landmark since 1926. An iconic sports and entertainment facility located in the heart of downtown Portland, Oregon. The Portland Timbers have sold out every single game at Providence Park since moving to MLS in 2011, at the same time being ranked among the top ten in attendance among professional soccer teams (men's or women's) in the United States and Canada.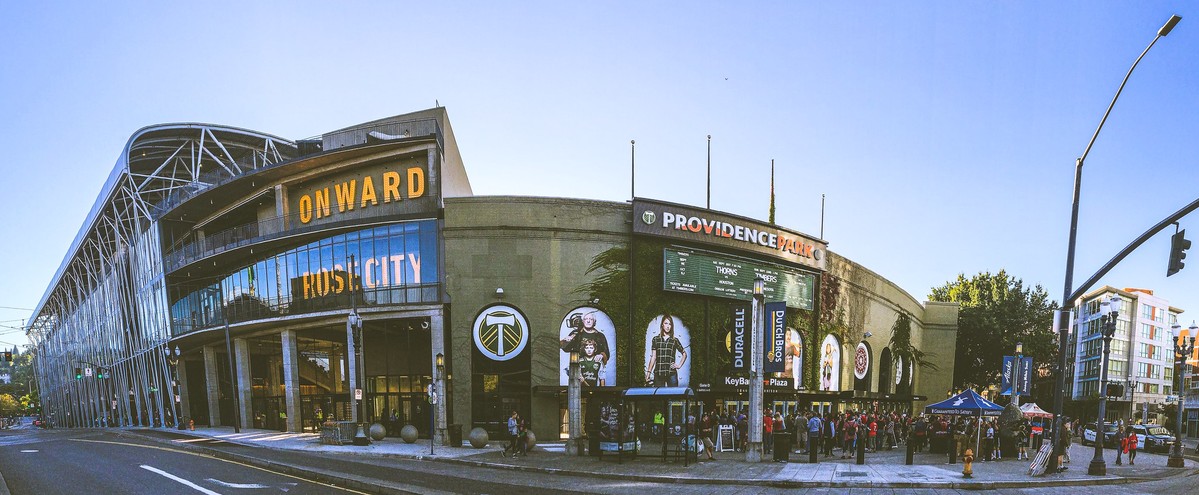 © Redfishingboat (Mick O) (cc: by-nc)

The Portland Timbers and women's soccer team Portland Thorns FC have been recognized by the Portland Business Journal's 2019 Commercial Real Estate Transformer Awards for the renovations and expansion of Providence Park. The development was completed in 2019 and was about raising the capacity to 25,218 and adding a multi-level facade to the East End. Last year Providence Park made its debut as official venue in the FIFA21 game from EA SPORTS.
Real Salt Lake | Rio Tinto Stadium
Rio Tinto Stadium has been home to Real Salt Lake since 2008. A 20 008-seater hosted the MLS team through its most successful years, including its 2009 MLS Cup Championship and 2010-11 CONCACAF Champions League run where RSL finished runners-up.
Rio Tinto Stadium sits at the base of the Wasatch Mountains. It opened in 2008 with a game against New York Red Bulls. During concerts, it can be expanded to a capacity of over 25,000.
San Jose Earthquakes | PayPal Park
The San Jose Earthquakes have just announced a purpose-driven 10-year partnership with San Jose-based technology giant PayPal, providing stadium naming rights through the 2030 season. Earthquakes Stadium for 18,000 seats will be known as PayPal Park from now.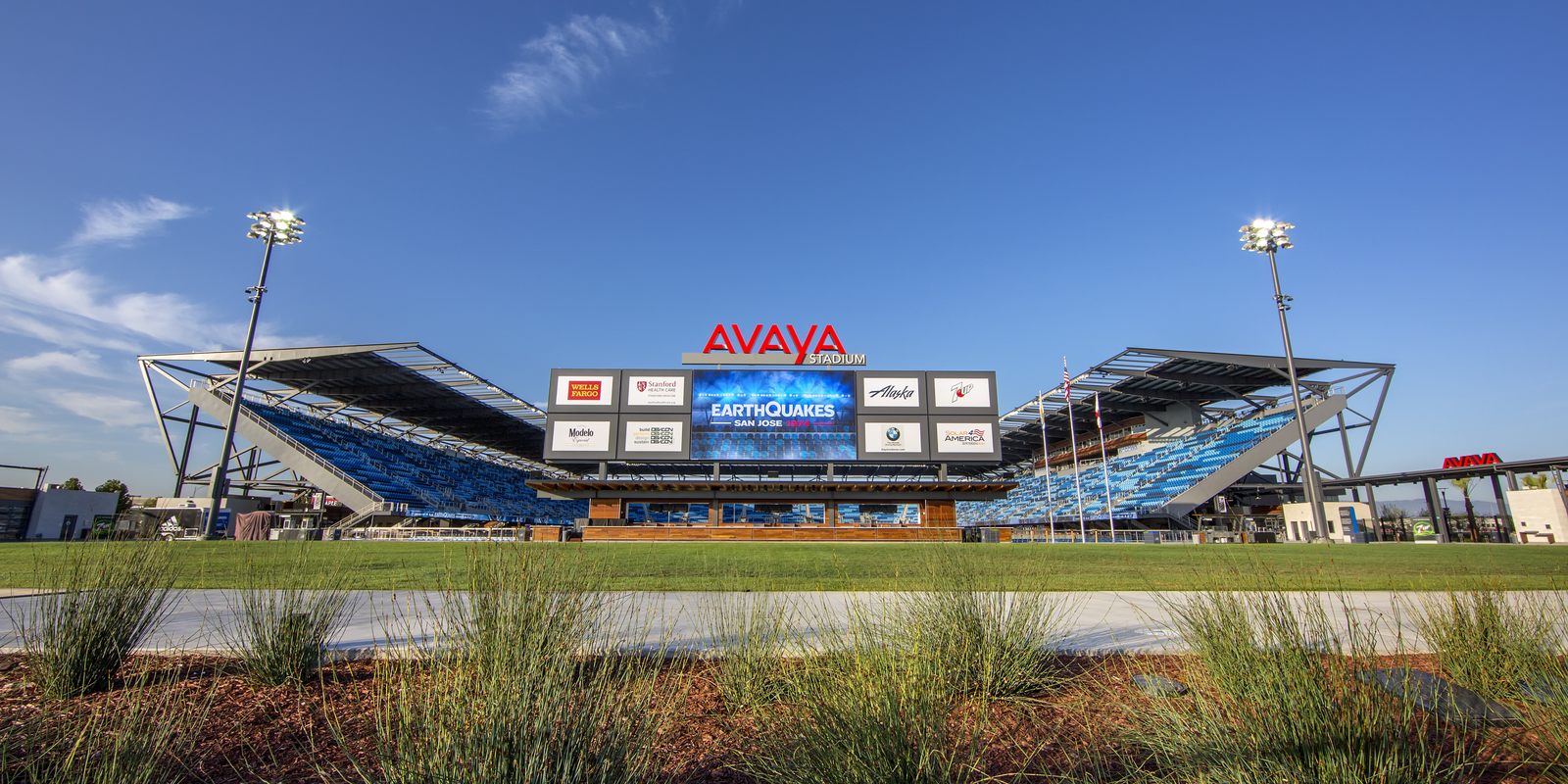 © hok

Construction of the venue, previously known as Avaya Stadium, was launched officially in October 2012. Three years later, during the inauguration, Quakes beat Chicago Fire, being witnessed by a full house. It has hosted plenty of non-MLS regular season, including the International Champions Cup, numerous U.S. Women's National Team friendlies, the World Rugby Pacific Nations Cup, the 2016 Major League Soccer All-Star Game against Arsenal FC and a 2018 FIFA World Cup qualifier for the U.S. Men's National Team.
Seattle Sounders FC | Lumen Field
Seattle FC reached their fourth MLS Cup final in five seasons in 2020. Good results of the team are being witnessed by fans at Lumen Field, the home venue of the Seattle Seahawks of the National Football League as well. It's a modern facility with views of the downtown Seattle skyline and a seating capacity of 68,740 spectators for NFL games. Regular football capacity is 38,500, with upper tiers not available for fans.
© Michael Holden (cc: by-nc-nd)
Eight of Seattle's first 13 matches will be played at Lumen Field, including home matchups with both LA Galaxy on May 2 and LAFC on May 16. The venue is fully cashless.
Sporting Kansas City | Children's Mercy Park
Children's Mercy Park is the third stadium for Sporting Kansas City, but the first football-specific one. Inaugurated in 2011 the venue is able to host up to 18,467 supporters. Another MLS project run by Populous designers. All stands of the stadium are covered with a roof.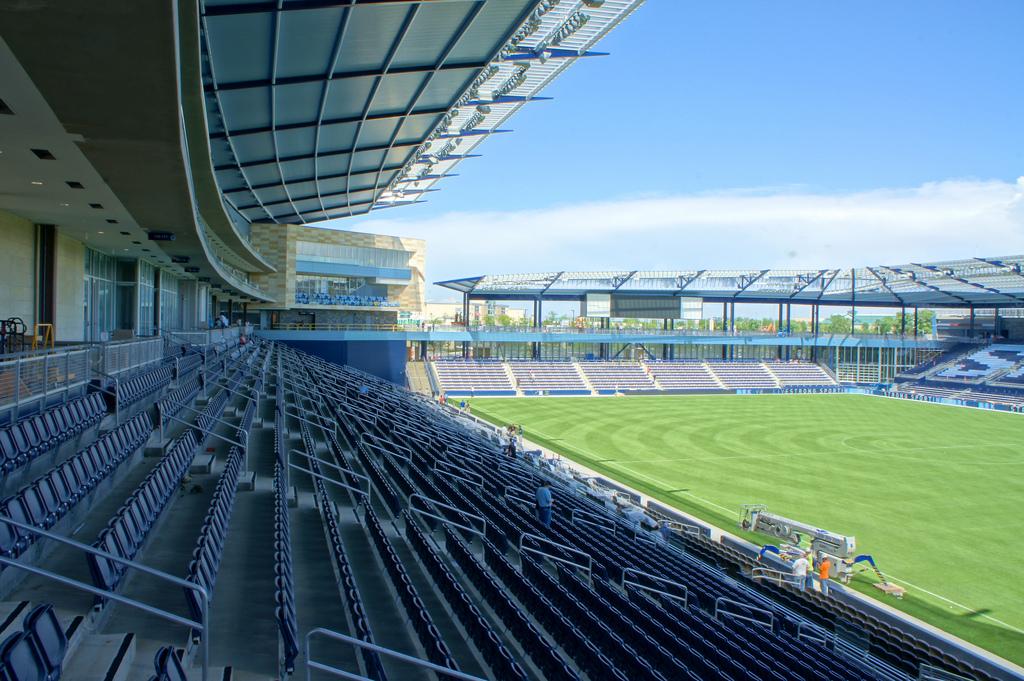 © Brent Flanders (cc: by-nc-nd)
In 2015, Children's Mercy became Sporting Park's first naming rights partner since the club ended its agreement with the Livestrong Foundation in January 2013. Lance Armstrong's foundation was the patron of the venue, but the deal has been terminated after the former cyclist, who set up the cancer-fighting charity, admitted to doping throughout his professional cycling career.
Vancouver Whitecaps FC | BC Place
Despite the fact that the BC Place is the main stadium, Vancouver Whitecaps FC are scheduled to play its first four home games at Rio Tinto Stadium. That's all because of the travel restrictions between the U.S. and Canada. We hope the team will compete at their own 22,120-seater soon.

© Brayden Law

BC Place has become one of Canada's most recognizable and renowned venues for sport, arts and culture, and community gatherings. This month marks 40 years since construction on BC Place began in 1981. The first major international event came no sooner than a year after that, however, when Pope John Paul II visited the packed-beyond-capacity venue. Opening and closing ceremonies of the 2010 Winter Olympics and Paralympics were also held there.
Author: Karol Tatar