Poland: Supporters demand consultation on Wisła stadium revamp
source: StadiumDB.com; author: michał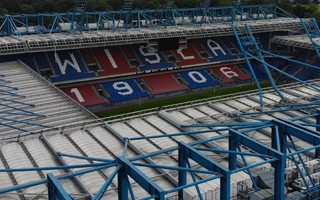 Wisła Kraków is still balancing on the edge, so supporters have engaged in a number of campaigns to support it. One of those considers how the stadium should be finished after years of neglect.
Over a year ago in Krakow the situation seemed nearly hopeless – scammers got the club's shares, the board had fled and debt was accummulating. But a lot has happened since then. The fanbase came together around the club, broke Ekstraklasa's season ticket record and built the country's largest supporters' association, Socios Wisła Kraków, whose members collected over PLN 2 million in just a year to invest in their club.
With all this going on and Wisła consequently covering portions of its remaining debt, already in April of last year Wisła announced the will to take over full management of the stadium. But because the project was delivered in compromised quality and without a business plan, it requires significant upgrades before it becomes economically sustainable.
As it turned out, the city had already had its own plans by that time. Instead of commercial facilities – particularly under the vast east stand – the municipality wants to move some of its administration there. Instead of training fields behind the north and south stands (promised over a decade back) there's plan for multi-storey parking sites for 1,200 cars.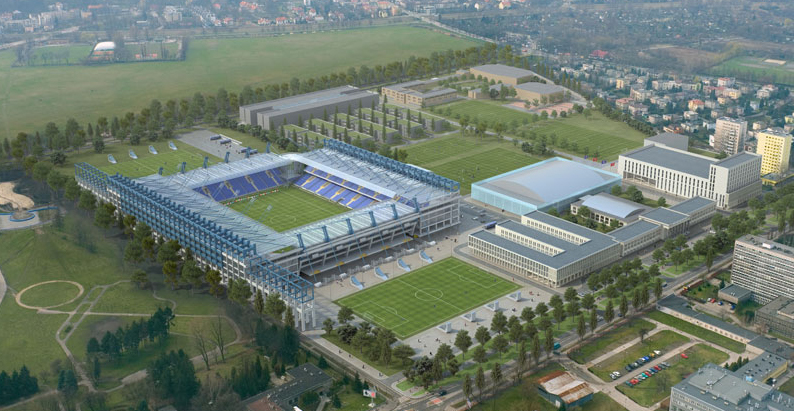 Worth knowing, from the very start it was planned that parking behind both ends would be under ground, topped by training fields. However, rising cost and lack of private investors for the parking garages forced the city to drop the promised developments (which can be seen in the above rendering). Does that entitle the city to change plans freely, though?
Wisła protested against not being consulted on the issue and finding out about any plans through the media. To this day its appeals weren't officially included. As of today the plan is still to convert much of the stadium into an office building and deliver parking sites, which in Wisła's view will effectively block any future effort from the club to operate the stadium, which should be the desired scenario.
For this reason Socios Wisła Kraków have launched an online petition a few days ago in order to put pressure on mayor Jacek Majchrowski. They demand a thorough public consultation process on any changes at the stadium, for supporters and regular citizens alike. As of today the petition got over 7,000 backers.
Importantly, views of Wisła's fanbase are supported by part of the city council and local media, who think major decisions on the stadium's future should not be taken without listening to the populous.
It's worth noting that the stadium's multi-year reconstruction saw little to none consultation and ended up with mismanagement of historic proportions, seeing cost increase from PLN 90 million to some 650 million (official and final price tag was never revealed). And yet the stadium, just 9 years old, is in dire need of repairs and upgrades at all four stands. These can only take place once the city buys copyright of the design, which it 'forgot' to secure in the design contract.