New stadiums and updates: Here's to Finland!
source: StadiumDB.com; author: michał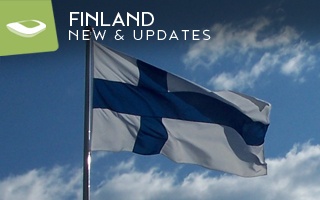 For the first time they've advanced to European Championship. It's high time to update our Finnish section. Here are 6 new stadia from Finland and updates of two major grounds.
Finland didn't manage to win last night in Athens but 18 points was already enough to secure their spot during next year's Euro 2020. It's the right moment for us to expand the Finnish section of StadiumDB, which until this week was one of the smallest of all European sections. Here are 6 new stadia and updates of two historically major grounds: Ratina in Tampere and Lahden stadion in Lahti. Special thanks to Wojciech Woźniak and Per-Gunnar of Groundhopping.se who supplied us with most photos of the stadia.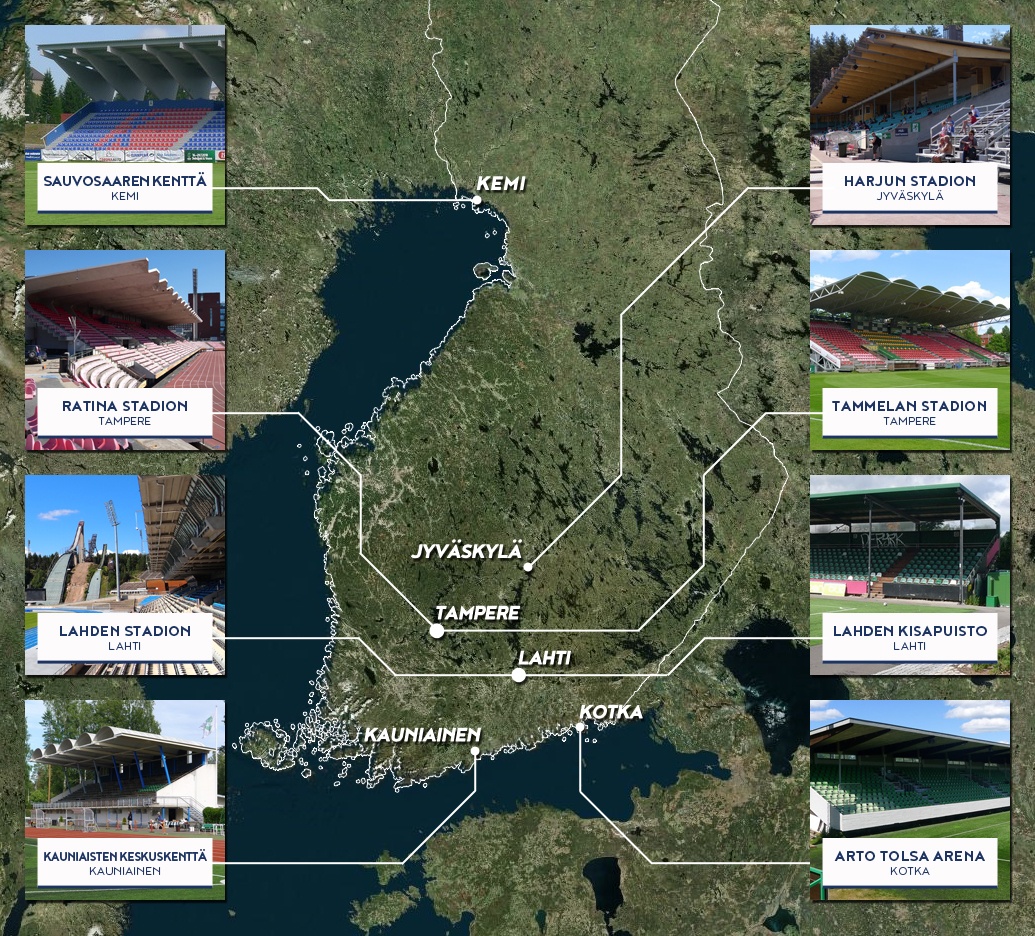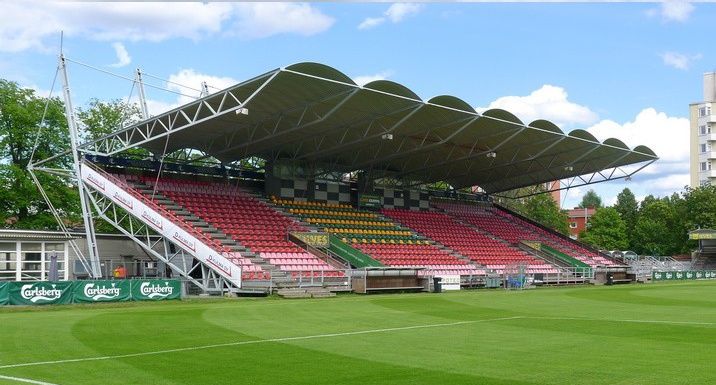 Decision to build a municipal stadium within the Tammela neighbourhood was made back in 1926, however ongoing recession caused its completion to come late, in 1931. For the following 34 years it was Tampere's main football ground, preceding the greater Ratina.
Today's form of the ground is owed to its 1993 redevelopment, which saw the erection of all current stands, all based on light steel structure. The most impressive one is the cantilevered north stand, which serves as the main grandstand. On its both sides there was enough room to create VIP facilities and an open air bar. All remaining sections of seating are made of modules with wooden benches. Installation of plastic seats in these areas would have seriously impacted actual capacity.
The stadium is utilised on a regular basis by both male and female teams of Ilves, as well as TPV and Tampere United. Because it's one of the stadia with natural field, such intensive use makes maintenance very challenging.
Eventually the stadium is to be rebuilt entirely, including rotation of the field to the more desirable north-south axis. The new stadium is to be covered and conjoined with residential development, which will lead to limitation of its light and noise pollution.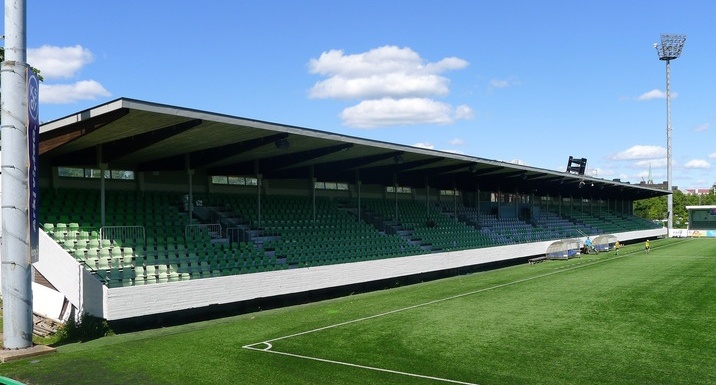 Located centrally on the Kotka island, the stadium is easily accessible to locals and travelling visitors alike. Its history dates back to 1952, when Finland hosted the Olympics. Kotka was one of the football cities, hosting four games at this very stadium. Attendances during those games may have reached 10,000-20,000 people.
Today's stadium is fundamentally different from the old one, having been rebuilt in 2000. It now offers three grandstands, of which the east side is the only uncovered one. On the occasion of the revamp the building was named after Arto Tolsa, one of Finnish football's legends.
In 2015 the stadium received its synthetic football field, as well as a similar 3G training field behind the north end. Interestingly, to this days players don't have changing rooms at the very stadium, they use facilities of the natatorium behind the south goal.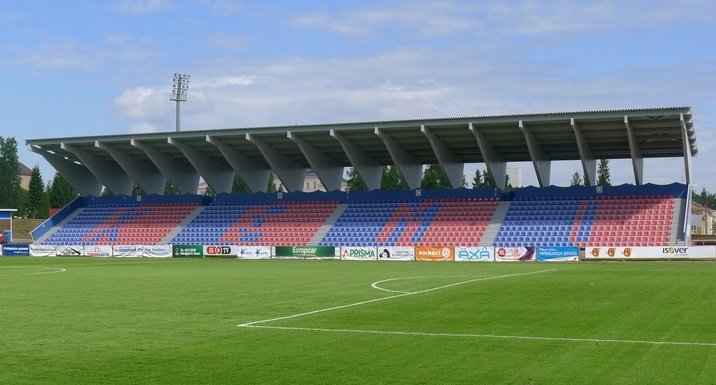 Sitting just 120 meters from the Bay of Bothnia, the football stadium in Kemi, Lapland, dates back to 1934 and is part of the municipality's main sports complex. For many years it played secondary role to the athletic stadium beside it, which has floodlighting.
However, promotion of Kemi to Veikkausliiga prompted the municipal authorities to invest in expansion of the ground in 2016. A new main grandstand with 1,000 covered seats was delivered on the east side, while the uncovered, wooden west side was equipped with seats almost entirely, leaving only the away section as a standing one.
In the future further expansion is planned, subject to approvals, as well as installation of floodlights.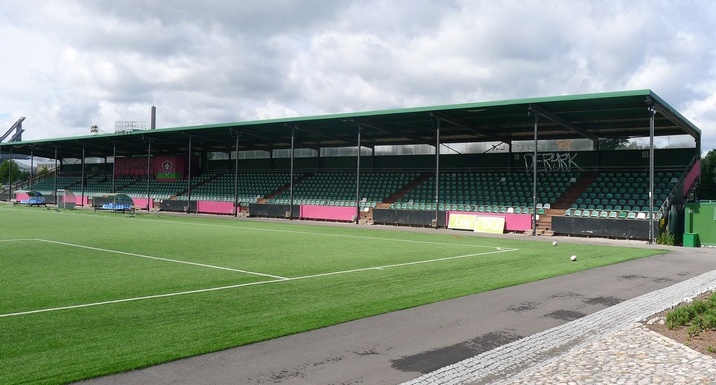 Opened in 1952, the most central stadium in Lahti was among the grounds built specifically for the Helsinki Olympics. It hosted three games of that tournament but, despite nominal capacity of app. 8,000 at that time, attendances for all games were below 4,000.
For years it was the main football stadium of Lahti, retaining this role until the greater Lahden Stadion opened just under 800 meters west, in 1981.
The stadium was traditionally home to Reipas, club established by displaced residents of Viipuri. The anchor tenant changed in 1996, when – as a result of Reipas' financial collapse – FC Lahti was created as the city's major club. However, Reipas later returned to professional football. Finnish legend Jari Litmanen had his debut here as a Reipas player and the statue of him has been erected in the north-eastern corner.
Historically attendances of over 5,000 were seen here on a number of occasions, while the club record of Reipas stands at 8,144 people. However, due to conversion to all-seater, it now holds just over 3,000 people.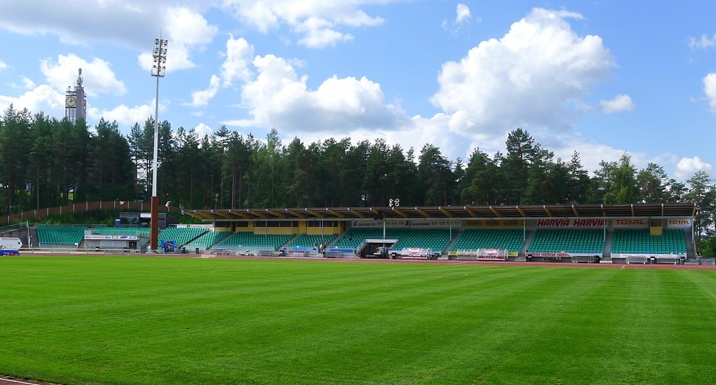 Located centrally in Jyväskylä's Harju park, the multi-use stadium has a long history, dating back to 1926. In its first years it was used primarily for athletics and pesäpallo (also known as Finnish baseball), football joined in 1930. While pesäpallo is no longer held here, football JJK Jyväskylä remains the anchor football tenant.
Twice in its history the stadium hosted Finland's athletics' championships, in 1950 and 1992. On each occasion its facilities underwent major upgrades, in 1992 temporary auditorium helped expand its capacity to 10,000 people.
On a daily basis the stadium has one permanent grandstand, dating back to 1950s. In 1981 most of it has been covered, though some 500 people still don't have roof over their heads. The stadium also uses mobile stands that are rolled onto the running track for events with increased demand.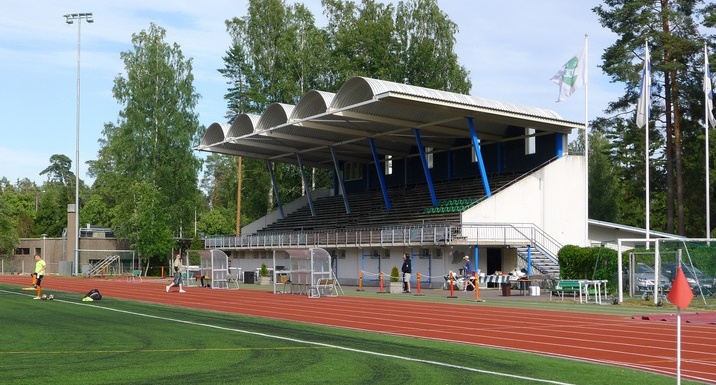 Located in the western outskirts of Helsinki, this multi-use stadium is used for football and athletics by Grankulla IFK. Historically it also was used for skating in winter. Its total capacity was estimated to be around 3,500 with both the south and north auditoria included. However, with the north embankment closed it's usable capacity is 500. In 1996 the stadium received a tartan running track and in 2001 its synthetic field received irrigation.