StadiumDB Newsletter: A week's news in your mailbox
source: StadiumDB.com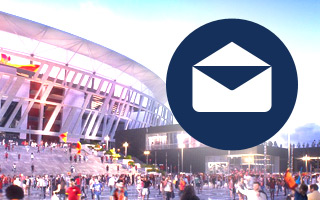 Confederations Cup, Poland's delayed giant almost ready, two projects going forward in Italy, a brand new design from Cincinnati. All that happened last week. Here's how you can get weekly updates from StadiumDB!
Over the weekend we saw the first games of this year's FIFA Confederations Cup, the biggest test for Russian stadiums before next year's World Cup. Not without glitches, the first games went rather well, even if only the Russian team was able to draw a capacity crowd in Saint Petersburg. Aside from that city's giant Krestovskiy, three stadia known from other events are also hosting the tournament. Kazan Arena has been in use since 2013, Sochi's Fisht since 2014 and Moscow's Spartak Stadium since 2015. It's thus no wonder that the biggest organising issues surfaced in Saint Petersburg, where the opening game was the very first sold out event.
Moving west from Russia, in Poland all eyes are on Stadion Śląski now. The long-delayed project is finally seeing the finish line as turf is laid and very last seats await installation. The big question now is what to do with a 54,000+ stadium which won't have an anchor tenant able to use it. As of now we only know of one event planned for this year and one possible friendly from the Polish national team. And then what?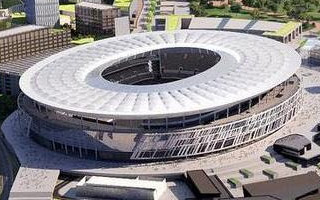 More positive news from Italy, where the new AS Roma stadium is progressing towards construction. Having been on the agenda since 2014, it's high time for the project to see fruition, though we're still many months from works on the Tor di Valle site. Possibly even longer waiting period should be expected in Venice. This landmark city might get a new 25,000-seat stadium for revitalised Venezia FC. Nothing is set in stone yet but both the club and municipal authorities assure they're working on it. And if these renders are anything to go by, Italy could see another unique stadium.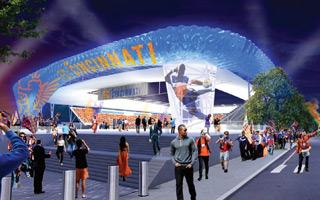 And finally, the only new confirmed design of the past week comes from Cincinnati, a city fairly obscure to football lovers around the world. It's high time to change this as FC Cincinnati hope to be granted an MLS spot by year end. This vision of a 25,000-seater is supposed to aid their effort. Even if only for the impressive vision of Dan Meis, it's really worth to see what's planned in Cincy.
These were the key headlines of our last week's stadium coverage. You can get them straight to your mailbox every week to make sure you know what's going on in the stadium world. Just use the newsletter subscription form above (included in every article) to check it out. It's free and will ensure you're up-to-date even if you don't visit StadiumDB on a daily basis!