Rome: Stadio della Roma approved "in public interest"
source: football-italia.net; author: michał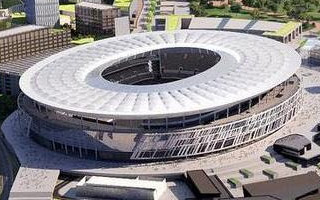 Roma's new stadium has been ruled in the public interest on Wednesday, with 28 votes in favour and 9 against. This means planning can progress.
Having suffered from a long list of issues since having been first presented in 2014, the new AS Roma stadium in Tor di Valle is finally making positive headlines. After the initial agreement between Roma and the city of Rome in February now the project progresses further.
Yesterday afternoon, the Assemblea Capitolina formally voted on recognising the project was in the public interest. There were 9 votes against, but 28 in favour and one abstained, so the motion was passed.
It's still a long way off seeing the Stadio della Roma built, but is an important milestone. Now the regional authorities have to have a vote on whether the stadium is in the public interest too.
The votes were possible only after Roma agreed to seriously downsize the extent of planned developments. As a crucial measure three office towers beside the stadium were scrapped (would have been Rome's tallest buildings), with a height limit of 50 meters now in place.
The stadium itself will not be smaller, however also here a cut was made. Designed to allow expansion from 52,600 to just over 60,000, the building will now be allowed to grow only to some 55,000.