Poland: Śląski slowly rising to glory (?) again
source: StadiumDB.com; author: michał
After years of delay it finally looks almost complete. In just over a month the Silesian giant in Chorzów will be delivered, ending the 8-year torment of reconsturction.
Earlier today top officials of the Silesian government in southern Poland attended the ceremonial commencement of turf-laying at Stadion Śląski. Within 3 days all 7,500 m2 of natural grass will be in place. Turf is transported from the outskirts of Budapest in 10 to 12-meter long rolls, each 1.2m wide.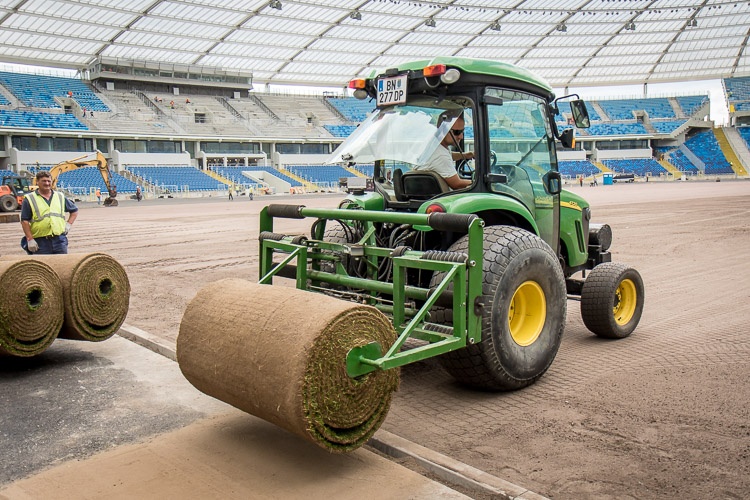 When the field is green again for the first time since 2009, further work will go on to complete the blue running track. Its basis is already laid but final layers will wait until the field is in place. Final touches for all athletics facilities are expected to come by the end of July.
By that time the stadium will surely have all of its 54,447 seats (2nd largest in Poland) in place, already today estimated to be 98% installed. Together with the blue running track and yellow staircases the colours will symbolise those of Upper Silesia.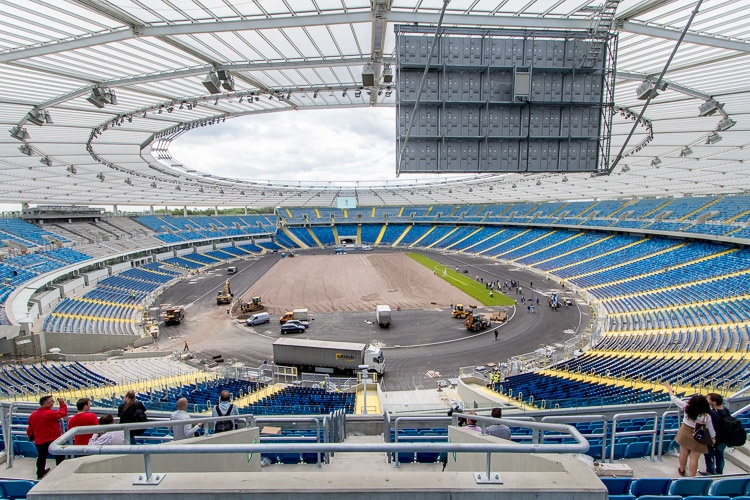 Along with the field-laying ceremony today saw the unveiling of Śląski's new logo, reflecting its tradition, athletic use and openness, as well as, quite simply, the letters S and Ś. The rebranding is expected to give the stadium a fresh start.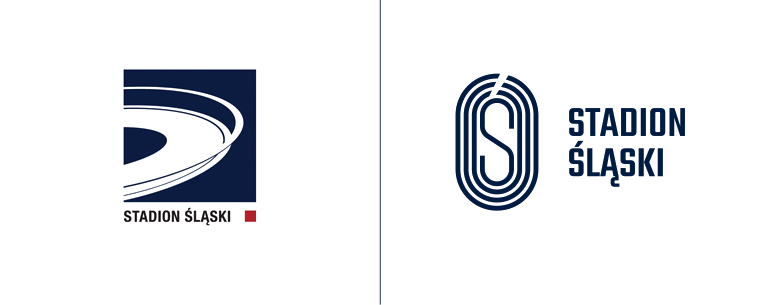 It's worth noting that the previous logo (seen left above) was created during reconstruction and featured the stadium's roof, currently the most controversial feature of the project, following its 2011 collapse. The stadium didn't hold even one event under the scrapped branding and is now hoping to win over public support with a new logo.
Śląski's future remains unclear, unfortunately. The stadium, which initially planned to be a Euro 2012 (!) venue, is so far behind schedule that during its reconstruction well over a dozen stadia and large indoor arenas were built in Poland. The event market is thus already very competetive and there is no anchor tenant to use Śląski on a weekly basis.
Ruch Chorzów, Poland's historically most decorated team, were expected to move in from the 2017/18 season onwards. However, the team have just suffered from relegation to I Liga (2nd tier) and are in no position to afford or fill a venue of this magnitude.
As of today the only contracted event in the finish line of Silesia Marathon on October 2, a gathering that will bring little or no revenue to the stadium. The Polish national team is likely to host a friendly in November but no deal has been signed yet.