Stadium of the Year 2015: Public Vote summary
source: StadiumDB.com; author: michał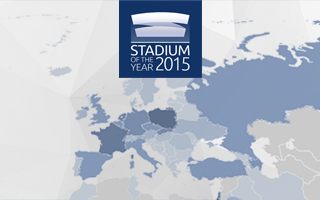 Which nations voted most, which stadiums were selected most frequently, what average notes did they get. These are some of the questions we'll answer here!
It's time to recap what happened during the 6th edition of Stadium of the Year. When the Public Vote began we were expecting turnout close to that from 2014 (27,000), when nominee list was relatively similar. But, once again, you surpassed our expectations. Thanks to everyone who took part! 37,677 votes came from 111 countries/territories and the below map will show you most important locations.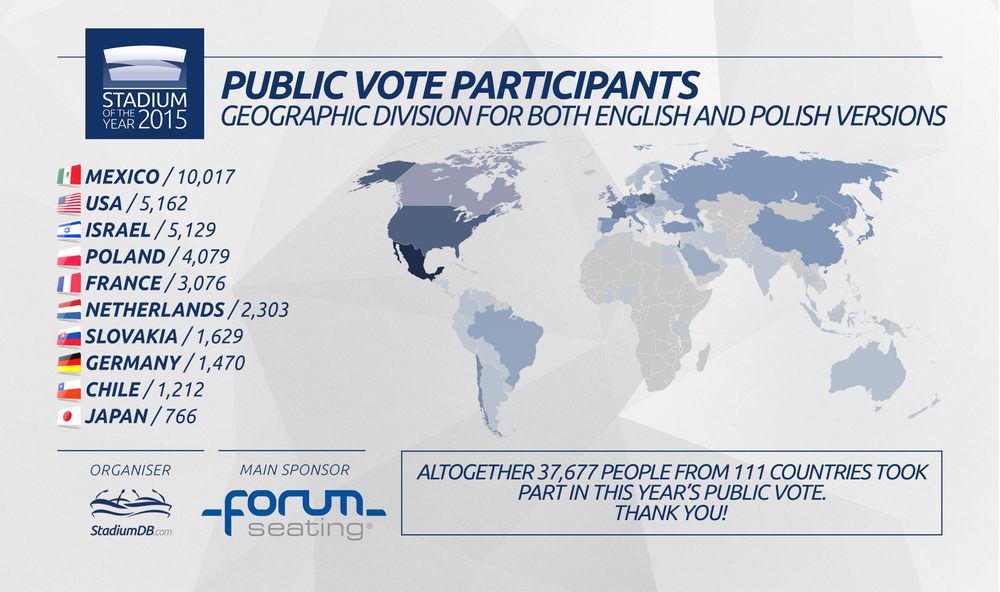 You awarded a massive number of 565,155 points! Just as a reminder, during Stadium of the Year every voter should select 5 stadiums and award each of them respectively 5/4/3/2/1 points. The table below presents total number of voters and stars they awarded to each stadium. Enjoy!
votes total: 18,826
avg. rank: 3.94

9,765

3,135

2,448

1,910

1,568

(43,394 pts)

votes total: 13,392
avg. rank: 3.24

3,532

2,683

2,686

2,453

2,038

votes total: 13,705
avg. rank: 3.02

1,870

4,023

2,773

2,620

2,419

votes total: 9,617
avg. rank: 3.86

5,433

871

945

1,243

1,125

5. Kyle Field

votes total: 10,012
avg. rank: 3.43

3,677

1,586

1,631

1,585

1,533

votes total: 8,911
avg. rank: 3.28

2,847

1,377

1,602

1,576

1,509

votes total: 9,931
avg. rank: 2.83

1,168

2,109

2,531

2,149

1,974

8. Haixia Olympic Center Stadium

votes total: 10,345
avg. rank: 2.69

268

2,423

3,099

2,647

1,908

9. Suita City Football Stadium

votes total: 8,810
avg. rank: 2.63

584

1,807

2,161

2,272

1,986

10. Zhanjiang Olympic Center Stadium

votes total: 9,633
avg. rank: 2.33

216

2,098

1,864

1,952

3,503

11. Stadion Heracles

votes total: 6,533
avg. rank: 3.33

2,197

1,129

1,012

1,043

1,152

12. Avaya Stadium

votes total: 8,127
avg. rank: 2.57

296

1,923

1,714

2,402

1,792

13. Stade Municipal de Kintélé

votes total: 8,214
avg. rank: 2.51

92

1,930

2,072

2,108

2,012

14. Ordos Sports Center Stadium

votes total: 8,116
avg. rank: 2.49

171

1,652

2,142

2,186

1,965

votes total: 6,918
avg. rank: 2.89

1,287

1,155

1,464

1,508

1,504

16. Antalya Arena

votes total: 8,257
avg. rank: 2.38

539

1,510

1,521

1,690

2,997

17. City Arena - SAM

votes total: 5,777
avg. rank: 3.20

1,709

952

986

1,026

1,104

votes total: 5,256
avg. rank: 2.86

877

992

1,114

1,076

1,197

19. Estadio Zorros del Desierto

votes total: 5,299
avg. rank: 2.80

354

1,637

1,074

1,063

1,171

votes total: 4,819
avg. rank: 2.74

387

1,283

959

1,056

1,134

21. King Saud University Stadium

votes total: 4,407
avg. rank: 2.34

79

699

1,121

1,244

1,264

votes total: 3,480
avg. rank: 2.67

329

703

758

868

822
Main Sponsor