Recap: Worst of 2015 (top 10)
source: StadiumDB.com; author: michał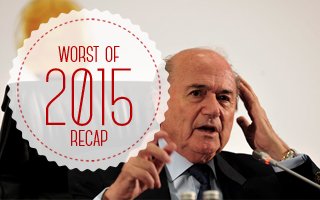 Some of these events brought us to tears, others are outrageous, while some simply disappointing. Here are the 10 things we won't miss in 2016.
10. First death in a Polish stadium

While our country has a poor reputation in terms of stadium safety, it's actually extremely uncommon to see violence happen during games these days. Yet in 2015 a tragic incident happened on a national holiday, seeing a hooligan bleed out on the field. The case caused very regretable violence in the streets of Knurów, but at the same time the official inquest into what happened seems to present arguable quality. The case will continue in 2016.
09. One stadium still not under construction in Russia

We're still hopeful Kaliningrad will make it in time without major issues, but it's a rare occurrence to see a stadium not under construction just 2.5 years before the World Cup. The Kaliningrad 35,000-seater is the last for Russia 2018 that is yet to see groundbreaking on actual construction works. That said, the selected plot does require immense enabling works before construction can begin.
08. Ekstraklasa crowds stagnated

You may think were mentioning this because of our origin, but that's only part of the story. Poland is a country that saw more new stadiums built in recent years than any other European state! And yet Ekstraklasa, a league that was almost rebuilt from scratch in terms of infrastructure, saw actual attendance stagnation in 2015. Euro 2012 stadium in Wrocław was recently filled in just 10%, Wisła Kraków fills under a third of capacity, Legia Warszawa half and even the sensational Piast Gliwice (current leader and championship favourite) is unable to fill 10,000 seats. Sooo much work still ahead of Polish clubs and municipalities to convince people stadiums are safe and football worth the time.

We're not fans of these nicknames, but that's very much the level of debate around Tokyo's new national stadium. In 2015 the stunning design by Zaha Hadid was scrapped due to immense cost, while a new and more modest one was selected recently. Both are of high quality and we're not disappointed by the designs themselves.
The problem is that Hadid was widely blamed for delivering an unfeasible design, while it was actually the initial expectations of Japan Sports Council that led to extreme price inflation. And yet the design change was done at the very last minute and in a rough manner. High officials were sacked, Hadid blamed and then she counter-attacked the Japanese in an arguably elegant manner.
06. No(u) Mestalla
Seven years since the abandonment of Nou Mestalla construction site we're still awaiting development around the new stadium of Valencia. New owner arrived at the club in 2014 and was expected to change things around. But while we know there's some work being done to deliver (yet another) revised stadium scheme, we hardly found out anything new about the largest halted stadium project in 2015.
05. UEFA's collective punishment

In all fairness it's not only limited to UEFA, also other international and domestic football federations. But collective punishment in the form of games behind closed doors is particularly painful during international competitions. Hundreds, sometimes thousands of fans are booking flights and hotels overseas just to hear later that UEFA decided not to allow them into the stadium because someone completely unrelated did something a couple weeks earlier. Just think what would happen if similar scrutiny was used against UEFA/FIFA officials in corruptions scandals, we'd have all of the officials removed by now. OK, now we understand why it's such a tempting tool to use…
04. Farewell with football

There was a number of famous stadiums that saw their last football games this year. We'll mention only three that we'll miss in particular. Ligue 1 moves away from Stade de Gerland and Stade Chaban-Delmas, while in Montevideo the legendary Estadio Centenario was abandoned by equally legendary Penarol. In all three cases new stadiums are either ready or await opening.
03. The Paris attacks

There are so many atrocities in this world that mentioning one seems unfair and it surely is in a way. But in 2015 we've seen the first attempted terrorist attack on a filled football stadium and it is stadiums that we cover after all. Thankfully the ISIS bombers failed, but it's a painful reminder that safety isn't a given. That said, it's equally horrifying to see how French bombings led to destroying civilian facilities in Syria (and yes, a stadium was reportedly among them) in retaliation.
02. The Zamalek stampede

It's been months now, but this case still seems unbelievable. Unbearably poor crowd control led to deaths of 20 people and yet it's the supporters trapped in the stampede who stand trial for leading to deaths of their fellow fans. Everything is wrong with this story, where do you begin?!
01. FIFA/UEFA corruption scandal

Arguable standards within these organisations were hardly a secret, but only rumored about until earlier this year. Earthquake hit the world's two most powerful football federations, though some of those involved are desperate to cling on to their positions. Well, Sepp, in the words of a timeless (?) song you should have just "let it go". And looking at the candidates for FIFA presidency, we're in for a show in 2016.