Poland: Tragedy overshadows Polish Cup feast
source: StadiumDB.com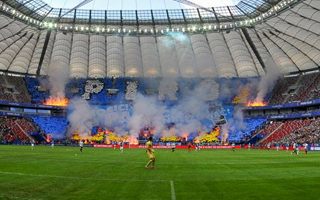 It was the most tense Polish Cup Final for a long time. And yet it went almost perfectly. Then tragic news came from a 5th league clash, seeing the first death in Polish stadiums in many years.
It was the most anticipated game in weeks, ever since semifinals saw Legia Warszawa and Lech Poznan go through to the Polish Cup final. For the first time ever police forces didn't block Stadion Narodowy from hosting a game between such antagonistic teams. Earlier clashes like Legia vs. Wisła Kraków and Legia vs. Śląsk Wrocław were successfully barred from the stadium on technicalities.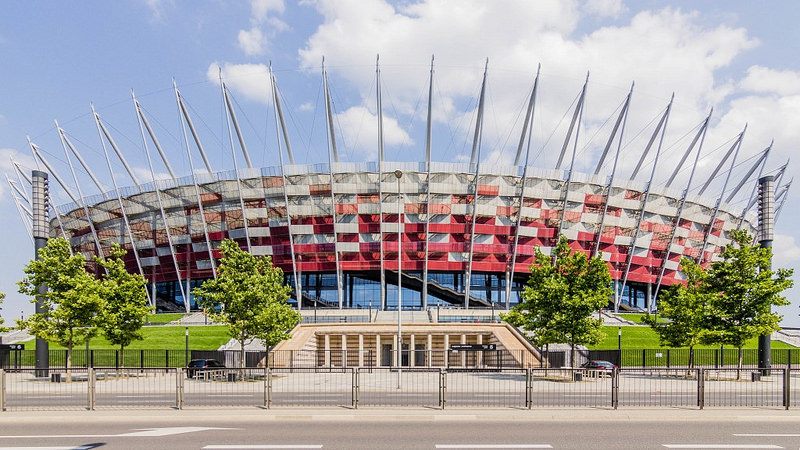 Photo: Filip Bramorski (cc: by-nc-nd)
Nightmare turned into success
This time PZPN didn't only manage to make it work, but also negotiated additional tickets for fans of both sides. This proved useful as all neutral sections (20,000+) got sold out before semifinals even ended. So instead of 9,000, each finalist received 10,109 tickets behind goal + premium seats for officials and partners. In all fairness, temporary fencing was set up inside the stadium and large buffer sections of roughly 10,000 were left, but they weren't challenged by any invaders in the end.
North stand was taken by Lech Poznan supporters. Vast majority of them travelled 300km to Warsaw onboard 8 special trains leased for the game. This was easiest to manage logistically as Stadion Narodowy has a railway station just behind the north end. There were also designated parking spaces behind north stand for those taking cars and buses.
South stand was occupied by fans of Legia, who were to play only a walking distance from their home stadium. Exactly 3km, which they marched together in a group of several thousand. Access routes of both groups can be seen below (Lech – blue, Legia – green, neutral – yellow).
Both the march and transport of over 10,000 Lech fans were seen as major challenges, yet all operations were carried out in a timely manner and without incidents. Inside the stadium things didn't go that flawlessly in terms of safety as supporters managed to smuggle large amounts of pyrotechnics to make their choreographies more impressive. And despite Stadion Narodowy's apparent limited ventilation (leaving the smoke inside for a long while), the game went without interruptions.
Quite the opposite, there was widely praised loud chanting from the very first to last minutes. Legia Warszawa raised the cup for the 17th time after winning 2:1 and the game with 45,322 people was the largest Polish Cup final in decades. Below images, courtesy of Legionisci.com, show a glimpse of what happened on Saturday in Warsaw. Legia fans on the left, Lech – right.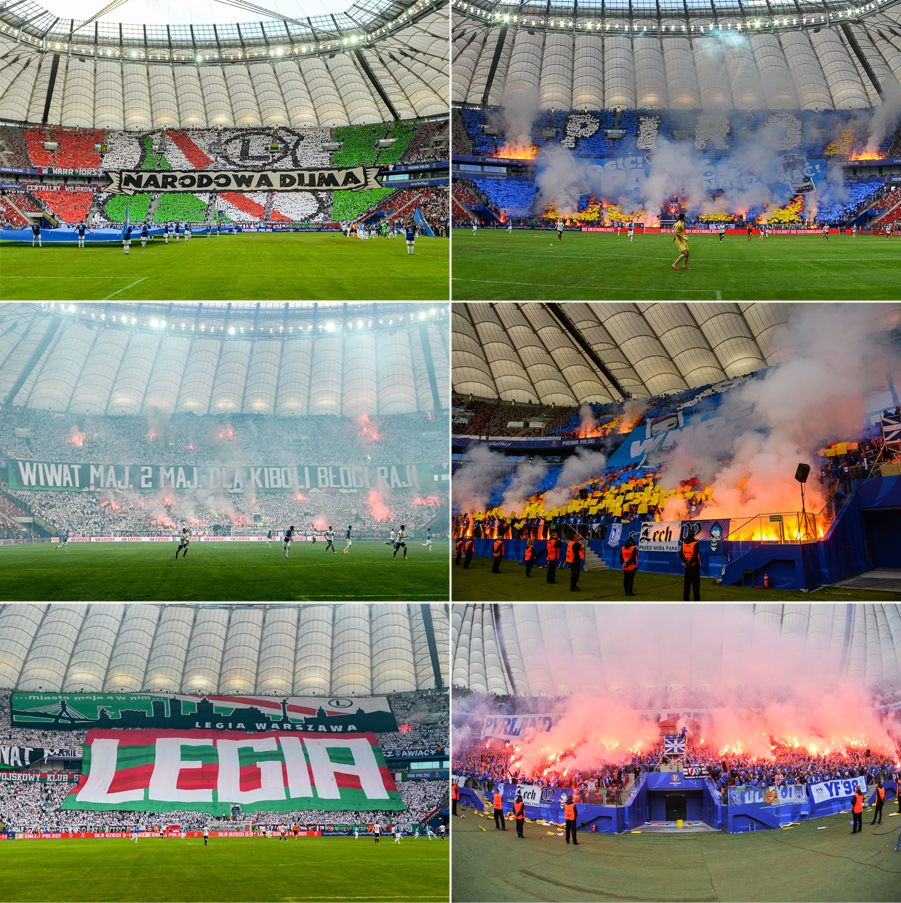 © Legionisci.com
Tragedy that shouldn't have happened
While Poland has long history of games being interrupted by hooligan incidents, which was most feared in Warsaw on Final day, it's been many years since any tragedy took place inside a stadium throughout the country. Unfortunately on the day when Polish Cup final ended with success, tragedy unfolded 300km south-west.
It was a 5th league fixture between Concordia Knurów and leaders Ruch Radzionków on Saturday afternoon that turned ugly very soon. The away team quickly grabbed the lead and by 31st minute it was already 4:1, which prompted aggression from local supporters. They started throwing rocks and bangers onto the field.
When the misbehavior didn't stop after appeals from organisers, referee ordered players to leave the stadium in 33rd minute. This is when a group of masked local hooligans invaded the field and went towards the away enclosure.
To avoid confrontation between both groups police used rubber bullets. In a horrific turn of events one bullet, despite being 'non-penetrating' by definition, went through the neck of one of the invaders, causing heavy bleeding instantly. The moment can be seen on the below clip by local website iKnurow.pl, though from that point it didn't seem serious.
The man managed to run across the field before losing consciousness. Though it was just seconds after being hit, his body was almost entirely covered in blood. Attempts to resuscitate him lasted for about five minutes before ambulance finally arrived.
© KS Concordia
The 27-year-old was transported to hospital, but it was later confirmed doctors weren't able to save his life. It's the first death in many years that happened inside a stadium in Poland. Previously several deadly accidents happened on the way to games or during riots outside stadiums.
Internal investigations unit from the Silesian police department will check if all procedures were used properly.