Poland: Building the glory of Polish Cup Final
source: StadiumDB.com; author: michał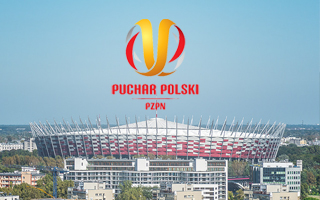 This year will bring the highest attendance in nearly 30 years for the Polish Cup Final. Clash of domestic giants is a great concern in terms of safety, but a festivity for fans and the FA organizing it.
May 2001. Two great firms of the Polish league, Górnik Zabrze and Polonia Warszawa, clash in the Polish Cup Final. Combined they hold 16 domestic championships and yet two legs of the final have an appalling turnout of 5,716 people. That's barely 2,858 per game, the very lowest attendance for the event since the first final in 1926…
April 2015. 20,000+ tickets released for general sale are sold out 3 weeks ahead of the final (May 2), before both finalists are even known.
On April 15 the two finalists will receive their allocations of most likely 9,800 tickets each and it's already seen as too few as the final will see the "Polish Derby" between Lech Poznan and Legia Warszawa. But parts of Stadion Narodowy need to be left empty in order to segregate antagonistic groups of fans. Most probable layout of various groups is visualized below: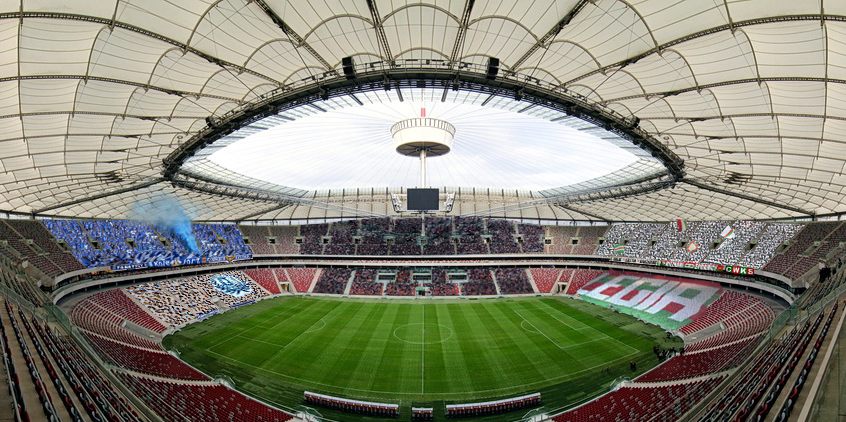 North end for Lech, south for Legia, east and west for neutral fans. The 'crowds' were put onto Maciej Latałło's original photo by StadiumDB.com.
Long before the game it's nearly certain that this year's final will see the highest attendance for a single-leg final since 1986 and third highest in history. This represents an incredible change for PZPN, the Polish FA.
Was it just luck that two of Poland's most popular clubs meet in the final and assure the country's largest stadium is sold out? Partly so, especially after Lech Poznan had to go into extra time last night to secure their spot in the final, playing against a 3rd league side!
But it's also a great project by PZPN, who have been working for several years to make the Polish Cup a strong and prestigious competition. Not for the sake of splendor, of course. Having lost control of the premier league (Ekstraklasa), PZPN has only one strong product: the national team. Polish Cup is expected to be the second one.
Making that happen is not easy. For the last decade the tournament was considered a "backdoor to Europe" (winner qualifies for Europa League) at best and was often ignored by largest teams, who preferred to focus on their league campaign. Not mentioning fans who seldom took the time to attend midweek fixtures.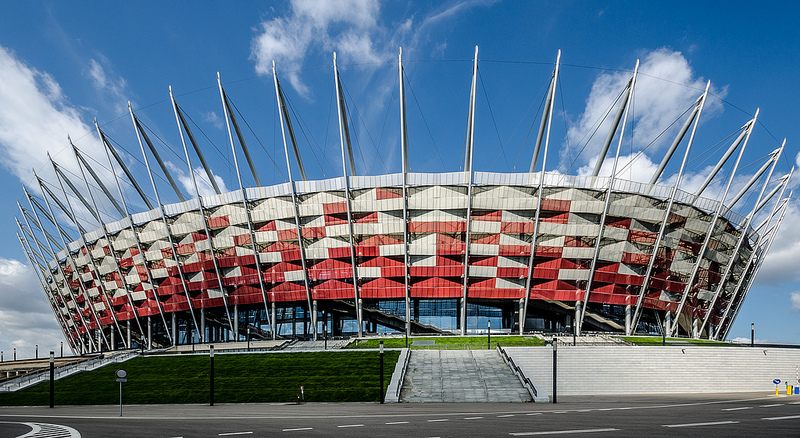 © Maciej Lulko Fotografia Architektury
As if this wasn't enough, PZPN had to fight hard to bring the final to Warsaw after years of being pushed into neutral venues across the country like an unwanted gift. Police had serious objections towards seeing domestic fans in a stadium more suitable for foreign supporters. Yes, one officer even admitted this stadium is too good for fans of Polish clubs. That's why last year was the very first time PZPN managed to host the game at Stadion Narodowy after two years of being denied such plan for very vaguely supported "safety concerns".
To give the final game a friendly image, the Polish Cup final is combined with the final of country's largest youth tournament, assuring many families would come. Pricing is set very low, staying at 15-20 zloty for the second consecutive year (€4-5). And last year it worked, drawing over 37,000 people despite a protest by fanbase of one of the finalist clubs. Below you may see attendances of 10 most recent finals: