Europe: UEFA anti-racist policy "unsustainable, wrong and unfair"
source: StadiumDB.com / FansEurope.org; author: michał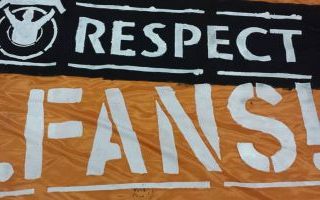 It seems Michel Platini again proved successful at alienating regular football fans instead of racist his organisation was supposed to tackle. Despite growing public pressure to fight discrimination, UEFA should still be more sensible, according to biggest fan organisations.
Racism is an important problem and it seems there's a wide agreement in the football community that it needs to go. But recent incidents put further pressure on football authorities to deal with the issue in a more strict manner. Cries for heavier punishments come from former footballers, journalists and pundits as part of the overwhelming condemnation of racism altogether.
And it has to be said UEFA have made some efforts to deal with the issue, but whether these are the proper efforts to make is a different story. Legia Warszawa, Feyenoord Rotterdam, CSKA Moskva, Steaua Bucuresti and Dynamo Kyiv were all recently hit with partial or complete stadium closure after behavior of portions of their fans.
But what UEFA seems to forget is that such penalties hit many thousands of people when dozens are to blame. Collective punishment in this form means that vast majority of home fans who have not done anything wrong are treated equally with violators. Even more, away fan contingents, many of whom had to spend a small fortune on travelling across Europe, are also hit by such decisions.
The issue of collective punishment was raised this week, during annual meeting between UEFA and biggest fan organisations on the continent: Football Supporters Europe (FSE), Supporters Direct (SD) and Centre for Access to Football in Europe (CAFE). And, for the first time in the history of such meetings, there was a strong argument regarding the issue of how (not) to fight racism.
"The FSE Committee is still missing a sign of understanding from UEFA for the fact that punishing fans that haven't done anything wrong whatsoever, is unjust, doesn't meet judicial principles and is hence counter-productive to motivating fans in the important commitment against racism. […] UEFA thereby imposes the biggest negative impact on fans who have had no involvement in the racist incidents and who in some cases have even engaged in activities against discrimination themselves as supporters", the FSE wrote in a statement summarizing the meeting.
FSE cannot understand why UEFA should call their anti-racist efforts a success when many thousands of people are actually protesting against them on a regular basis. Just search #RespectFans on Twitter to see how supporters of over 15 clubs stand against UEFA's way of fighting racism.
"This clearly illustrates that the sanction logic of UEFA has to be considered in essential parts as unsustainable, wrong and unfair. The FSE Committee explicitly supports these protests and calls for fans to condemn the imposition of collective punishments on fans innocent of any offences and to intensify these protests, where appropriate."