Recap: Best of 2015 (top 10)
source: StadiumDB.com; author: michał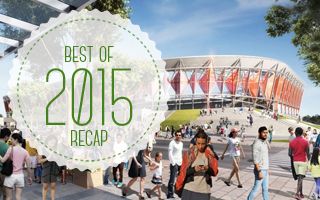 Fans in Turkey, stadium programmes in Slovakia and Romania, soccer stadia in USA, finally progress in London – here are the things we enjoyed in 2015!
10. Solar (r)evolution continues

With LED lighting and solar energy use gaining impetus around the world, stadiums are becoming friendlier to the environment and reduce their carbon footprint. What's not to enjoy here?
09. The concrete stadium

It's small, so we won't be able to include it in our Stadium of the Year 2015 competition. But the simple stadium in Swedish Gothenburg is one of the most interesting recently opened venues worldwide, largely due to being built almost entirely with concrete.
08. Broadhurst Park

It may be a small stadium, but it's more the campaign that matters. Grassroots football club, operated solely by its own fanbase. And yet they managed to build their own stadium, becoming a model for others to follow.
07. Za Luzankami

When a group of supporters run campaign to bring legendary stadium back to life, you know there's an interesting story right there. But when they manage to hold the biggest domestic game across the country, that's outstanding!
06. Europe's largest flag

We're all for vibrant atmosphere inside stadiums and when it's delivered in such brilliant way – even better! 2015 saw the largest ever flag display inside a European stadium, while 2016 promises something even better in Asia.
05. Turkish football fans don't give up

Just a couple weeks ago we celebrated with the Turkish fans a verdict that found Passolig illegal. The controversial fan ID card system isn't much different from many others across Europe, but in Turkey the fans were more resiliant in their opposition. Several battles won, possibly more to come in 2016.
04. London on the rise

It's the world's biggest football market, but also one that enjoyed little development since the Emirates Stadium opened in 2006. In 2015 we finally saw a breakthrough. Tottenham are already building their new home, Chelsea presented a stunning new scheme, Wimbledon were given go-ahead and who knows, maybe we'll finally see Brentford go forward in 2016, too.
03. Slovak stadium programme

2015 saw the first modern stadium open in Slovakia, the City Arena SAM in Trnava. Now a list of other stadium projects are either under way already or will soon be. Thanks to the support of central government and the Slovak FA, who both contribute to the modest, but modern projects.
02. Romania growing even faster

Similar programme was launched in Romania, this time with national funds playing crucial role in co-funding new stadiums. In 2015 three big projects got underway and more are to follow, including a complete revamp of the Bucharest stadium infrastructure.
01. Soccer vs. football

The argument is somewhat amusing, but it tends to get more tense when more and more club with "FC" in the name pop up in the US. 2015 is a year we'll remember for some remarkable designs released for new stadia in Los Angeles, Sacramento or Washington DC, while the Orlando stadium is underway and more to come in 2016.