Czech Republic: Legendary stadium brought back to life by fans!
source: StadiumDB.com
After 14 years of tragic neglect, on Saturday the legendary stadium Za Luzankami was packed beyond capacity and beyond safety. It took supporters 4 months to renovate it enough to hold a game!
If anyone asks you about the football passion, you may share this story as an example. It begins in September 2001, when the very last official game was played at Za Luzankami. Not because the stadium was too small or outdated. It was because the home team Zbrojovka had no resources to maintain the largest stadium throughout the Czech Republic.
It was indeed the country's greatest stadium in operation at that time. With capacity of 50,000 it was said to have seen even larger crowds in 1970s. Whether you include both Czechoslovakia or only the Czech Republic, it's always Za Luzankami that stands out in terms of scale (of course aside of non-football Strahov giant). The stadium had set an unbeaten record of matchday attendance in 1996/97, seeing almost 23,000 people per game.
But as standards went up soon afterwards, the club transferred its home to the municipality of Brno. Authorities analysed several options of upgrading it, including thorough renovation, demolition or partial reconstruction. But in 14 years all of them ended with absolutely no result, only millions spent on studies.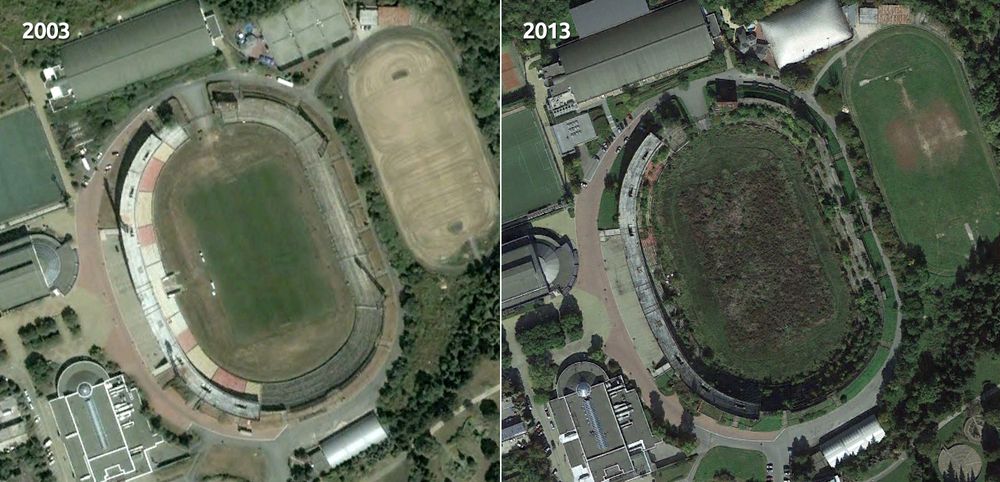 Player and fans take initiative
Inefficiency of the municipal efforts is striking, but at the same time left room for others to do something about the dilapidation of Za Luzankami. Last year supporters of Zbrojovka launched an online campaign to bring back the glory of their club's famous home.
Za Luzankami in 2011. Photo: Darwinek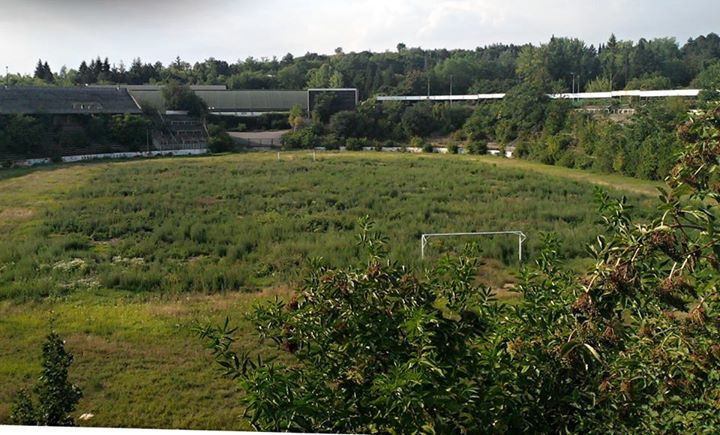 This initiative gained impetus early this year, when footballer Petr Švancara announced he wants to end his career at this very stadium. and set the date of the match for June 27. This meant four months to upgrade the stadium enough to hold a game. Volunteers offered their time to make the dream come true.
They had to dig up bushes and even small trees that overgrew the stadium over the past decade. Even the stands were covered with vegetation of various sorts and while the field was possible to clear with large mowers, the terracing had to be done manually.
Weather and growing roots of the plants damaged the terracing, forcing a lot of concrete pouring throughout the eastern grandstand. West side was left closed as it would have cost too much to reopen.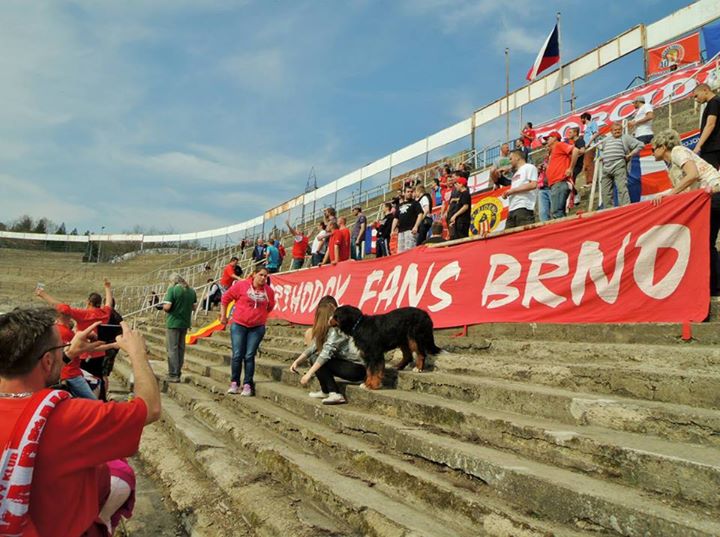 Photo: Fotbalový stadion Za Lužánkami v Brně
And this project didn't really have a budget. It depended solely on the engagement of local community: supporters and residents. Together they reportedly did 11,000 man-hours of pay-free work, in return enjoying barbecues and beer together on what used to be the old running track. The beautiful part is how everyone was trying to do their bit. For example, the playing field was prepared thanks to local firefighters who lent their cannon to water it regularly.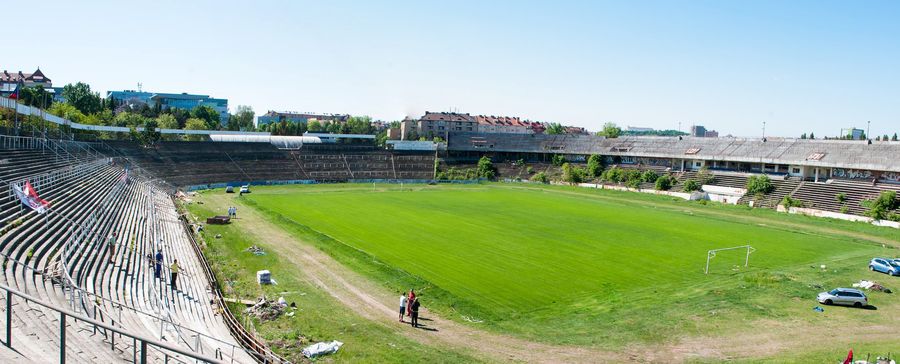 May 2015. Photo: Fotbalový stadion Za Lužánkami v Brně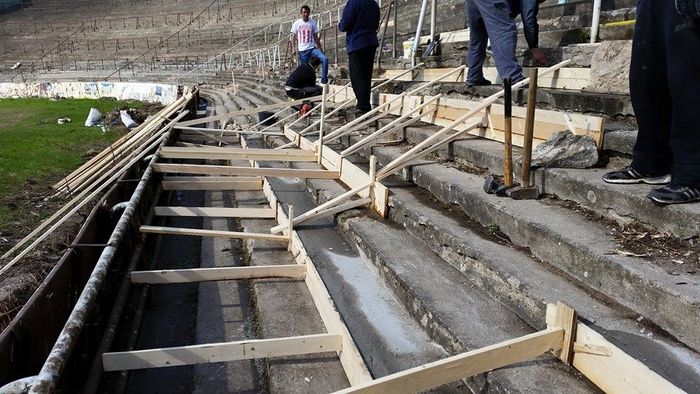 Photo: Fotbalový stadion Za Lužánkami v Brně
More than they dreamed of
The volunteer work of hundreds of people had one goal: make the stadium usable for June 27. But the initiative itself received nationwide coverage and revival of once-great Za Luzankami became a highly anticipated event regardless of the exhibition game.
Which, by the way, was really only a friendly with the second team consisting of… hockey players. So it clearly wasn't the football quality that people were waiting for.
Demand for tickets was so huge, that the 25,000 planned in the eastern terrace and several temporary stands proved highly insufficient. Queues were immense once sale began and there were no tickets left on Saturday.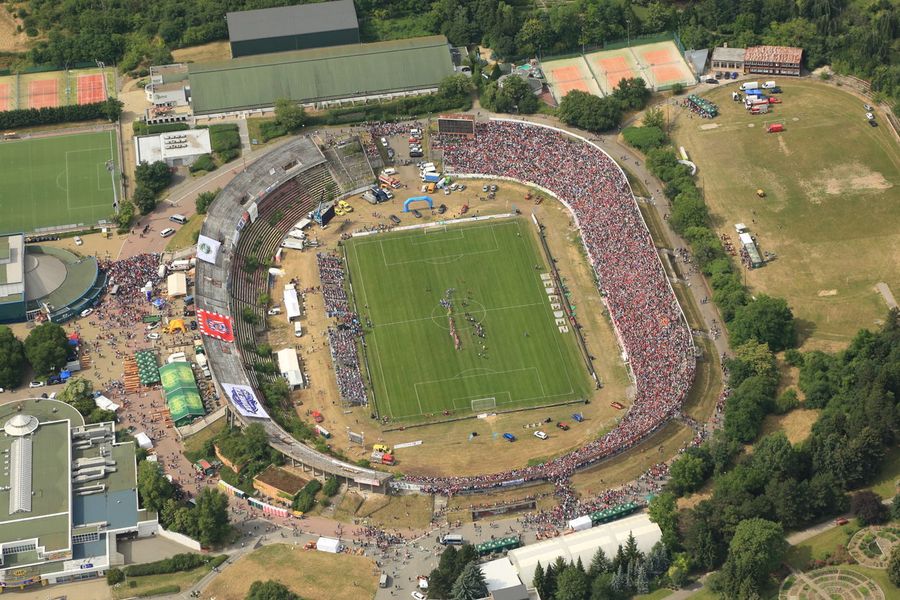 Photo: Fotbalový stadion Za Lužánkami v Brně
Not only that, there were thousands of people without tickets trying to watch the game anyway. Those who managed to get inside were either cramped in the overcrowded eastern terrace or flooded the sealed-off west side.
This even made police officers to threatened with abandoning the event if fans would not leave the off-limits areas. Threats didn't help entirely as many people still occupied places no-one should even watch games from. Like the rooftop of nearby sports hall. The event saw some injuries, though thankfully most of them were only minor ones. One person has significant burns due to (most likely) improper use of pyrotechnics.
Altogether the game may have been watched by as many as 35,000 people, though this seems more like an educated guess than actual estimate. But regardless of the actual number of fans, Za Luzankami once again made history among Czech football stadiums. On Saturday the stadium was the country's largest once more, because currently the biggest sports stadium is located in Prague and holds 21,000 people.
Time for new stadium?
The unprecedented community campaign (and amazing effort by hundreds if not thousands!) again opened the debate about new stadium in Brno. The game showed that the demand is still there. Before Saturday, petition in support of a new stadium had 5,000 signatures. How many more were gathered on matchday is not know yet.
What is clear, is that taxpayer money is not enough to cover such a project. Municipal authorities estimate building a new stadium or revamping this one entirely could cost some CZK 300 million (€73m / $82m).
Thankfully recent days saw a new hope on the horizon. Mayor Petr Vokřál officially confirmed a consortium of three companies is interested in building and operating the new stadium without public involvement. One of these companies is said to have delivered over 20 stadiums in several countries and StadiumDB understands that company may be BAM Sports.
Will the deal go forward or fall through like similar visions in 2003-2015? Time will tell, but as much as we love initiatives like that in recent months, we hope this time fate will spare Zbrojovka supporters!