Poland: Ekstraklasa season in a nutshell
source: StadiumDB.com; author: michał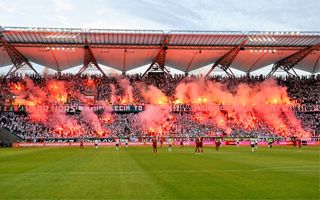 Hardly the best year in terms of attendance, but Ekstraklasa continues to grow stadium-wise. Thankfully what's falling most is the number of incidents.
As the 2014/15 season ended we're compiling attendance data on major European leagues. But before we get to the major ones, we've already done the math for our homeland's top division, T-Mobile Ekstraklasa. It's not one making headlines around the world, but we still feel like sharing, because you may be surprised with what's going on in Poland.
Stagnant attendances
It's one of few countries that went through so immense infrastructural changes in just a few years. There are over 30 new stadiums opened, under (re)construction or planned in Poland. And yet average crowds refuse to rise proportionally to the grandstands made available. Average Ekstraklasa crowd this season was 8,269 per game (slightly below 8,319 the previous year), which represents some 41.1% occupancy rate. In other words, 6 out of 10 seats were unused throughout the season.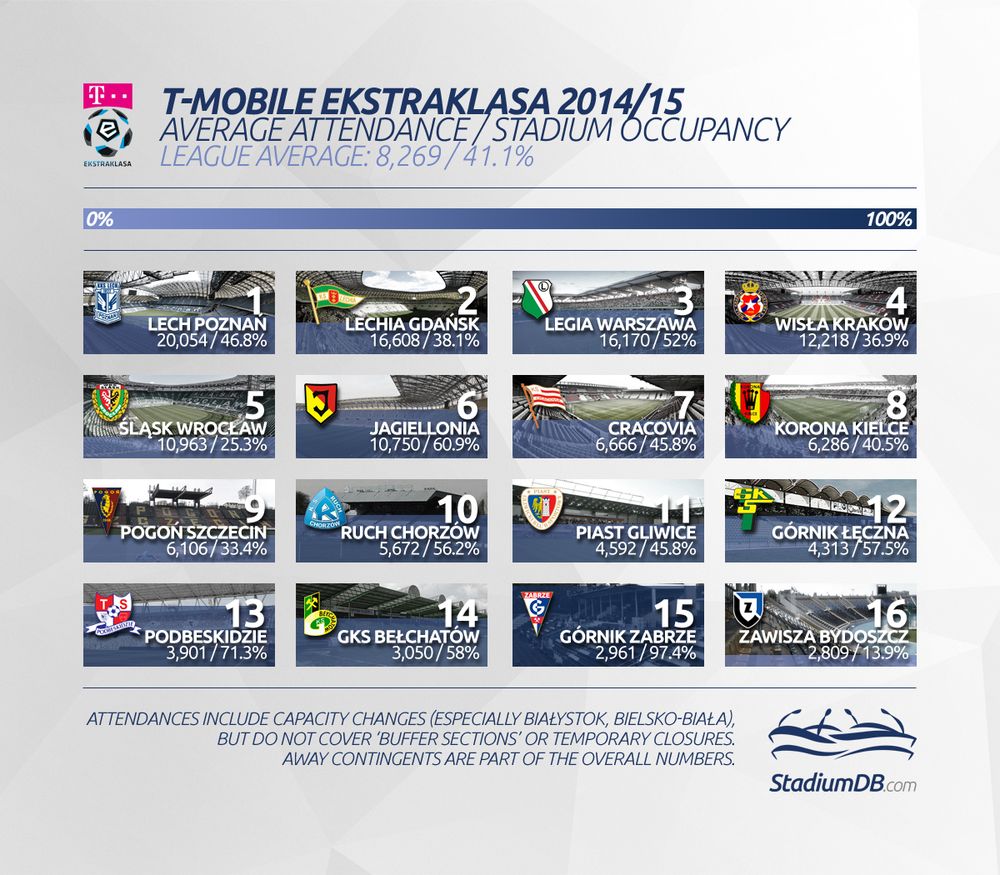 Three heroes
There are three clubs we feel need to be commended: Lech Poznań, Jagiellonia Białystok and Lechia Gdańsk. Each of them saw increase in home game turnouts. Lech, the somewhat surprising champion (Legia had the lead for most of regular season), are the only club in Poland to not have a single game below the 10,000 mark. Average crowds of 20,054 and two games of 40,000+ are by far the best results nationwide.
As for Jagiellonia and Lechia, each of the clubs saw large boosts of their active fanbases. Jagiellonia gained 124.6% compared to 2013/14 as their new stadium opened in October. Lechia on the other hand became exceptionally active in social media and marketing, drawing 3,608 people more for every game. Their huge PGE Arena Gdańsk is still only 38% occupied, but many feared they'd be doing much worse.
Most clubs losing
The average attendance of most clubs (10 out of 16) went down in 2014/15, which considers mostly teams averaging between 4,000-7,000 per game. But even Legia Warszawa saw a decrease for the 3rd consecutive season (!) to 16,170, filling just 52% of their stadium. Wisła Kraków suffered from a minor fall to 12,219 after a conflict with supporters. But most drastic case saw Zawisza Bydgoszcz fill barely over one in ten seats available. This case is also caused by devastating conflicts between club owner and fans.
Safety on the rise
After bad news, there's also a positive thing to report on. According to data disclosed by Ekstraklasa SA, number of incidents continues to fall. While Polish football is notorious for hooliganism worldwide, current situation is far from the stereotype. Only one case of physical violence occurred during 296 Ekstraklasa games. Also, only two incidents involving racism were reported.
One thing still causing concern for authorities (and quite some joy for fans) is the use of pyrotechnics. While number of games with flares went down by 14, it's still at 54. Thus the image we decided to use for the article, showing last game of the season at Legia Warszawa…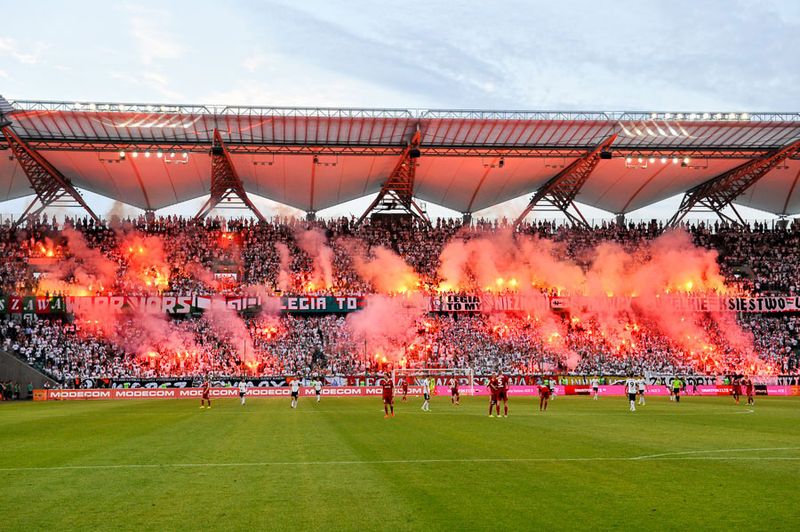 © Mishka, Legionisci.com