Netherlands: Why so few standing sections in Eredivisie?
source: MetroNieuws.nl; author: michał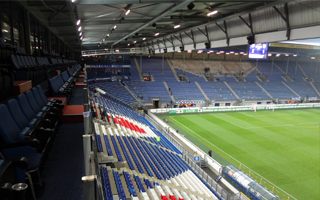 While further countries are opening debates on re-allowing terracing into stadiums, in the Netherlands this is allowed for a decade. Still, only 6 Eredivisie clubs allowed standing sections. Why so few? Report by MetroNieuws.nl.
The debate is advancing towards 'safe standing' in England. Scotland already greenlighted standing sections and Poland is expected to join the pack in 2015, reinstating terraces. All follow the success of German and Scandinavian clubs, where terraces are very popular and prove safe despite some scepticism.
In the Netherlands it's not quite the same. The national football association KNVB allowed for a pilot program in 2003 and as a result allowed standing sections in 2004. One significant limitation is that they can hold no more than 1,000 people in a single pen. While many fans support these sections overall, some have a very critical view on size limitation, especially with much larger sections functioning just across the border in Germany.
And while the small Dutch sections may seem easy to introduce, to date only six clubs gave their fans the opportunity. Heracles Almelo, NAC Breda, PEC Zwolle, Excelsior Rotterdam, Go Ahead Eagles and SC Heerenveen are the only ones in Eredivisie and the rest have various reasons for not implementing the solution.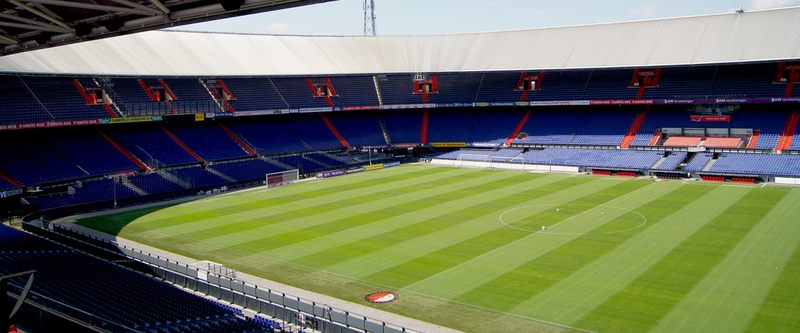 © G-Tinnetje (cc: by-sa)
First of all, it generates some cost. Or so claim Feyenoord Rotterdam, who regularly play in European competitions. And because UEFA doesn't allow standing sections, they would have to be converted to seating for international fixtures, then turned back to standing. With current seating removing and reinstalling each seat is said to cost €75, cumulating at €75,000 for a modest section. That said, Feyenoord assured supporters the opportunity is analysed as part of De Kuip revamp.
Vitesse Arnhem share the financial constrain, but with a different reason. The club only leases Gelredome and needs to return it for non-sporting events after every game. This would mean much more conversion work than in Rotterdam.

© Udo Ockema (cc: by)
Secondly, not every stadium is structurally fit to accommodate standing sections. Last year PSV Eindhoven considered converting part of the eastern side into standing, but didn't. The reasoning was that existing structures might not hold people in a more congested standing section, where pressure in some parts exceeds that of evenly spread seating sections. Similar argument was given by FC Groningen. Their new Euroborg was subject to testing and the standing scheme was abandoned after safety concerns were raised.
The above reasons are joined by financial instability (Willem II Tilburg) or outdated infrastructure (FC Dordrecht), but there's hope for fans of some teams. Just like Feyenoord mentioned before, SC Cambuur and FC Dordrecht want to include standing sections in their new stadia. Meanwhile Ajax Amsterdam, AZ Alkmaar and FC Twente are supposedly approaching the scheme at this time.

© Janericlebe (cc: by)