Euro 2020: All you need to know about interested countries
source: StadiumDB.com; author: michał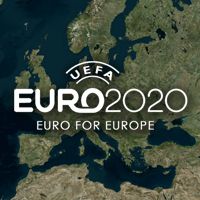 Or, in other words, all we were able to find digging a lot deeper than just the brief info released by UEFA. It took us a while, but this is – according to our knowledge – the most comprehensive analysis of Euro 2020 potential bids.
Deadline to express interest passed on September 12, but it wasn't until Sept 20 that UEFA revealed the complete list of interested cities. And still no details about Euro 2020 stadiums were disclosed. So, one by one, we browsed through the 32 potential candidates over the last few days to give you a complete overview of what is planned by each country.
Please keep in mind, these were only expressions of interest, while formal bids are to be filed by April 25, 2014 (with decision by UEFA expected in late September, a year from now). This means the data may be subject to change in some cases, depending on developments of the next half a year. Even the inclusion of not-announced candidate cities seems possible, though no new countries can join the 32.
The image below shows geographical division of all cities named by UEFA (click on it to see full size version on our facebook page). To our knowledge only three of them are applying for the final of Euro 2020: Istanbul, Kyiv and London. This group may be joined by others however, as Spain and Wales haven't given a precise indication of their goals.
Interestingly, Norway and Austria are the only major countries in Europe not interested in the tournament, while the distance between westernmost Lisbon and easternmost Astana is a hardly believable 6,000km.
Now for the candidates:
ARMENIA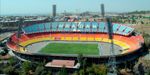 With the country's largest stadium being renovated in recent years and aspirations reaching much higher, Yerevan wants to apply for the 50,000+ group game package. Hrazdan Stadion still needs a lot of work to meet all expectations, but the will is there to go forward with it, while neighbouring Azerbaijan wants to submit a bid that would make the Caucasus a geographically viable 'cluster' for Euro 2020.
AZERBAIJAN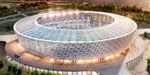 It's one of the fastest growing and largest stadiums under construction at the moment. The Baku Olympic Stadium could become one of the largest venues to hold group games with nearly 70,000 seats planned.
BELGIUM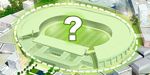 Before the bid even got submitted, controversy arose around which language should be used to name the new stadium, depending on its final location in Brussels' various ethnic districts. What is clear is that it will be a new stadium of up to 60,000 seats and it;'s expected to be financed and later operated privately. Though many would like to see Anderlecht playing there, the club is reluctant to abandon its home neighbourhood.
BELARUS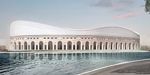 No surprise here: only one stadium eligible for the 30,000+ group spot. Currently under construction, new Dinamo Stadion may seem an unlikely choice for UEFA, but within the next few years it will become one of the most impressive reconstructions throughout Europe and including the much isolated Belarus in Euro 2020 would indeed sound like implementing the 'Euro for Europe' motto.
BULGARIA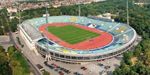 Keeping many options open, the Bulgarian FA even expressed the support for a new large stadium outside Sofia, should the government choose Plovdiv or Varna. Still, it is Sofia that was submitted to UEFA. Whether with a completely new stadium (private investor wants to build one at Slavija's home ground) or a redeveloped Vassil Levski remains unclear at this time.
CROATIA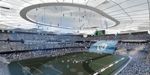 Zagreb is the city submitted to UEFA (with a new national stadium rather than the disfunctional Maksimir), but not only one mentioned in domestic debates. Sports minister Zeljko Ivanović suggested recently that Split's Poljud might be a more sensible idea. Not only for the city's tourist infrastructure, but financially, as well – revamping Poljud may cost a few times less than a new ground in Zagreb, while the EU might support the project financially, decreasing the expense burden.
CZECH REPUBLIC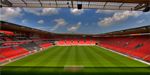 Officially it's Prague with a new stadium, possibly at Strahov. However, a few other options emerged recently. Though not official they still seem eligible to be discussed at least. These are Brno's new central stadium masterplan and expansion to Prague's existing Eden stadium, home of Slavia.
DENMARK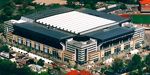 The only possible city and only possible stadium were submitted: Kopenhagen and Parken. As predictable as this is, the stadium may be subject to architectural changes before the Euro.
ENGLAND
As predicted and contrary to press speculations (suggesting giving the final away to Istanbul) the FA wants to bring both semifinals and final to Wembley. Suggestions of including Manchester in the bid weren't taken into account.
FINLAND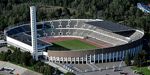 A potential partner for Saint Petersburg of Stockholm? Helsinki is close to both these cities geographically, which become an advantage if a 'northern cluster' is to be created by UEFA. However, Finland hasn't got a strong stadium bid so far. The existing Olympiastadion is a listed monument which makes any architectural changes a challenge. Meanwhile discussions over a potential new national stadium have been inconclusive for years.
FRANCE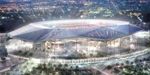 With Paris hosting the Euro 2016 final, submitting it to UEFA would be almost suicidal for the country's chances. But can Lyon make a difference? Surely getting a piece of the group and knock-out phase will be easier than fighting for the final, but many commentators question the sole idea of France hosting any Euro 2020 games after being a single host just four years before.
GERMANY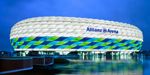 As we informed before, DFB chose Munich over Berlin and then decided that Allianz Arena will only apply for one of the 12 regular packaged rather than the final and semifinals.
GREECE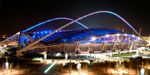 Just as announced earlier, it's Athens with the Olympic Stadium. It needs a facelift, but should only change slightly for the tournament.
HUNGARY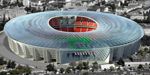 Just as we wrote before, Budapest's new national stadium is expected to honour Hungary's great footballing heritage. At the same time it should be the very strongest stadium option throughout Central Europe.
IRELAND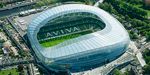 One of four bids from 'The Isles' sounds reasonable. Aviva Stadium is a renowned venue for various events and should UEFA decide to include any of the British candidates, Ireland may become a convenient partner for them.
ISRAEL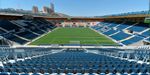 Surprising? Hardly, Israel has been investing in sports infrastructure a lot more than most countries recently. But as much as Teddy Kollek Stadium (recently expanded and modernised) sounds like a solid bid, especially with place for further expansions, we would still be rather surprised with Jerusalem on the 13-host shortlist.
ITALY

Despite new 60,000-capacity stadiums being on the table in both Rome and Milan (for Roma and Inter, respectively), Italy is interested in getting Euro 2020 for old Olimpico and San Siro. The first stadium underwent renovation ahead of recent Champions League final, while the second will be subject to similar changes soon.
KAZAKHSTAN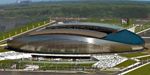 Absolutely most distant option of all, but is it unrealistic? Astana is a blooming capital city and the modern Astana Arena would be among the more interesting venues, even if only just meeting the 30,000-exception spot.
MACEDONIA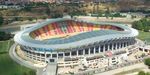 After the 2011 redevelopment, Skopje national stadium is a very modern one. With a running track and just slightly over the 30,000-minimum, but still modern. And with fiasco of Albania's bid Skopje have one competitor less. Then again no region has more candidates than the Balkans, with most of them having both bigger and newer stadiums.
NETHERLANDS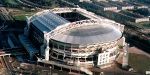 With Rotterdam remaining in the deadlock over old and new Feyenoord stadiums, the only viable option for KNVB was the Amsterdam ArenA. By Euro 2020 it will be the very oldest multi-event arena in Europe, suggesting a significant renovation may be needed to convince UEFA.
POLAND

As announced a few months back, Poland went for Warsaw and Chorzów. Both cities are expected to be included in the country's final bid in April. Stadion Narodowy and Stadion Śląski are the country's only two grounds exceeding the 50,000-capacity barrier.
PORTUGAL

No final decision was announced yet. It may be either Porto and Lisbon or only one of the mentioned cities. Anyhow, stadiums selected for the tournament are clear – it's Benfica's Da Luz and FC Porto's Dragao stadium in the running.
ROMANIA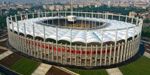 Bucharest's new national stadium already hosted the Europa League final and meets all criteria UEFA should give for tournament venues. No second candidate city is expected or possible for that matter.
RUSSIA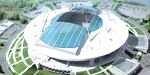 Wisely avoiding Moscow as the 2018 World Cup final venue, Russians went for the Zenit Arena as sole candidate venue. Will this prove successful? North of Europe sees fewer candidates and the stadium will be ready in time even with recent news of further delays in delivery.
SCOTLAND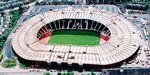 As expected, it's Glasgow and Hampden Park. Even if not the most modern, it's the most viable option commercially, taking into account Scottish football governing body's interest.
SERBIA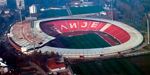 It has to be Belgrade, but whether a completely new stadium on neutral ground or redeveloped Marakana, it's not clear. StadiumDB.com understands that only 50,000+ size is considered, decreasing any chance of Partizan's stadium to be part of the bid.
SPAIN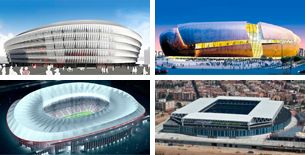 The Spanish FA left itself perhaps most options open of all interested countries. Four cities were submitted to UEFA as potential hosts: Madrid, Barcelona, Valencia and Bilbao. Interestingly, emphasis is on new stadiums: La Peineta, Nou Mestalla, San Mames Barria and even the (too) small Espanyol new stadium. It's not clear at this point, whether Camp Nou or Bernabeu may be included in the end, but by the time of submitting official bids more details on redevelopments of both stadiums should be known.
SWEDEN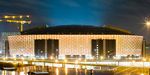 With the new national stadium still being less than a season in operation, there's no need for new projects to be developed. Sweden's bid seems a very solid one in northern Europe.
SWITZERLAND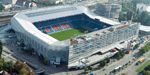 Again, no new stadium is planned with Basel's Sankt Jakob Park meeting the general needs outlined by UEFA. Thus no other stadium is considered.
TURKEY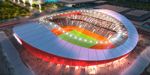 The goal is simple – snapping both semifinals and final. Istanbul's Olympic Stadium may grow to even over 100,000 capacity and become the world's largest domed stadium with a retractable roof being mentioned as possible.
UKRAINE

Just as it was announced before, Ukraine has two solid candidates: Donetsk for the group and knock-out stages and Kyiv for the final and semifinals. No changes are expected in this bid.
WALES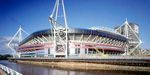 With one stadium meeting the requirements, it's a no-brainer: Millennium Stadium in Cardiff is the solo bid from Wales. Its biggest disadvantage may be London. Just 200km between the cities makes Cardiff's chances slimmer, but should the country apply for the regular game package instead of the final, the competition with London doesn't have to be too harmful.