Çotanak Spor Kompleksi (Çotanak Stadyumu)
Capacity
21 500
1413

(VIP / business seats)

76

(Prress seats)

75

(Disabled seats)

Country
Turkey
City
Giresun
Clubs
Giresunspor
Inauguration
24/01/2021 (Giresunspor - Balıkesirspor, 1-0)
Construction
11/11/2016 - 12/2020
Cost
TRY 153 million
Design
Bora Soykut, Azaksu Mimarlik
Contractor
Siyahkalem Mühendislik İnşaat
Address
Aksu, 28100 Giresun Merkez/Giresun, Turkey
Çotanak Spor Kompleksi – stadium description
The stadium is located in the Aksu district, which is part of Giresun, a city in Northeast Turkey. The facility is the key element of the sports complex, which also includes a training ground, a sports hall and an Olympic swimming pool with a capacity of 1,200 seats.
The venue construction plan was developed in 2013 as part of the nationwide program to build new football arenas. Giresun is famous for the cultivation of cherries and nuts (hazelnut is in the crest of Giresun and Giresunspor), which is why the name of the facility is Çotanak (husked hazelnut). The name is subject to change, however, as many locals want Atatürk (Turkey's legendary leader) as the patron of the stadium.
The construction lasted from November 2016 to December 2020. The date of commissioning the stadium, which was initially supposed to be completed in 2018, was changed many times. In December 2020, the necessary formalities related to the handover of the facility to the Ministry of Youth and Sports were finished.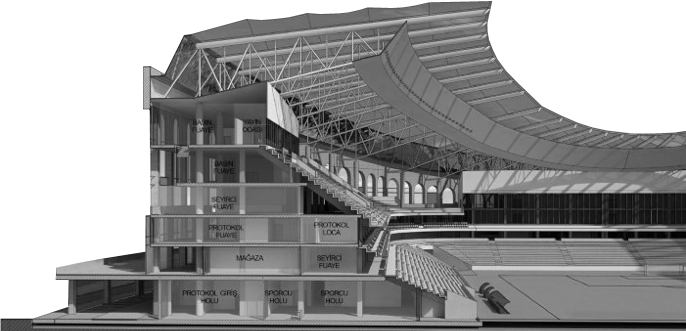 The capacity of Çotanak Stadyumu is 22,028 seats, of which 20,380 are intended for "ordinary" fans, and 1,413 are seats in lounges and VIP zones. In addition, 75 seats are allocated for the disabled fans and 76 for the press, 84 seats are the so-called protocol. The stadium car park can accommodate over 1,000 cars.
The stands have two tiers along both sides but a single one on each end, topped by glazed floor spaces. A small strip of skyboxes was also created between the two levels, offering 49 boxes.
The stadium's cubature is impressive - it looks larger from the outside, because the stands have an irregular arrangement. Behind the auditorium, under the roof, there is an atrium that protects fans from frequent rains in the Black Sea. In total, the stands with back-up facilities are covered by 25,000 square metres of PVC and ETFE membrane.
The building is distinguished by natural colours and high arcades, thanks to which the back-up facilities receive the necessary ventilation. The round shapes of the stadium and the sports hall refer to the surrounding hills.
The stadium building consists of a total of 6 floors, and in its underground part there are shops. It is connected to the nearby sports hall by a concrete promenade raised above the street level. Çotanak Stadyumu has a total area of 114,388 square metres.
2,815 tons of steel were used to build the roof, of which 1,790 tons were used for the load-bearing trusses. The roof was tested for earthquake resistance, as was the reinforced concrete structure of the stands.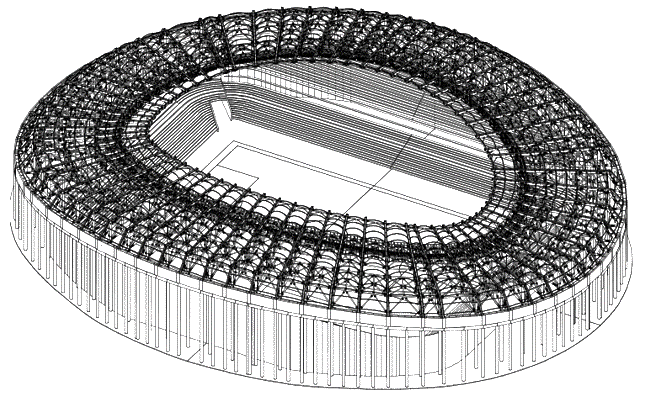 Related news
2022
2021