Stadium of the Year: And the winner is... Spain!
source: StadiumDB.com; author: Robert Saganowski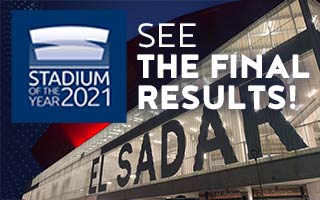 With such strong and numerous candidates from Turkey and the US, the Spanish supporters had to perform at their best so that their stadium could triumph in our competition. So it happened, and the fans from Navarre left no doubt. Meet the winner: Estadio El Sadar!
The public vote had some solid candidates this year, including 3 stadiums from Qatar, which will host the FIFA World Cup in just a few months. However, just like last year, when Malaysia's Sultan Ibrahim Stadium finished 1st, we did not expect such a colossal advantage between the winner and the next places on the podium.
Fans of Osasuna, which performs in the Spanish La Liga on daily basis, outdistanced the rest of the nominees in this year's competition. The decisive victory for the stadium from Pamplona is also due to the fans from other parts of the country, who actively joined our contest.
As every year, the lead could not have been built up if it were not for voters from other parts of the world who also placed Estadio El Sadar in their TOP 5. As a result, the winning stadium managed to collect more points than the three (!) following contenders combined.
Our system identified 12,873 valid votes, for which we are very grateful! The votes came to us mainly from Spanish-speaking countries, and all three of its representatives finished on the podium. The difference between the second Estadio Único Madre de Ciudades from Argentina and the third Estadio Banco Guayaquil from Ecuador is really small.
Find the full results of the competition at this link: Stadium of the Year 2021.