Stadium of the Year 2021: Time for You to nominate!
source: StadiumDB.com; author: Robert Saganowski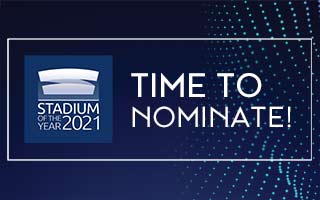 January is a special time on our website, when we begin the process of considering the candidates in the battle for Stadium of the Year title. Which venues opened in 2021 do you think should be on the ballot for the competition?
You are already invited to submit your nominations for our annual poll, the results of which will be announced in about two months' time. The system, as every year, is very simple. All it takes is to name the stadium you wish to be added and we'll check if it meets the criteria. You can find us in any communication channel (email, Facebook, Twitter or Instagram). We assure you that we will take a look at every proposal.
So far, we have created a list of stadiums that have been nominated by us, but we are not closed to new proposals. The table will be updated continuously as new nominations are accepted. Before you submit your candidacy, please check and read the criteria below.
Confirmed stadiums so far
Since Stadium of the Year has always been focused on our online community, we're asking you to create the list of candidates. We're also keeping the criteria simple, in order to include stadiums that might not otherwise be recognised internationally.
Stadium of the Year nominees have to meet these conditions
Chronological criterion [full opening between 01/01/2021 – 31/12/2021];
Functional criterion [only stadia enabling professional football games];
Capacity criterion [only those able to hold 10,000+ people];
Structural criterion [only brand new or completely rebuilt stadiums].
As in the previous year, we had to slightly modify one criterion. Because of COVID-19 in many places around the world it was not possible to open stadiums to the public in whole or at all. In this situation, the only condition is to hold an opening ceremony or match, not necessarily with spectators. We took this decision because we did not want to take away the chance in the competition for arenas that were commisioned under stricter restrictions.
This time we have also decided not to award a special Jury prize in order to give you full choice and freedom. After the end of accepting nominations, the list will be revised and the last missing items will be added to the table of candidates.
The public vote, in which we will ask you to choose the best stadium of 2021, will last one month and will start on 15 February and end on 15 March 2022.