Technology: 5G revolution offers unique stadium possibilities
source: StadiumDB.com [KT]; author: Karol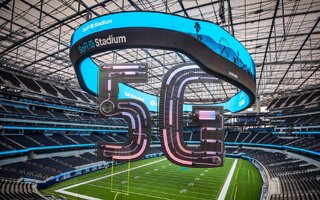 The implementation of 5G in stadiums seems promising for everyone in charge of commercial streams and fan engagement matters. Following examples of stadium 5G look impressive, while new ones are added every day.
Solution to boost social consumption
Before we explain what the race to install 5G in stadiums is about, we should understand the technology itself and its meaning for societies. In non-technical words, the new network will be about 10 to 20 times faster than the previous 4G. It will be able to process large amounts of data significantly quicker, providing video streams in higher resolution. The increased speed is achieved partly by using higher-frequency radio waves than previous cellular networks.
New possibilities touch various branches. For example, the next generation of mobile internet connection will be crucial for autonomous vehicles. It helps communicate with each other and read live maps and traffic data. The gaming industry will be a great beneficiary as well as the gamers should notice less delay (or latency) when pressing a button on a controller and seeing the effect on the screen. What about the stadium operation? Will it change somehow? Of course, and in a way we never expected.
5G as game-changer for sport and stadium business
5G will be significant also for sport business and stadium management. There are plenty of ways and areas how it could be applied, including broadcasting, better streaming, in-stadium connectivity, fan engagement, remote coaching, performance analysis, athlete health, event management or better match officiating.
Imagining the future without access to the internet looks like a nightmare nowadays. Especially in a crowded environment such as a mass event when the network is being drained by dozens of other people trying to do the same thing. That is why there are serious predictions that the fifth-generation technology (5G) will be key to future success. It seems as a game-changing experience for the fans watching sport both at the stadium or at home.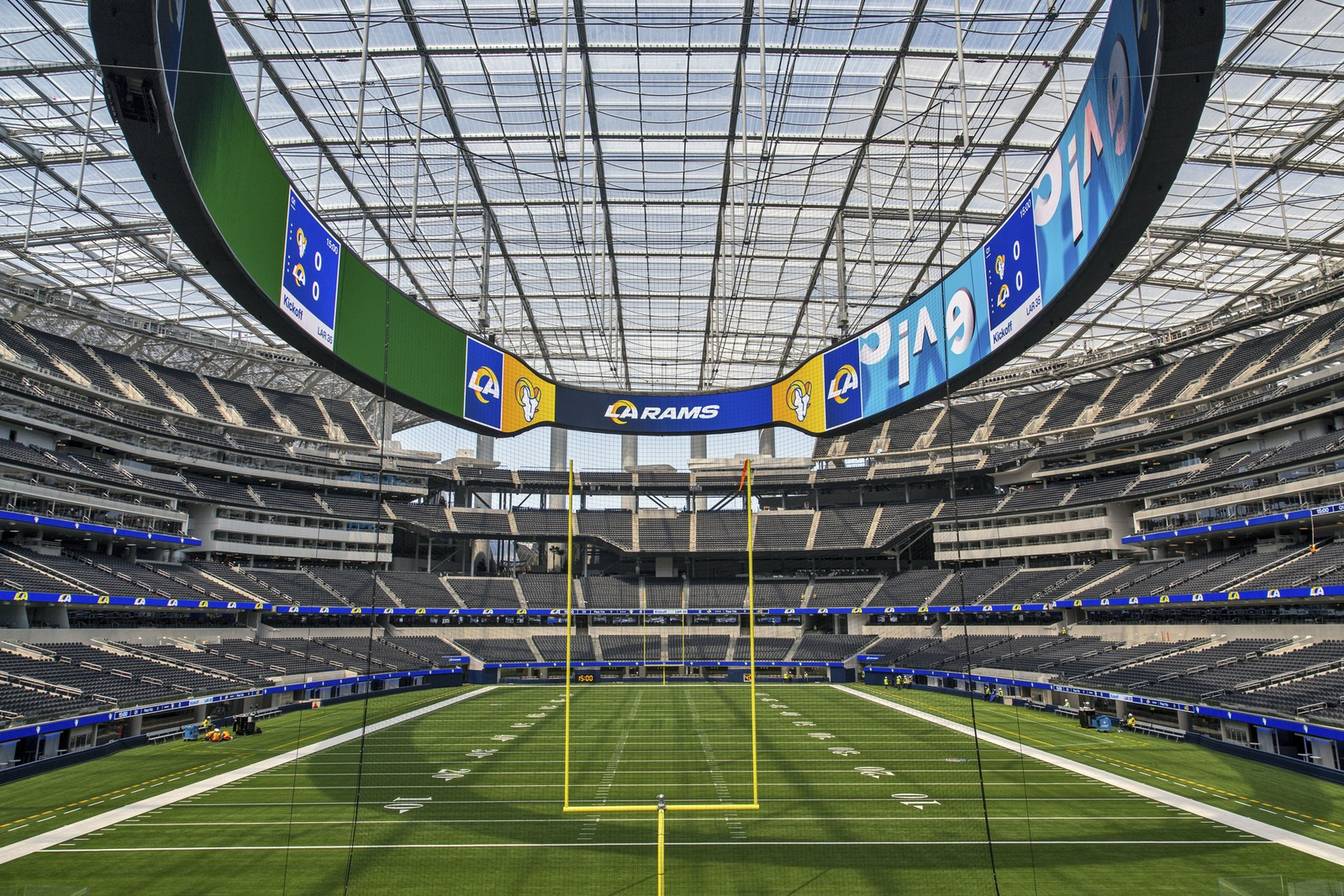 © FabriTec Structures LLC
New technology acts also as a solution for boosting revenues and fan engagement. Sports organizations could generate more money by using emerging technologies. It allows customisation and personalisation of various stadium experiences. It's logical that fans, having a better experience, might well spend additional money inside the venue and be more engaged with the place, athletes and clubs' brands.
SoFi Stadium has data transmission speed that's faster than the services in 99% of households in the United States. Having this cutting-edge technology in our stadiums will greatly enhance the game-day experience and bring a multitude of benefits to our fans, NFL commissioner Roger Goodell said in his statement.
Kenneth L. Shropshire, distinguished professor of global sport at Arizona State University, explains clearly the new approach of sport consumption. He believes 5G will enable the rise of what he calls the "three-screener" fan.
You have the game, the scoreboard and whatever you get on your phone, he comments. Or you have four different devices, or whatever it might be. So it enhances the viewing experience in a way that differentiates it from the viewing experience at home. Fans still love to be in the virtual world simultaneously, opening their social media accounts to share content in real time.
FC Barcelona, together with Telefonica, have also begun to develop an immersive 360º broadcast project. With a VR (virtual reality) headset, it will be possible to watch the game from different places at Camp Nou. From the bench with the coach, the directors' box, behind the goal, to living the experience of the players, all thanks to the use of micro-cameras, without the need for cabling infrastructure.
Tottenham Hotspur took this even further with its brand new venue, which is operationally smart. The platform is integrated into the venue's architecture to provide real-time monitoring for preventative maintenance and personalised visitor experiences, including aspects such as temperature and lighting conditions.
Solution for event management
5G can significantly contribute to the optimization of activities related to the organization of events. It has the potential to make operations more efficient. Communications between organisers, venue staff, volunteers and operations teams could be more reliable using such technology. Its implementation is widely expected in major sporting events.
For example, staff at the 2020 Summer Olympics in Tokyo have been trained using 'virtual arenas' and the wider use of digital representations (versions) of physical spaces. These virtual stadiums offer an immersive training environment for all event stakeholders, improving the effectiveness and reducing costs.
It could be revolutionary and mandatory in the future in aiding preparedness. Practically, it is about simulating various scenarios by venue members. 5G used via VR apps makes evacuation procedures, parking occupancy or new queuing systems effective, reducing latency. The same solution is being used during the preparations of UEFA's events, thanks to the VISTA software we described some time ago.
Bundesliga as the leading example
German Bundesliga is arguably the technology oriented football league in the world. Innovation is the second name of the Bundesliga and its forward-thinking approach to fan engagement means that the organiser is always looking for innovative methods to engage with different stakeholders, aiming the fans mostly.
Allianz Arena, home of German champions Bayern Munich and a venue of the recent UEFA EURO 2020, has been fitted with 5G technology with the cooperation of Deutsche Telekom. The improvement was designed with the aim to enhance fan experience at the 75,000-capacity stadium when supporters are able to return to matches following the COVID-19 outbreak. Technically, it was about placing the eleven 5G antennas (3.6 GHz frequency) around the stadium. Everything necessary to ensure the best quality of service and enable fans to seamlessly upload multiple pictures or videos on match days.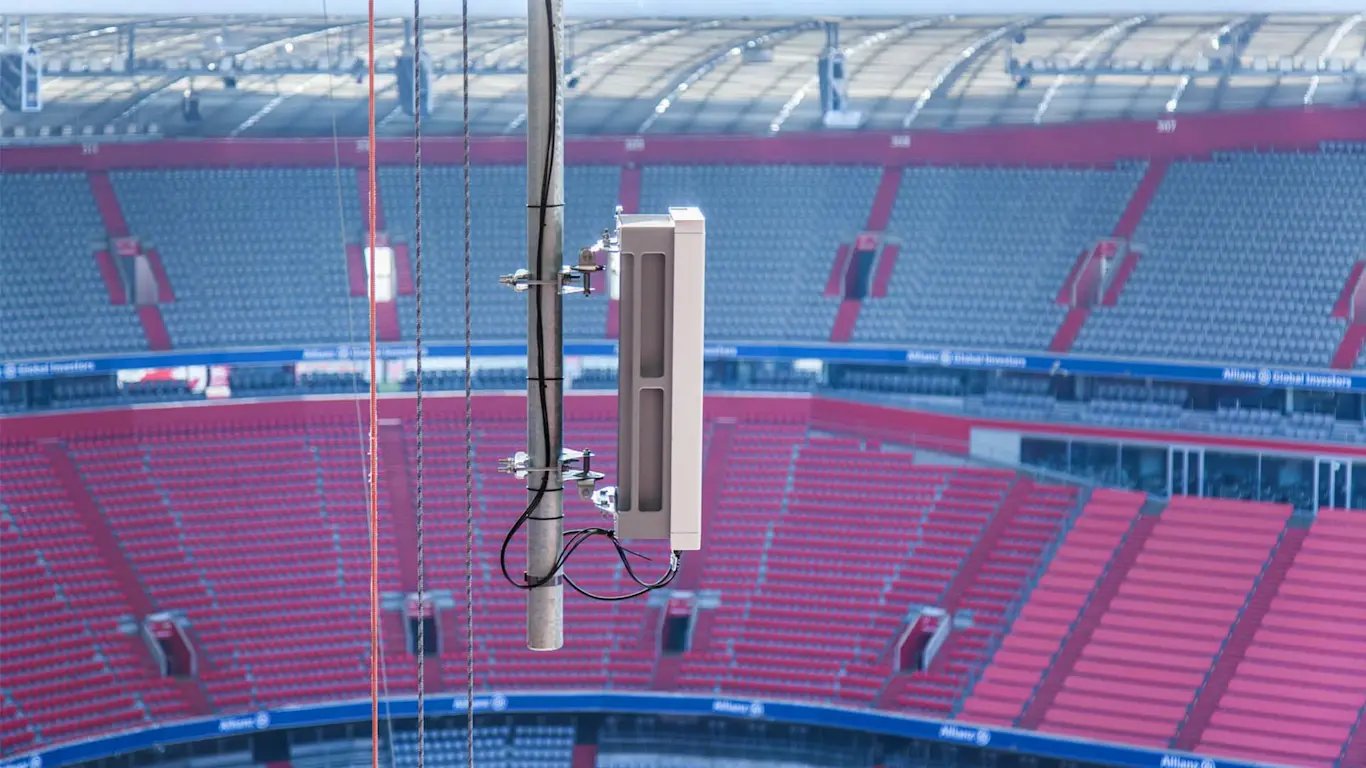 © FC Bayern
Allianz Arena always stands for quality, progress and innovation, so we're very glad we can offer our fans this special technology so early with the help of our longstanding partners Deutsche Telekom, commented FC Bayern München AG CEO Karl-Heinz Rummenigge. After the comprehensive W-LAN extension in 2015, the 5G technology is the next logical step to make the experience at the stadium even more attractive around the game.
Another great example comes from Wolfsburg, where 5G mobile communications technology was delivered during a match for the first time. Volkswagen Arena became the first stadium to trial such coverage. Selected fans were able to test the prototype of a new real-time app that Vodafone and the DFL have created in partnership with immersive.io, a French company which specialises in elevating the sports fan experience through augmented reality (AR).
The software allows supporters to follow match statistics and players' individual results directly on their smartphones. The app will eventually allow fans to see how quickly a player is running and how successful his previous shots on goal were or what the average position of the team is, all live.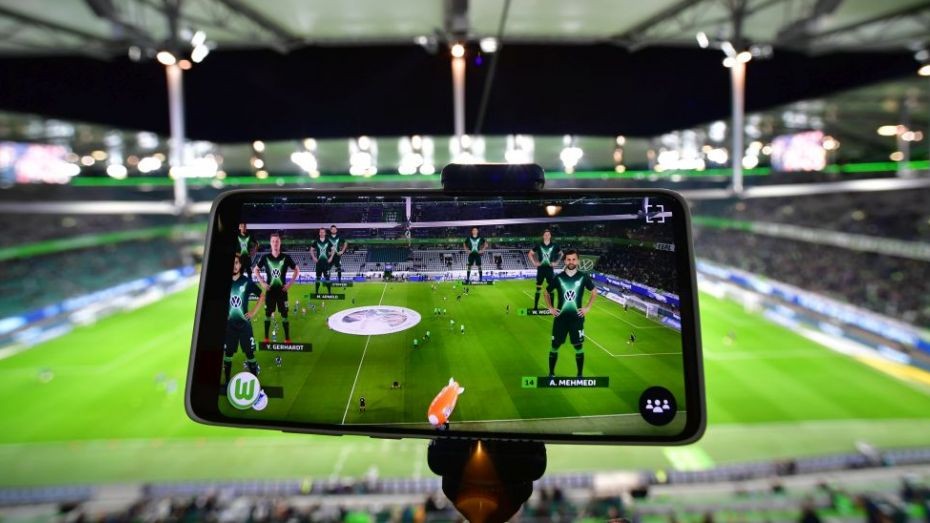 © German Football League (DFL)
Stadium upgrades behind closed doors
COVID-19 lockdown has significantly influenced sports attendance. Just under 74 million spectators were recorded as attending matches across all of Europe's top divisions in the 2019/20 (2020), compared to 105 million the previous season. Although the majority of stadiums have been affected by the pandemic, their operators were able to implement new technologies on-site. More and more sports facilities are being equipped with new-tech solutions such as 5G. More and more are being revealed every day.
SL Benfica has become the first Portuguese soccer club to offer 5G connectivity at their Estádio da Luz. The main aim of the club is to radically transform the live game experience. During the games, fans will be able to get immersive content, including real time game and player statistics, choosing the angle from which to watch the match and broadcasting HD live video.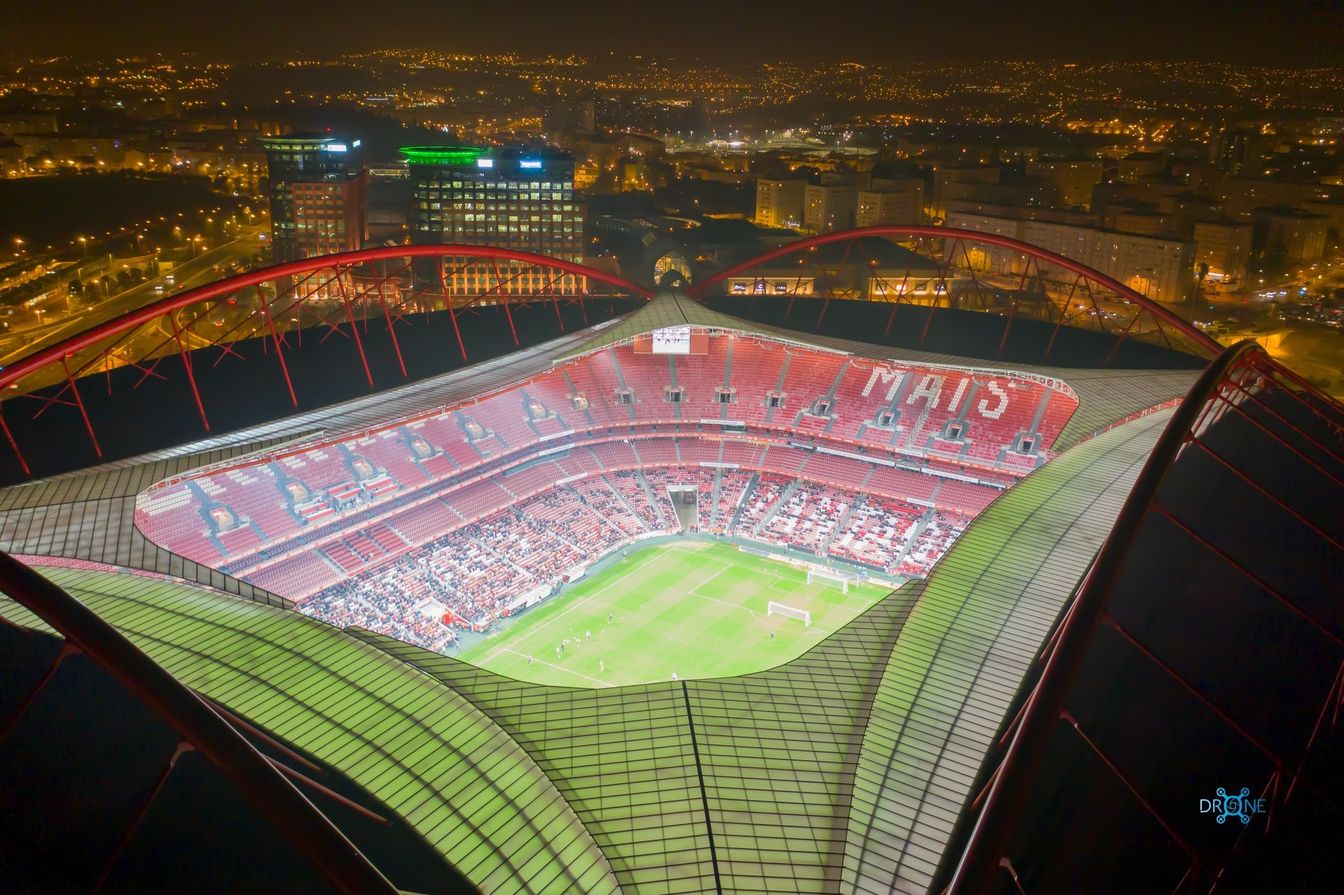 © Instagram: @flymydr8ne / flymydrone.pt
Future innovations in sport are always really hard to predict, but we can be confident that 5G will play a great role in many of them. According to research done by Vodafone, 76 percent of sports industry decision makers plan to use 5G to drive innovation. The same proportion suggest 5G will enable them to improve fan engagement with applications such as live-streaming video, or mixed reality experiences. Real-time access to information reinvents the fan experience both for those at the event or watching elsewhere. 5G at the stadium? Definitely yes!
Author: Karol Tatar