Stadium management: UEFA presents a unique solution for stadium operations
source: StadiumDB.com [KT]; author: Karol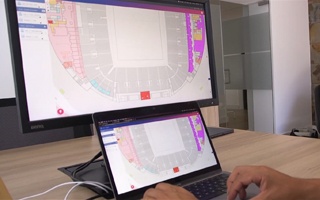 European Football Federation (UEFA) together with Focus BC launched the cutting edge, collaborative platform for event organizers. A new solution called VISTA aims to provide optimization during the various phases of event preparations.
Optimizing as the main purpose
The solution had a great positive impact on reducing costs, improving productivity, and allowing to plan and deliver events in a very short period of time.
From venue remote site visits, event reporting, asset management to monitoring VISTA became then a game-changer in the way UEFA is preparing and delivering its masterclass events and even more today with new challenges we have to face. explains Cedric Cherhal, business solutions manager at UEFA.
Karol Tatar: What is Vista, exactly?
Cedric Cherhal: VISTA (VIrtual STAdium) is a map-centric platform where all the operation teams involved in the event delivery are collaborating. They define together (using the powerful drawing toolkit) the event overlay, or how the stadium infrastructure will be used before and during the event. It indicates areas subject to particular attention or where actions are needed. Having one single geographical reference, naming convention is helping every team to know what they have to do on-site. Good preparation is 90% of the success of an event.
KT: What are other advantages of using it?
CC: VISTA is using the Google street framework which helps any counterpart navigating inside the stadium using immersive 360 panoramas together with the reference map comfortably from his place. This is particularly useful nowadays due to the travelling restriction, but even during normal time fewer visits are needed to achieve a task.
VISTA is also offering user-friendly dashboards, showing relevant KPIs (i.e: number of domains who are behind schedule) which help management to pay particular attention to the critical issues.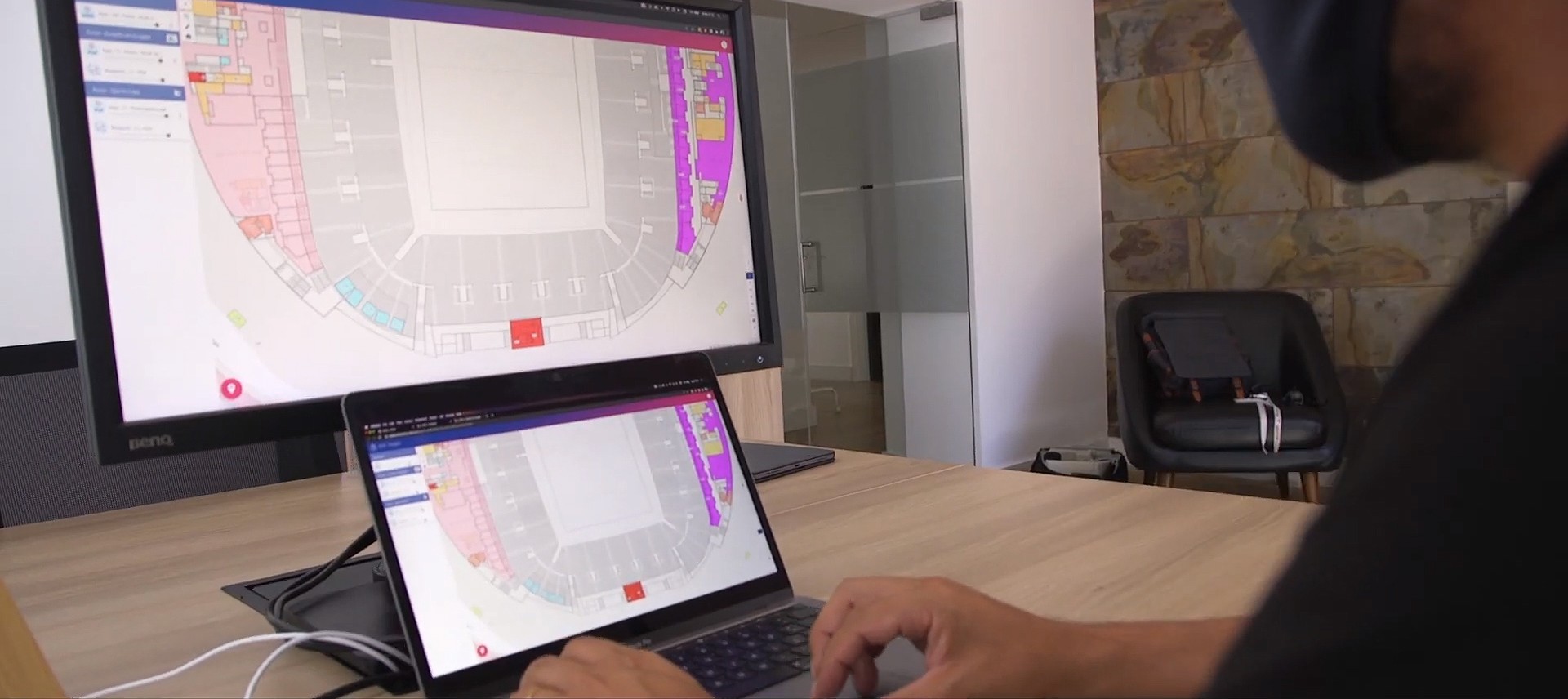 © Focus BC
Function-packed
Event organising and stadium management require digital transformation. It offers huge amounts of benefits for all staff during the various phases of the preparations of the event. Assuming the main purpose of creating VISTA was to exchange more effective information among various stakeholders. With it the user can have all information such as maps and stadium plans in one user-friendly place.
KT: What other functions within the VISTA are there?
CC: VISTA is offering an "inspection" feature, where teams receive tailor-made questions in order to provide clear status on the preparation. They can even use the "Speech to text" function while running site visits. 360 panoramas but as well document (i.e PDF), function or schedule can be linked to a place, room. This is particularly useful for the suppliers, broadcasters, and other stakeholders.
The two other modules that can be enabled are "Asset Management" where users can manage their event assets (ie: office furniture, IT equipment, specific TV plugs…) within the same platform. It is, therefore, possible to control related costs, equipment delivery and onsite stocks comfortably.
The last one is the "monitoring" module where UEFA can see live (or near live) people entering/leaving areas directly on the maps and define thresholds to ensure we are not exceeding capacity. This is useful in sensitive areas such as technical areas, hospitality but as well to respect sanitary constraints potentially.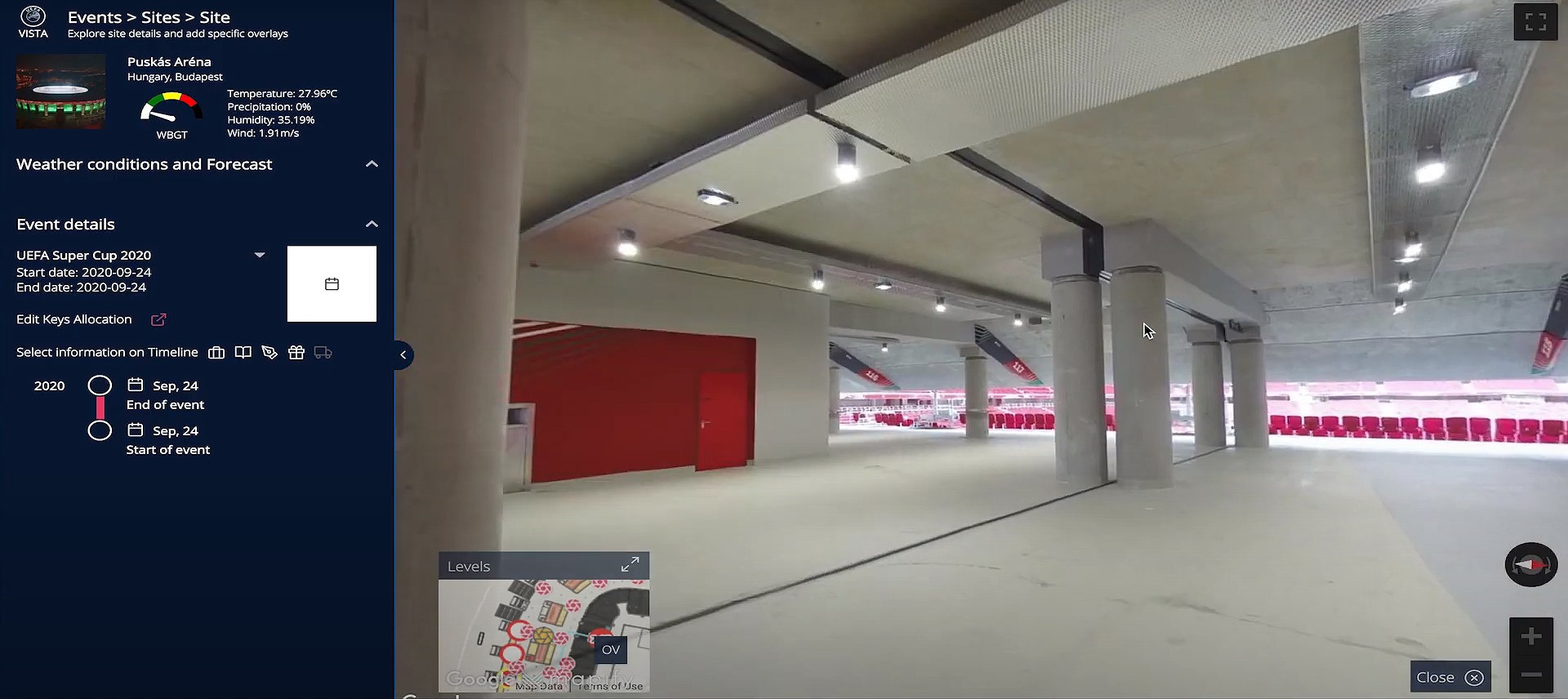 © Focus BC
KT: How much time does it take to "transfer" the stadium to the virtual world?
CC: It depends on the size of the stadium (number of levels, room, etc…)
it could take 1 hour up to 1 day. But the process is generally fast and simple. Such digital transformation helped the UEFA reorganize the last Champions League final from one place to another within a few days.
KT: Would you agree that virtual arenas are the future of stadium business?
CC: During the preparation phase….yes, no doubts.
Virtual arenas trend
Using new technologies for event preparation significantly contributes to the optimisation of activities related to them. It has the potential to make the operation more efficient. Communications between organisers, venue staff, volunteers and operations teams could be more reliable using such technology. Its implementation is widely expected in major sporting events.
For example, staff will be trained using 'virtual arenas' and the wider use of digital representations (versions) of physical spaces for the 2020 Summer Olympics in Tokyo. These "virtual arenas" will offer an immersive training environment for all event stakeholders, improving effectiveness and reducing costs. It could be revolutionary and mandatory in the future in aiding preparedness. Practically, it is about simulating various scenarios by venue members. 5G used via VR apps makes evacuation procedures, parking occupancy or new queuing systems effective, reducing latency.
Author: Karol Tatar