2030 World Cup: Spain and Portugal confirm aspirations
source: StadiumDB.com [MK]; author: michał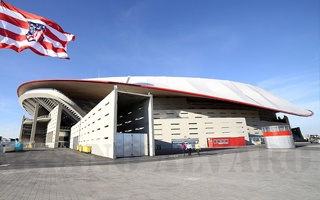 On Friday they met for a friendly game. No goals were scored on the field but the greater goal was confirming the readiness to host the 2030 World Cup in Spain and Portugal.
This year sees the centenary of Spanish-Portuguese football rivalry. Marking the occasion, both national teams met last Friday for a test-match before Euro 2020. We'll leave the football analysis of this goalless tie to specialists, for us the more important thing happened off the field.
The game was used as an occasion to confirm Spain and Portugal's readiness to host the 2030 World Cup. In attendance that day were Spanish prime minister Pedro Sánchez and king Felipe VI, as well as Portuguese prime minister António Costa and president Marcelo Rebelo de Sousa. All of the officials were there to confirm their institutional support for the joint World Cup bid.
Which stadiums could host the 2030 World Cup?
Detailed infrastructural criteria for 2030 haven't been set, nor has a complete list of cities and stadiums. But with 15-16 venues expected, it's certain that Spain would host many more games than Portugal. This was also the plan when the two countries competed for the 2018 World Cup hosting rights. Eventually their bid failed but received more votes than both the Belgium-Netherlands and England bids.
In Portugal it's unlikely we would see significant changes in infrastructure. Since Euro 2004 the country's demand for stadiums hasn't grown and in most cases stadiums built for that tournament are still considered excessive. It's hard to imagine a strong host venue outside Lisbon (Da Luz and Jose Alvalade) and Porto. Although temporary expansions of stadiums like Estádio Algarve cannot be ruled out, it's clear that Spain would carry most of the tournament.
In Spain the situation is almost the opposite of their Iberian neighbours. Forced by La Liga's requirements, a wave of stadium redevelopments is rolling through the country. Madrid and Barcelona should have at least two world class host stadiums each, while Seville – currently about to host Euro 2020 – will actually have three stadiums to offer. Add to that Bilbao, San Sebastian or the eternally-on-hold Valencia stadium and the list is starting to fill up immediately. Of course, this is speculation only, detailed list will only begin to be created.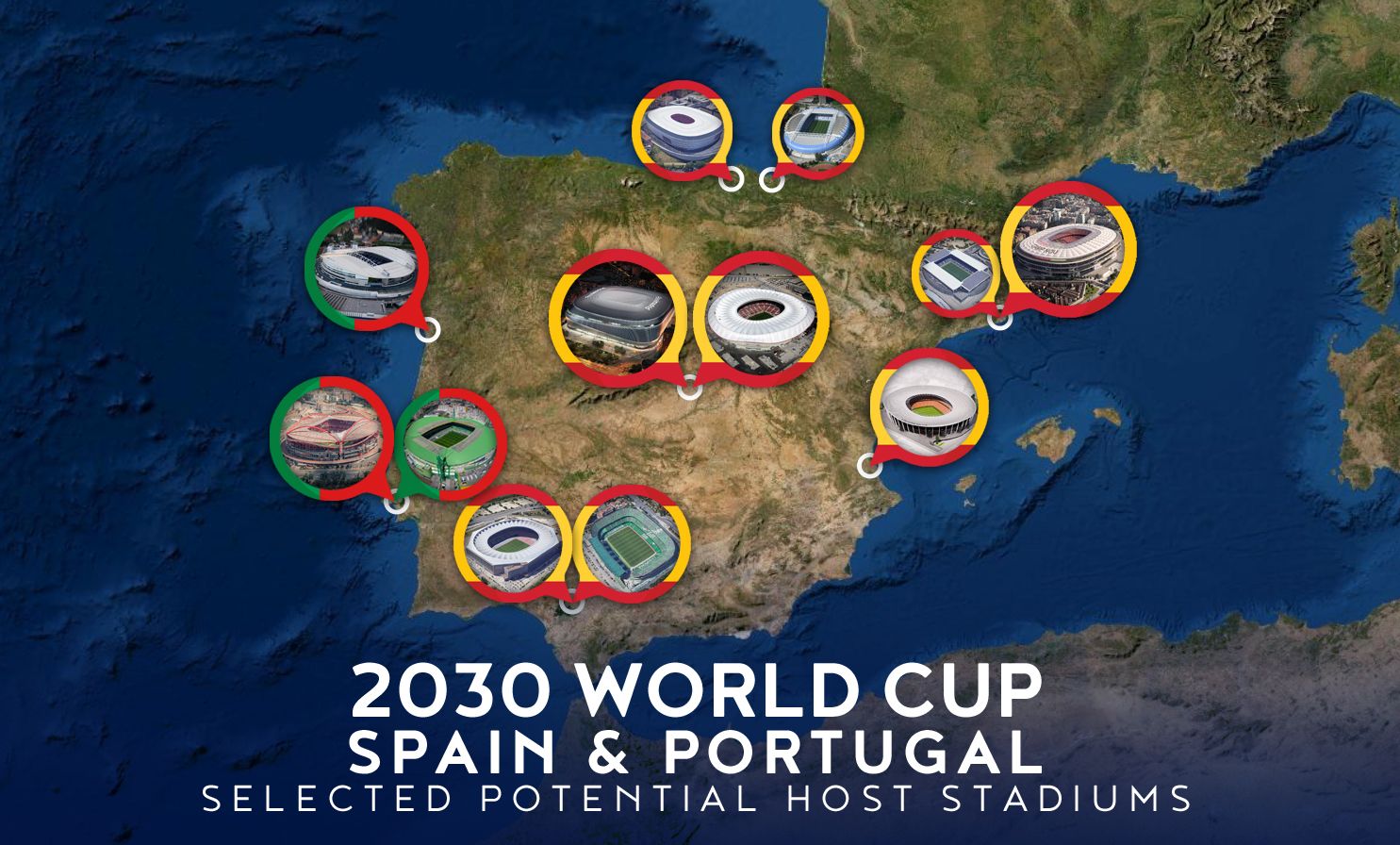 Beating UEFA rivals first
As confirmed by UEFA president Aleksander Čeferin, Europe should have only one candidate (single or joint) in order to compete successfully against bids from other continents. This means Spain and Portugal first have to defeat European competition and become the official representation of the Old Continent.
As things stand, there is only one counter bid, from the Balkans. A four-way bid of Bulgaria, Greece, Romania and Serbia offers sufficient number of stadiums, although their capacity might end up falling short of FIFA's requirements, not yet specified.
There is also an expected bid coming from England, already with public support from prime minister Boris Johnson and – rather unfortunately because of his presumed neutrality – president Čeferin himself. So far thee FA hasn't launched the bid officially, only expressed interest.
Who else is in play?
Along FIFA's policy, continents hosting the last two editions cannot bid for the next one, which leaves out Asia (because of Qatar 2022) and North America (2026). Unless Australia decides to join the running, this leaves Europe with South America and Africa.
South America is already represented by Uruguay. The country announced its bid as long back as 2012, later joint by co-hosts Argentina, Chile and Paraguay. It seems any official counter bid within CONMEBOL is very unlikely.
Africa is represented by possibly the most relentless bidders, Morocco. The northern country has been fighting for years to get the Olympics and World Cup, but the two-decade efforts have so far fallen short. The last lost bid was for the 2026 tournament. Speculation about potential merger between Morocco and Spain-Portugal was cut short by UEFA president who is against cross-continental bids. However, co-hosting with Algeria and Tunisia seems to remain on the table.
Big World Cup only for major players
Because the global tournament is growing to 48 teams in 2026, representing a 50% increase, the format forces many more stadiums (15-16 instead of 8-12) and thus hosting it becomes a privilege of very strong single countries or regional coalitions. As of today it remains unclear what specific criteria FIFA will have for candidate stadiums, the bidding process will formally commence in mid-2022. The winner should be announced during FIFA's 74th congress in 2024.
Author: Michał Karaś