Florence: Details on ne stadium from Viola to come soon?
source: StadiumDB.com; author: michał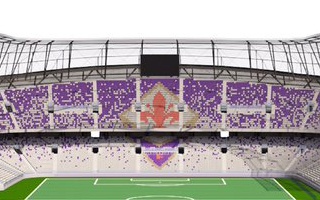 After months of waiting it seems we're getting closer to a final decision. So says the mayor of Florence, who wouldn't mind a redevelopment of nearby athletics stadium, as long as the proposal is sensible.
After the failed bid to relocate to the western Mercafir area, the lats year in Florence has passed on talks and analyses as to where Fiorentina could relocate. There were a couple of proposals to even leave the city entirely but it seems the future of Viola will remain connected to the old Stadio Artemio Franchi. Today the historical stadium's revamp seems the most likely option, even if burdened heavily by architectural and spatial constraints.
In late September the club has released a financial evaluation from Deloitte, which suggests a new stadium could bring up to €5 billion in additional tax income over a decade, even if much of the amount would be indirectly connected to the project. Such reports should usually be taken with a grain of salt, as they are meant to promote the project, but with the harsh reality of COVID-19 economic stimulus is valuable more than usually.
Of course, the football club would benefit from a new stadium more than anyone. Today Fiorentina have annual revenue of roughly €95 million ($110m today), while at the new venue it could reach €225 million ($264m). This kind of economic leap would be well worth the estimated construction cost of €250 million ($292.5m). The anticipated capacity is 42,000.
Speaking to Radio Bruno, the mayor of Florence Dario Nardella has this week announced he anticipates details from Fiorentina soon. It's not impossible for the new stadium to be planned not in the place of Artemio Franchi, rather across the street.
That's where the athletics Stadio Luigi Ridolfi stands. Replacing it would be somewhat ironic as it was built in 2001 precisely because Stadio Artemio Franchi had lost its running track.
"Building the new stadium in place of the Ridolfi athletics stadium? We are open to any type of hypothesis that has to do with the qualification of Campo di Marte. Obviously, more technical details are needed for a definitive judgment. Commisso [Rocco Commisso – president of Fiorentina, StadiumDB] has the energy of a young man in his twenties. He's not used to renovating, but there is always a first time." Nardella said.