Las Vegas: The Death Star is fully operational
source: StadiumDB.com; author: michał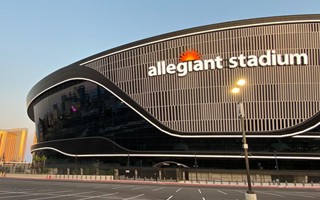 Although the first game will be held without supporters, Nevada's largest city seems thrilled about the 'opening'. Department of Transport even issued a warning for motorists not to stop beside the glowing stadium.
On Monday evening (5:15pm local time, 2:15am on Tuesday CET), Raiders will play their first home game in Las Vegas, at the brand new Allegiant Stadium. Unfortunately, all of the 2020 season will be played without spectators in Vegas, which represents a powerful blow for a relocating team and a new stadium, none of which will get the benefit of early wave of public interest.
As the 2020 season is, in many ways, lost for the home team, Raiders have amended their agreement with Las Vegas, extending minimum stadium tenancy from 30 to 31 years. During this period the team guarantees no relocation will be considered, in order to secure stadium cost being recouped. Analogically, many stadium guarantees were extended by a year, since the venue won't be properly used in 2020.
But the opening is still a thrilling prospect for locals. During construction, hundreds of amateur film updates were released, hitting many millions of views, aside from the official Raiders' updates.
The excitement is big enough for the Department of Transportation (NDOT) to release a special statement, warning drivers not to stop or slow down when they pass the stadium during opening game. No portion of the event will be visible from the outside.
Giant screen embedded into the east facade of Allegiant Stadium
It should be sayd that motorists will have something to be distracted by. The stadium's east elevation has one of the world's largest multimedia facades incorporated into it. 80 feet (24.3m) tall and 345 feet (105m) long, the screen will produce images covering 2.564 m2 (27,600 square feet).
Initially the screen was supposed to be tested back in August, however it wasn't until last Monday that it lit up for the first time. The screen was evaluated as safe for both drivers and pilots landing or taking off from the nearby international airport. It's made of 'mediamesh', which means fans who will gather inside the stadium will also be able to see through the facade, towards casinos and hotels located on the nearby Strip.
What other special features does Allegiant Stadium have?
Because we're talking about the second most expensive stadium in world history, the list of unusual features cannot be limited to the mediamesh screen outside. The 65,000-seater is among the world's largest indoor facilities, though it might not seem fully enclosed to supporters inside.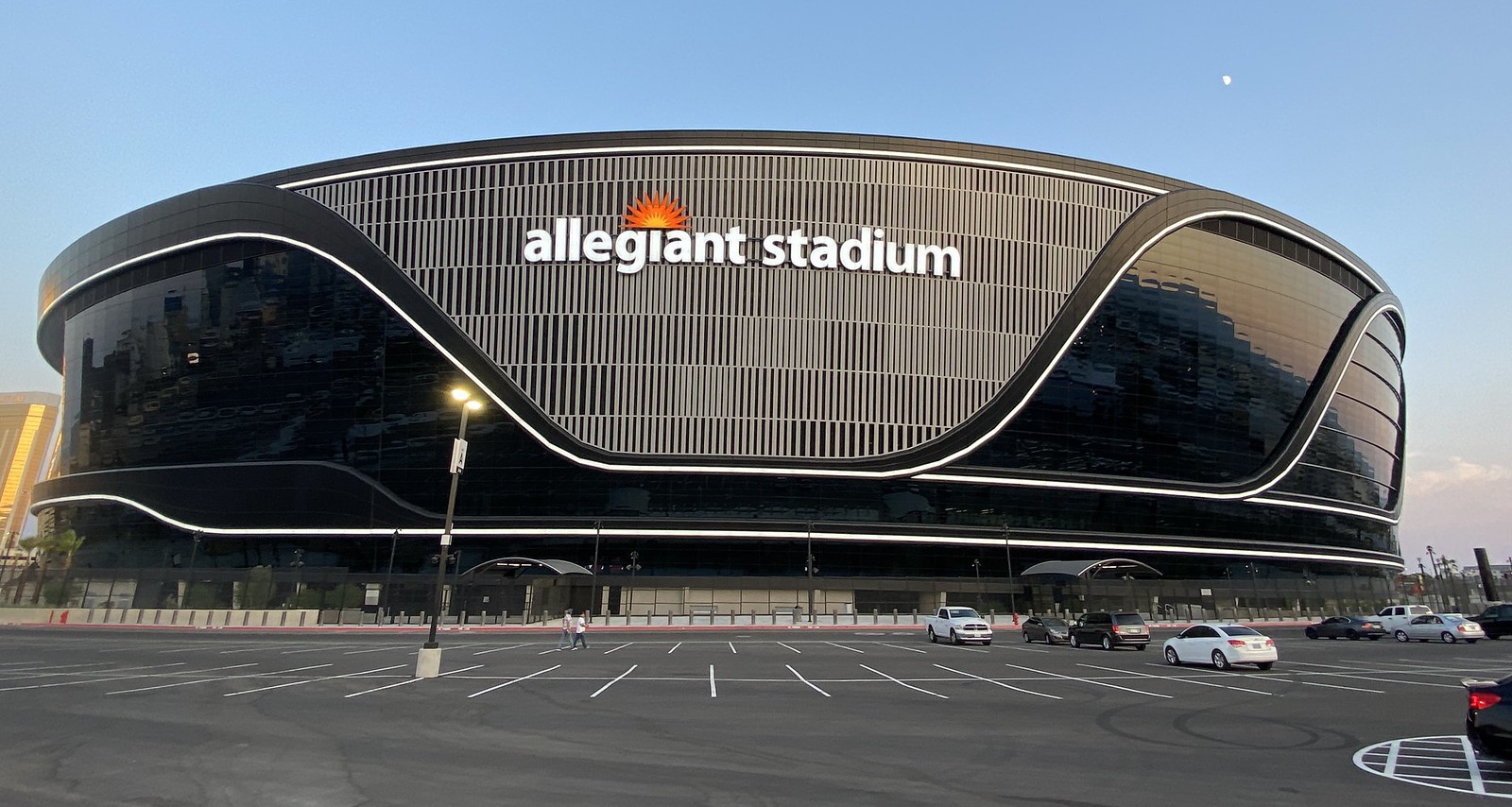 © h2kyaks
First, bulk of its dome is stranslucent, allowing a lot of natural light inside. Second, the north end is equipped with a stunning set of sliding doors, which will create a huge opening of 80 x 215 feet (24.3 x 65.5m), allowing ventilation and a great view of the strip. While we're in the north end, it's been equipped with the largest 3D-printed element ever, the 93-feet (28.4m) tall Al Davis Memorial Torch.
Although the stadium will feel airy and light, it won't offer proper conditions for natural grass growth. That's why the field of play has been placed on a massive tray that travels outside the stadium when not in use, utilising 540 electrically powered wheels.
How much did Allegiant Stadium cost?
When the project was first announced in 2016, the budget was expected to stay at around $1.9 billion. At present, however, it's at some $2.02 billion (€1.7 bn), with potential to rise by several more million. While significant, the increase is rather modest compared the specific circumstances under which the project was being delivered, to name just the US-China trade war, issues with the roof structure and the ongoing pandemic.
Of that amount over $1.4 billion was reserved for actual construction, $240 million for design, engineering and soft costs, $157.3 million for furniture and equipment and $77.8 million for land acquisition. The stadium also received a significant public contribution, with some $750 million to be covered through hotel room tax.
It should also be remembered that the stadium only narrowly missed its construction timeline, despite severe complications associated with the COVID-19 crisis. It was supposed to be delivered on July 31. And while it did receive conditional certificate of occupancy on that very day, it took a month more to be granted an unconditional and final certificate. Since no fans will be admitted in upcoming months, some features of the stadium will be gradually added until November.