StadiumDB Newsletter: Issue 92 - The vote is open, what else is new?
source: StadiumDB.com; author: michał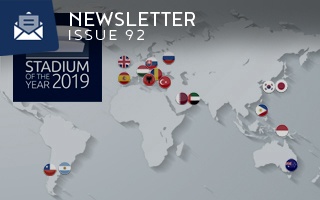 The Popular Vote is open, also the Jury is on the job already. But before we introduce all members, let's take a look at what's been going on over the past week...
It's been a busy week. We've added many new stadiums and all in the effort of ensuring you have the right insight to select the best Stadium of the Year 2019. Yes, the vote is now officially ongoing and we're keen to learn which stadiums you consider the best! If you wish to receive weekly updates on the vote's progress, just use the blue box above to subscribe. First bonus for clicking to read this is that you get info on how many votes are in: 2,700 at this point. Yours can be next!
After two weeks of collecting and verifying over 40 candidates submitted during the nomination period we're clear: only 21 sadia are competing to become Stadium of the Year 2019. While this is the shortest list we've seen since launching our English version, it's actually packed with fascinating cases from across the globe. From a stadium built with volcanic ash, through timber structure in Tokyo, 'double stadium' in Moscow or Europe's most expensive private stadium in London, to Latin America's most sustainable venue or Qatar's first World Cup venue. You simply have to help us select the next best stadium because there are too many options. By next week we'll also have the list of all Jurors public as they are preparing to start ranking the candidates now.
But we're not only focused on our own projects, there's also been promising news concerning atmosphere within European stadia last week. The fundamental piece of news is that safe standing might be returning to English football grounds as interim report finds it actually safer than all-seater layout! Meanwhile in Germany the very first legal pyrotechnics show was held by HSV supporters, who were the first to secure approval to light smoke bombs in their stadium. Not bad at all!
Interestingly, the most read news article of last week was that of Argentina's San Lorenzo hiring IDOM as designers of their new stadium. Not that we're surprised, San Lorenzo returning to its spiritual roots at Avenida La Plata 1700 is more than newsworthy! Following years of campaigning the club is finally just a few steps away from building a new ground where their old Gasómetro used to be. Well, fingers crossed!