Stadium of the Year 2019: Your time to nominate!
source: StadiumDB.com; author: michał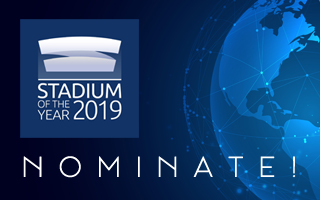 For over a week everyone around the world is eligible to suggest which stadiums opened in 2019 should be included on the list and compete to become Stadium of the Year 2019. Which will those be?
Starting today, until midnight on February 5 (CET), you're most welcome to inform us, which stadia we should include on the list for Stadium of the Year 2019. As every year, it requires as little effort as possible. You comment on our nomination social media posts (on facebook and twitter) or message us (via facebook, twitter or email) with the stadium names, while we review the proposals and add more venues to the list.
Final list of nominations:
Please keep in mind there are criteria that determine a stadium's eligibility. While we strive to keep the competition open and democratic (not only including the most expensive and advanced stadia), these are the minimim requirements for a stadium to be listed:
Capacity criterion

[only those able to hold 10,000+ people];

Structural criterion

[only brand new or completely revamped stadiums];

Timing criterion

[full opening between 01/01/2019 – 31/12/2019];

Functional criterion

[only stadia enabling professional association football games].
Once the nomination period concludes, we will verify all submitted proposals and add last missing stadia to our database in order to ensure you can know each one well before casting your final vote for Stadium of the Year.
The Popular Vote will begin on February 10 and last until midnight on March 15 (CET). Votes will only be accepted through a dedicated platform, please do not send your votes via email/messages because we cannot respond to all of those. Everyone around the World can cast only 1 valid vote. Attempt of multiple voting will result with all votes from specific sources being deleted.
Along with the Popular Vote, Stadium of the Year will be selected by select Jury of experts in stadium architecture. We're pleased to say that some of the World's best offices have agreed to take part. Each vote will result with separate awards – the Public Award and Jury Award.