Al Janoub Stadium (Al Wakrah Stadium)
| | |
| --- | --- |
| Capacity | 44 325 |
| Country | Qatar |
| City | Al-Wakrah |
| Clubs | Al-Wakrah SC |
| Inauguration | 16/05/2019 (Al Sadd - Al-Duhail, 1-4) |
| Construction | 03/2014 - 30/04/2019 |
| Cost | € 587.3 million |
| Design | Zaha Hadid Architects, AECOM |
| Contractor | MIDMAC, PORR Qatar, Six Construct |
| Address | 5H5F+WJ Al Wukair, Qatar |
Al Janoub Stadium – stadium description
Just 23 km from central Doha and 15 km from the capital's southern limit sits the very first stadium purpose-built for the 2022 World Cup. While nominally placed in Al Wakrah, the stadium and its precinct are physically within Al Wukair, a municipality west of Al Wakrah.
Here, over 58 hectares were earmarked for a major leisure precinct, including the main stadium, two more training stadia and massive 20 hectares of public green areas with some 800 trees. This makes it one of Qatar's largest parks.
In this unique spot, beside a freshly-built highway junction, a stadium with net capacity of 40,000 people was envisioned, meant to become an instant landmark with total height of 48 meters in otherwise low-rise, low-density area.
Back in 2013 the design contract was signed with Zaha Hadid, for whom it was to be the very first football stadium ever created. Due to its one-off form, it gained global recognition instantly, not necessarily for the right reasons. Nicknamed the 'vagina stadium' by tabloid media, it was also seen as a feminist manifesto by others. But far more compelling is the official interpretation of its design, with strong maritime theme.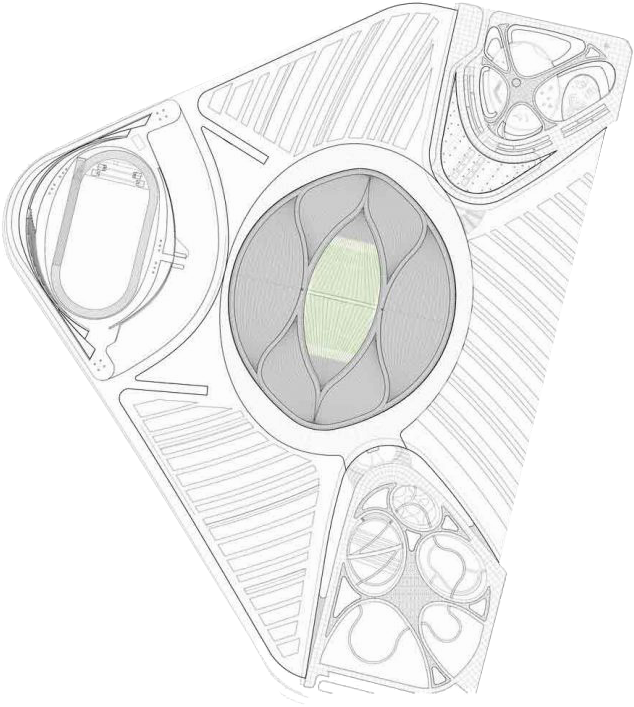 It's inspired by the dhow, a traditional Qatari fishing boat. On the one hand its flowing white outer form resembles sails moved by wind. On the other, the inner side of the roof with strong use of engineered timber strongly resembles the dhow's hull. And finally, its near-liquid form is something Zaha Hadid Architects have been famous for globally.
While the exterior was splendidly retained during final design works and optimisation, inside it's not quite the same. The use of timber was scaled down drastically compared to early renditions and almost all of the symmetric multi-domed roof is supported by traditional steel skeleton.
With weight of 7,500 tons, it's quite significant for a stadium of this scale, but at the same time it's also absolutely unique, consisting of six interwoven domes. While immensely impressive overall, the visual impact inside is somewhat diminished by technical platform hovering under the domes, holding floodlights in optimal positions.
In engineering terms it's still a thing to behold, for example with its retractable roof – very first of its kind. While based on the cable-membrane system known before, it works differently. All such systems installed before had a garage hovering above centre field and membrane moving radially. Meanwhile here there's a garage above each goal and the sliding roof moves towards the oculus beam, hanging 50 meters above the field. The teflon-coated PVC roof takes 30 minutes to open/close.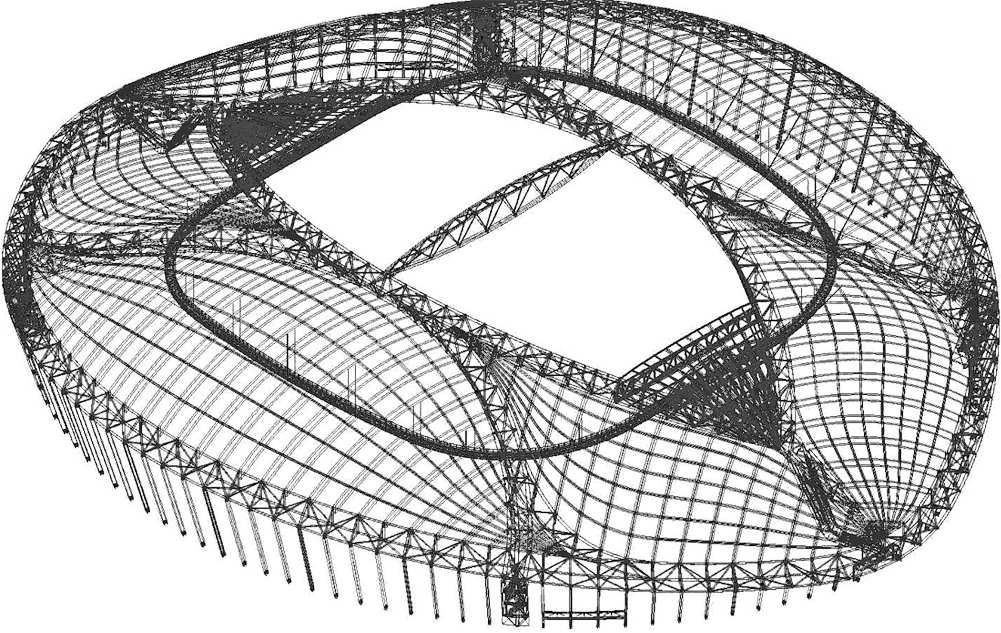 The auditorium is perhaps most conventional, with two continuous rings of seating, each of similar scale. One major difference between them is that the lower ring is made of reinforced concrete, while the upper largely consists of steel. This, of course, comes as an effort to make the upper stands demountable. Following the 2022 World Cup the stadium is to be scaled down to over 20,000 seats and remainder is to be shipped overseas. Place left between remaining auditorium and the roof is to be dedicated to corporate hospitality and leisure uses.
As you can see from the images, the stadium is entirely enclosed, offering no natural ventilation. While usually stadia have some form of opening to ensure air exchange between the stadium and its surroundings, here one of the goals was to control temperature of the interior throughout events. That's why air conditioning inside creates a 'cool bubble' inside by flowing chilled air onto the field and stands, then rechilling it in internal circulation. This effort is aided by the sliding roof, as well as the aerodynamic form protecting audience from hot winds.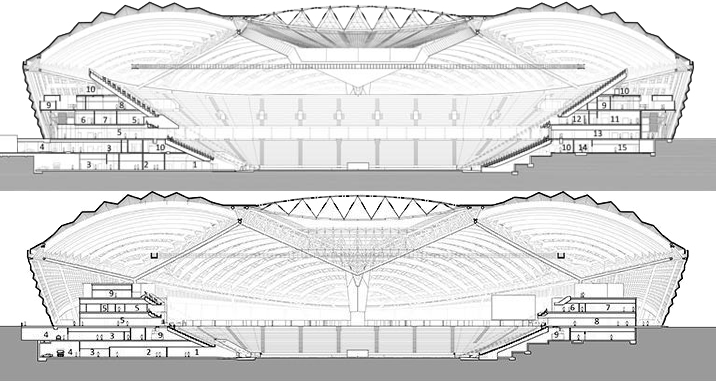 Officially construction of the stadium began in January of 2016 and was to end in November of 2018. However, this contractual timeline is only part of the story. First enabling works on site were launched as early as March of 2014, starting excavation of huge amounts of soil (460,000 m3) and installation of a 28,000-m3 concrete foundation slab. Due to numerous design interventions, the stadium was not delivered in the original deadline, but there was also no pressure on the investor to deliver it before 2018's end.

With Qatar's horrible reputation on worker welfare, we tried to find as much information on deaths around this specific project. We were able to confirm only two fatalities, both concerning very young workers and both treated as accidents. While surely tragic, this doesn't differ from similar projects of such scale carried out around the world. That said, we have no way of verifying information first hand.
Related news
2023
2022
2021
2020
2019