Al-Maktoum Stadium
Capacity
15 000
200

(Press seats)

Country
United Arab Emirates
City
Dubai
Clubs
Al-Nasr Sports Club
Inauguration
1978
Renovations
1995, 2017-2018
Cost
AED 300 million (2017-2018)
Designs
OBE Architects (2017-2018)
Contractor
Saudi Binladin Group (2017-2018)
Address
14 9b St - Dubai, United Arab Emirates
Al-Maktoum Stadium – stadium description
First stadium on the site dates back to 1978, though it entered the 21st century in its form from 1995. It was a stadium typical to the Emirates, that is built with a running track which eventually went out of use. But the low stands and distance from the field reaching 30 meters behind goals persisted. That's why hosting rights for the 2019 AFC Asian Cup were used as opportunity to redevelop the stadium for legacy use by Al Nasr, one of Dubai's most notable clubs.
Only the main grandstand was left of the old ground, a fact one might notice by details like slightly assymmetric shape of the stand. Of course the grandstand saw expansion of its floor space. It also became entirely dedicated to premium seating and media representatives. All other sections were demolished and rebuilt in a true 'rectangular' layout. The change? Lenght of the stadium was reduced by 25 meters, while capacity grew from 12,000 to 15,000, an increase required by AFC.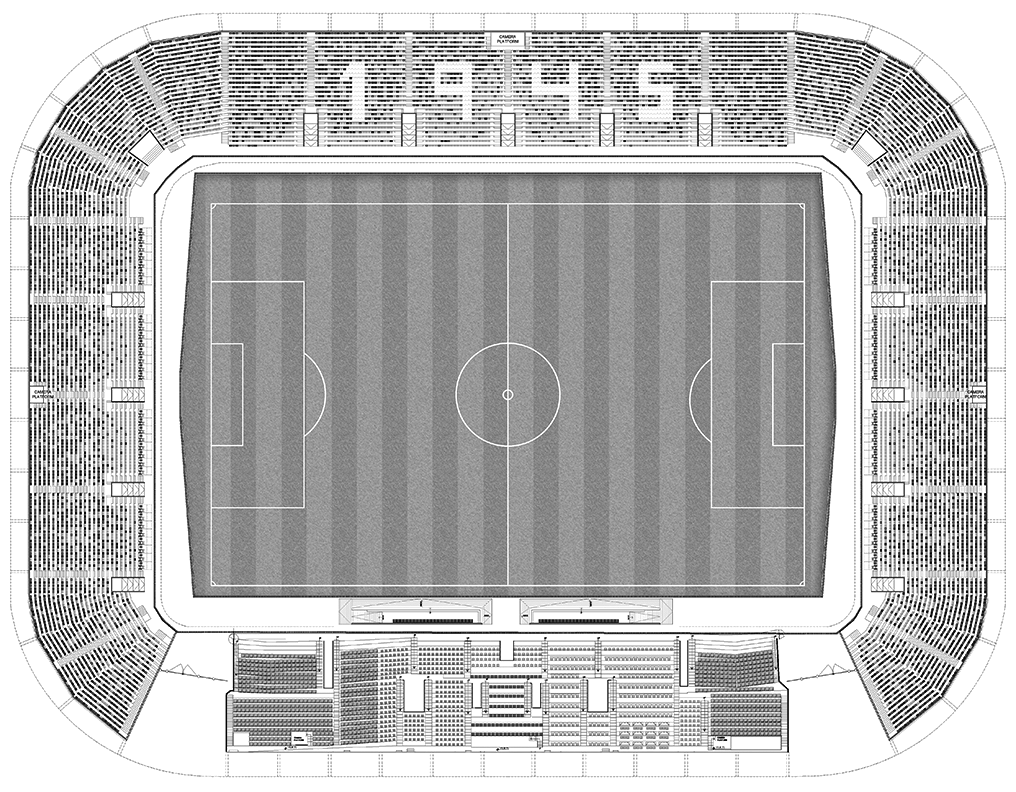 For the comfort of all spectators it was decided that new auditorium would be sheltered behind a tall facade and all sections would be covered. This way shade is ensured for fans, while floodlight masts are no longer needed, reducing light pollution compared to the old ground. OBE Architects designed a nearly independent steel structure of 4,200 tons to achieve these goals.
Both the roof and facades were covered by lightweight PTFE membrane. It's not uniform, however. Very narrow strip of the inner roof has increased light transmition (30%), rest of the roof is nearly opaque (10%), while the facades have 20%. Also, the facade is created with numerous rhomboidal segments of membrane, crearing an interesting pattern with perforations and improving natural ventilation.
Perhaps the most impressive is the timeline of all works. Between UAE receiving the Asian Cup and hosting it not even 3 years have passed, leaving little time for such project. And yet construction – once demolition of the old ground is excluded – took only 344 days (from 27/12/2017 to 31/12/2018). This included mounting and painting the steelwork in Al Nasr colours on site. However, work came at significant price (upon delivery roughly $80m).
Related news
2020
2012