New designs: What if San Siro could actually be saved...
source: StadiumDB.com; author: michał
AC Milan and FC Inter persistently claim San Siro has to be torn down. But their motivation is quite clear: to maximise revenue. Meanwhile, thousands if not millions of people cannot imagine Milan without 'La Scala of Football'. Here's something tasty for those people...
Ever since AC Milan and FC Inter agreed to pursue a brand new stadium next to existing Stadio Giuseppe Meazza, both clubs are very reluctant to even consider the idea of revamping San Siro. They don't see it as impossible, just not financially viable.
As much is true if you read the Technical and Economic Feasibility Study released in late September. We've gone through the study and it's not really a study, at best it's a leaflet summarising an actual study. Barely 3 pages of justification as to why San Siro isn't a viable option. That is not convincing at all, it looks purposefully vague especially in areas that are clearly arguable, like achieving capacity of over 58,000 (which the study claims is impossible despite being very clearly possible).

Put simply, the document seems to have been written to justify an already agreed upon outcome, which is to build a brand new stadium next to San Siro and then demolish the old stadium and replace it with commercial use.
In many ways this can be seen as preferable, especially from the point of view of revenue and finding a financial vehicle to carry the investment cost. After all, even the pessimistic view expressed in the report suggests renovation is €140 million cheaper than a new stadium (€510m compared to €650m). What is different is the way adjacent space would be commercialised.
W should also note that official communication of proponents of the new stadium is very dismissive of any effort to save San Siro. Despite the website NuovoStadioMilano.com running an online consultation, it's constructed in a way that only compares the old San Siro (clearly dated and in urgent need of upgrades) to a brand new stadium next to it, dismissing a reconstructed San Siro as an option outright.
And we're not talking of any stadium, it's the La Scala of Football after all. It's thus no wonder that the claim of 'it's not viable to save San Siro' has been challenged by prominent Milan architects, especially with the vague justification given. In December the city council was presented to two such challenging visions, both of which foresee a San Siro redefined but preserving some features of the original. And... at a fraction of the price suggested in the clubs' report.
Of course both concepts should be treated as preliminary (these are not complete designs at this stage, of course) but nevertheless worth the attention. That's why we're happy to present to you both visions displayed earlier this month in the Milan city hall.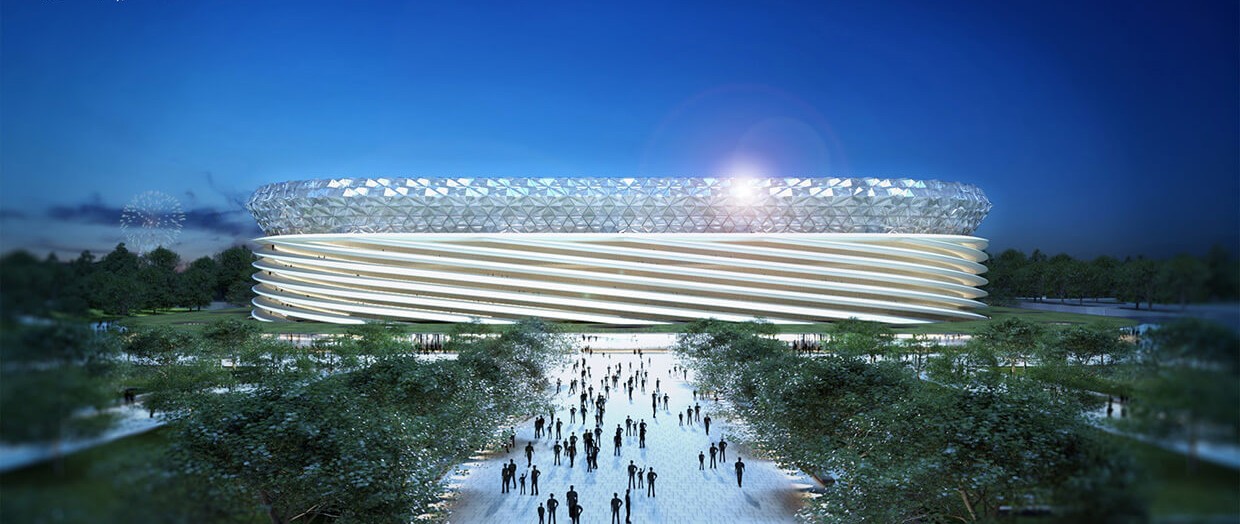 Created by Jacopo Mascheroni's team, this concept foresees preservation of two lower rings of seating at San Siro and nothing else. This means that both the iconic red roof (though its main trusses would be relocated to nearby public green areas as decoration), third tier and 11 spiral towers would be dismantled entirely.
This brings the stadium back to its form from 1955-1987 and is the starting point for changes. Stairways enveloping the stadium would become the new facade, decorated with white lamelas. Above them a brand new roof is planned, this time tightly covering the auditorium, adorned with diamond-shaped ETFE cushions. Instead of current 68 meters, the stadium would have a less imposing height of 42 meters.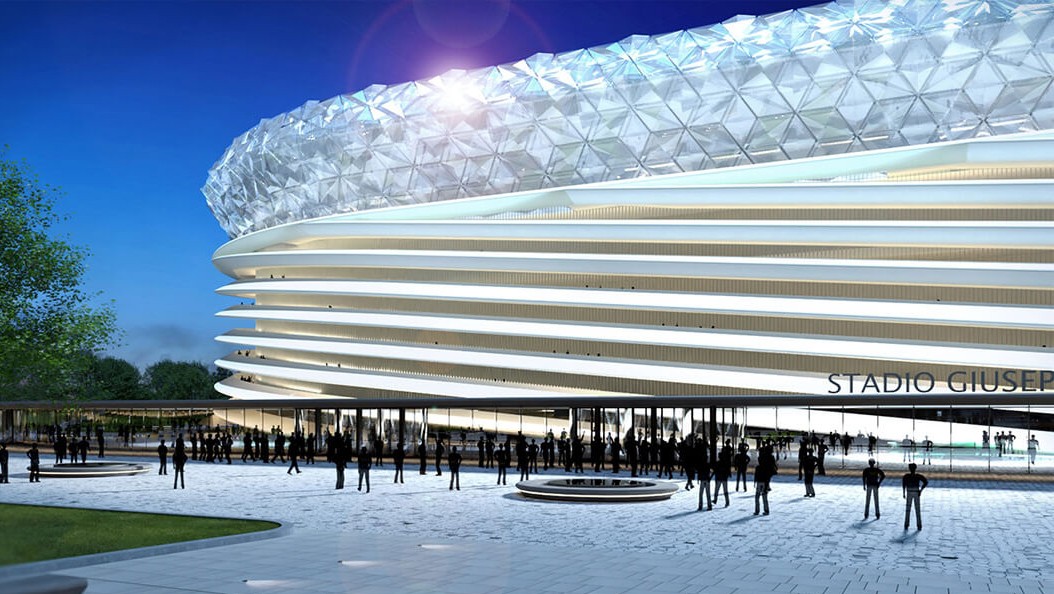 To make the best of available space, the architects suggest lowering the field and creating 7 additional rows of seating, some 3,000 seats in total. All of them would be dedicated to most affluent supporters, which means the corporate seating total would stand at 9,500, a very significant number out of 61,700 total.
Because the 1955 stairways create a robust envelope around the stadium and don't allow expansion of facilities underneath the stands, additional floor spaces would be created outside the stadium, as a new independent pavilion, also used as new, comfortable entrance gates for all fans. Part of the pavilion would be under ground to create even more space without impacting the stadium's appearance.

Entirety of the projected works could be – according to the architects – delivered within a sensible budget of €250 million, far below the budget proposed for a new stadium by Inter and Milan. Work would likely take up to 3 years.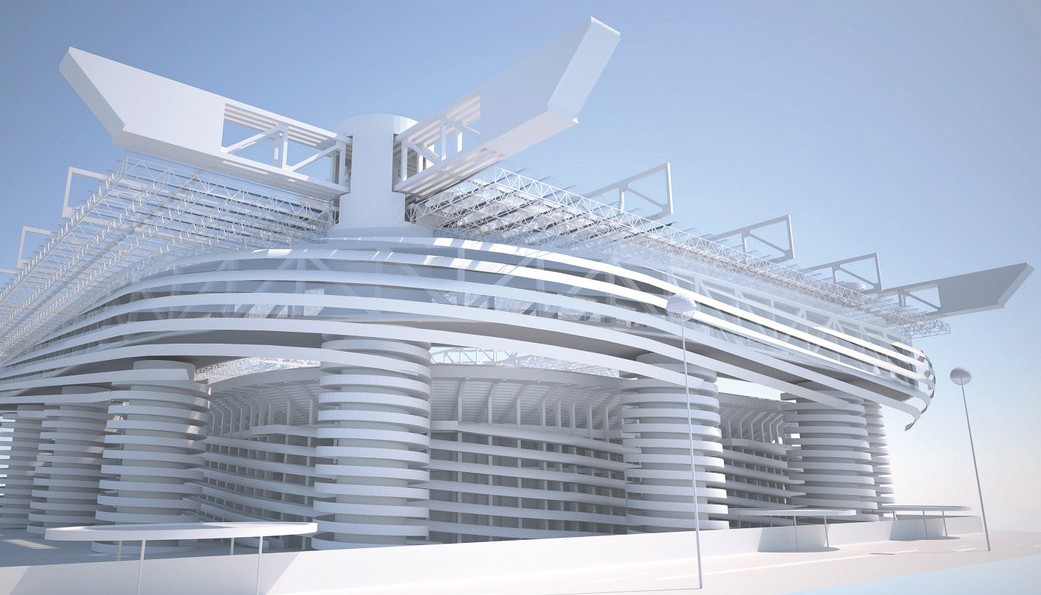 Curated by prof. Riccardo Aceti of the Milan Polytechnic, this concept envisions upgrades to the legendary San Siro in line with modern demand without removing much of existing facilities. It's thus opposed to the official idea of Inter and Milan which want to demolish the stadium entirely.
The key idea is removal of the third tier of seating, which is very rarely used anyway. It would be replaced by a vast gallery, hovering some 40 meters above ground. It would see some of the premium seating moved here, but also provide a number of commercial, leisure and sport uses for everyday use, all with a stunning view of the city.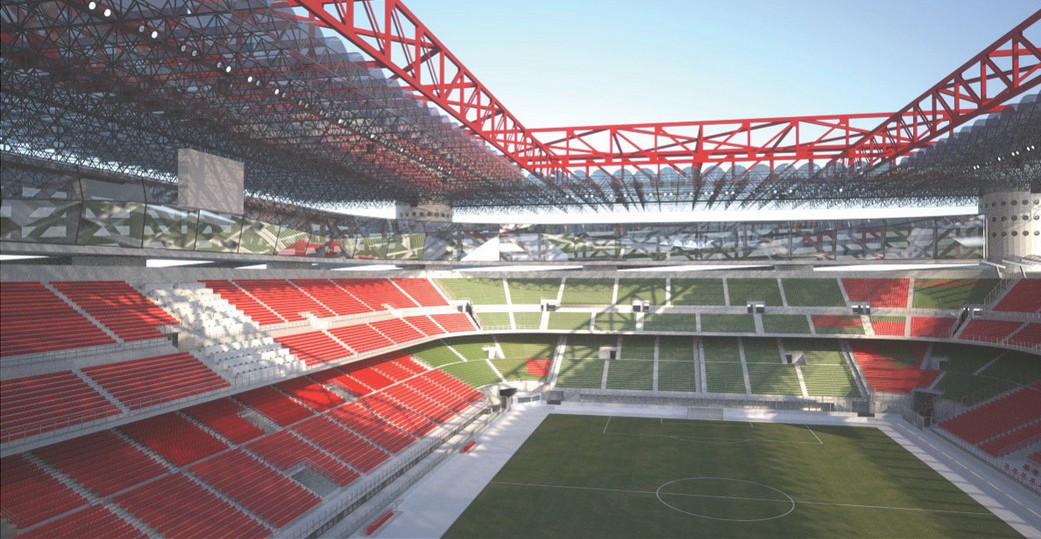 According to the design team, the conversion could be done very economically, within just €100 million. It also has the benefit of being feasible without necessity of relocating football games at any point. Demolition would be carried out during two summer breaks, while construction of new amenities would likely take two seasons without significantly complicating everyday use.
The prime advantage of this solution is preservation of both the historical 1955 spiraling stairways as well as 1989 towers and roof.