Alkmaar: AZ removing most of the roof
source: StadiumDB.com; author: michał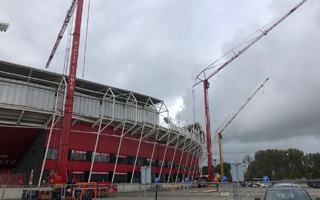 We know the initial report conclusions, final one is expected in 2020. Also in 2020, AFAS Stadion will receive its new roof, possibly significantly different than the old one. Until then fans won't be protected from the elements.
Following the August catastrophe in Alkmaar there are still numerous questions regarding the future of AFAS Stadion. Some answers we already have, thanks to the preliminary report by Royal HaskoningDHV.
The roof collapse was caused by strong downward wind, which was not calculated during design phase. Also, some connections and welds between single elements were either too thin or wrongly designed.
The report indicates that additional weight from the solar power plants didn't play a significant role. Now AZ Alkmaar awaits final evaluation, which is expected in the first quarter of 2020. An independent set of conclusions will come from the Dutch Safety Board (OVV), which has also taken the case.
Removal of the roof
Already when establishing the cause, it was crutial to determined how safe the remaining roof is. Engineers deemed it too risky to leave in place and so roughly three fourths of the roof are being removed. Although the city of Alkmaar postulated doing away with all of the roof and AZ Alkmaar suggested in their annual report that such possibility still existed. But as of now the roof above AFAS Stadion's main stand is to be retained.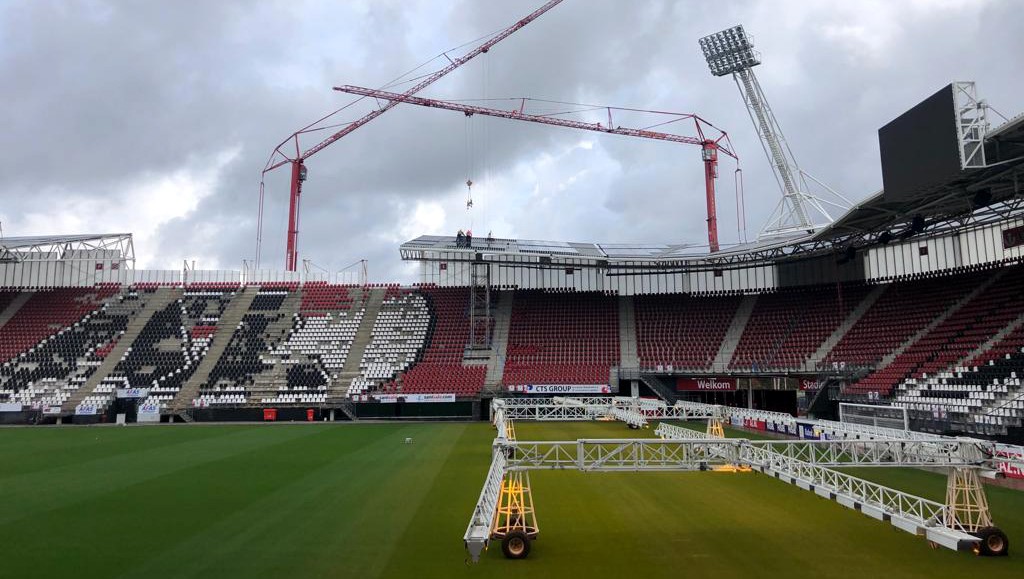 © AZ Alkmaar
The Hague has proven to be a hospitable place for AZ Alkmaar as ADO Den Haag are sharing their Cars Jeans Stadion until at least mid-December. Afterwards AZ is to return and play at mostly roofless stadium.
Removal of the roof began 10 days ago and is expected to take until late November. AFAS Stadion will remain in this form until the final home game in Eredivisie on May 3.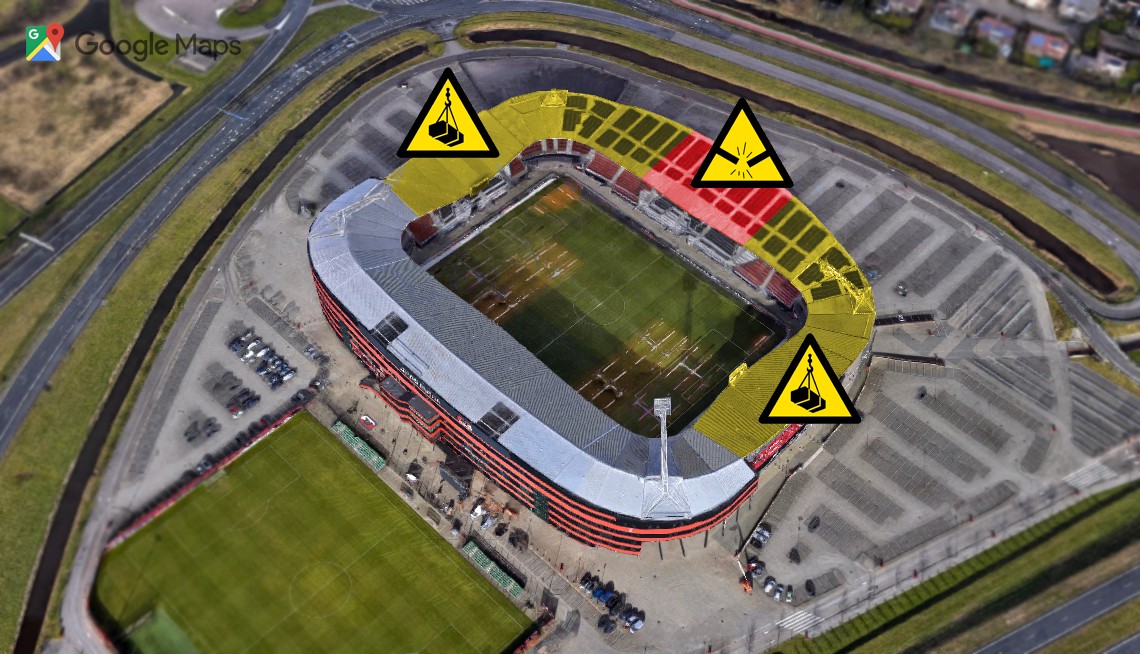 What comes next?
AZ boldly decided to make the best of this challenging situation. You may recall that the club has just rebought the stadium in 2017 and has since come up with plans of adding seats and moving fans closer to the field.
Lack of roof gives further opportunity to evaluate expansion and improve comfort within the stadium, which AZ has confirmed to be discussing with architects Zwarts en Jansma. No solid information was provided to date but it seems likely that staircases and vomitoria could be reorganised to optimise crowd circulation.
Keep in mind, the club already has a study of expansion to 32,000, commissioned from the Stadium Consultancy back in 2009 (rendering below). Of course it would be too much to deliver in one go, but if phased and spread over years, depending on demand, it might just make sense.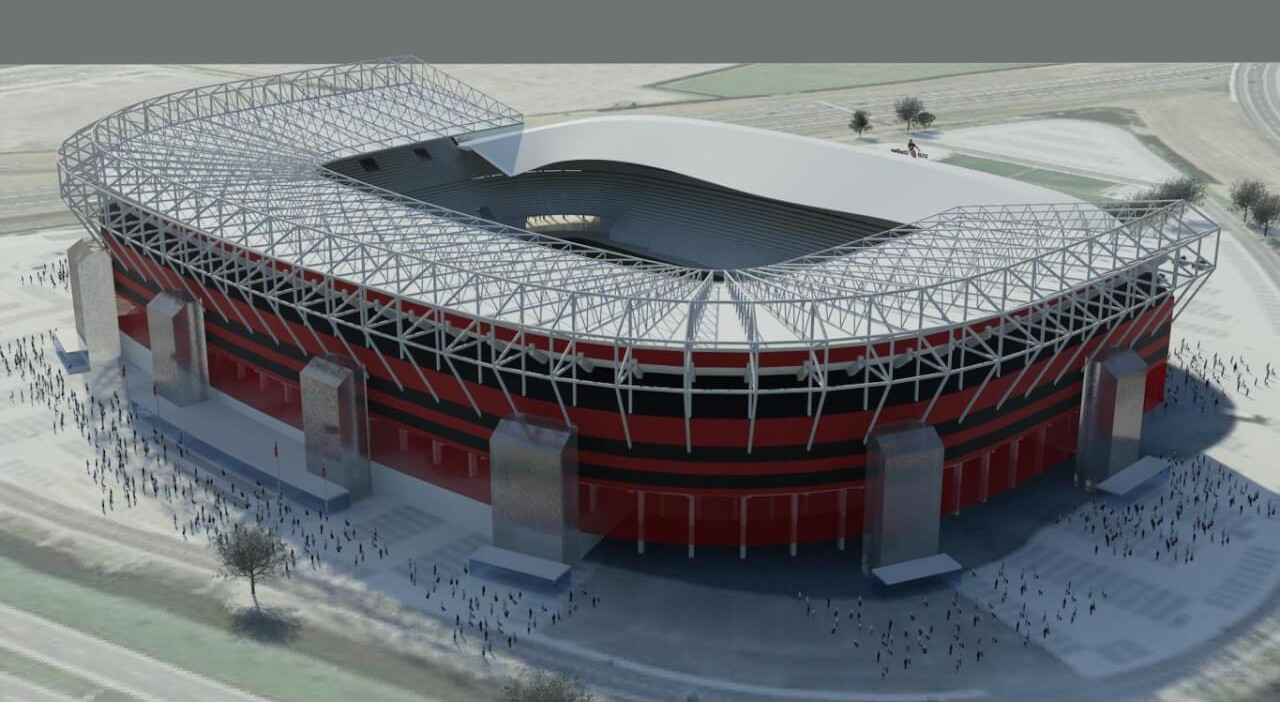 © The Stadium Consultancy
What may prove problematic is the parking capacity. At present the team is already barely meeting municipal requirement of 1 parking place per 5 fans at the stadium. With 3,400 spaces available and unless relocation of the training field is considered, local parking sites would need to expand to the west. Should AZ wish to reach 20,000, some 550 new spots would be needed; for 22,000 it's already almost 1,000 more cars to accommodate.