Bucharest: Contractor selected for new Giulești
source: StadiumDB.com; author: michał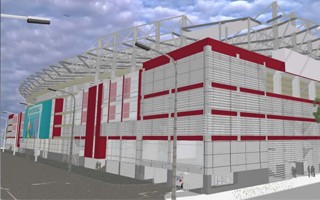 Three companies have joined forces to deliver the new Rapid Bucuresti stadium, training venue of Euro 2020. There's very little time left, but the price still stayed within set limits.
While we had a national holiday in Poland yesterday, in Romania there's no such thing. And rightly so, because time if of the essence. For example, the old and lovely Ghencea, the Steaua stadium, is now completely demolished and excavation for its successor is ongoing, though still without actual building permit, expected to be issued soon.
Meanwhile yesterday the National Investment Company (CNI) selected the preferred bidder, out of three, for another major stadium in Bucharest, the new Giulești.
The joint venture by three major construction companies (Construcții Erbașu, Concelex and Terra Gaz Construct) offered to deliver the project for RON 98.32 million. It's the net amount, which means that final price, including VAT, should stay close to the desired cap of 121 million (€26m).
The new Rapid stadium will hold 14,000 people, including some 250 places for disabled fans and their companions. It's expected to meet all criteria of UEFA Category 4, which means it will be able to host games up to the Champions League semifinal.
Last remaining issue is the one we mentioned at the start: time. Construction of the new Giulești was previously suggested to begin this year, while now it's impossible to break ground before 2019.
There's still some design work to be done before it goes out of the ground, let alone demolition of the actual old stadium. Which, we should note, is made of reinforced concrete and may prove more orduous to remove than the landfill-based Steaua stadium, also in jeopardy of not being ready as a Euro 2020 training venue. Of course not all of each stadium has to be ready for mid-2020, however the stadia were promised to be delivered by then.