New designs: Osasuna socios to select the winner
source: StadiumDB.com; author: michał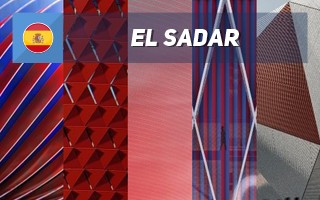 The budget is very limited, yet all 5 conceptual entries are captivating. But perhaps the most beautiful element of the project is the fact that Osasuna socios will decide who wins...
On Wednesday evening, at the charming auditorium of the Museum of the University of Navarra, a special ceremony took place. CA Osasuna presented five entrants in the competition to redevelop Estadio El Sadar. The football club has to carry out minor works to meet league requirements, but the focus was put on the long-term dream: a modern Sadar, worthy of the club and meeting all 21st century expectations.
Yesterday, following the presentation, we received the 108-page press dossier and we did work overnight to get through it. Not without pleasure, too. All visions are interesting in their own ways, but before we go through each of them, we have to give you basic information on the rules.
The current Estadio El Sadar is expected to undergo its biggest redevelopment to date, starting in 2019. Here are the requirements given to all five competition entrants:
capacity increase to no fewer than 23,000 people;
all seats covered;
stadium available for games throughout redevelopment;
cost has to stay within €16 million.
These are quite some expectations and yet all design/engineering teams that filed their bids were allowed to go through to the final. Following technical evaluation none of the stadium concepts was deemed unviable.
Architects have to adopt indications from the football club, city council and the Navarra province, but most importantly: they have to satisfy curiosity of the supporters. Through a dedicated online platform all socios of Osasuna will be able to ask questions and there's a great reason behind this move. Ultimately the socios themselves, of whom there are some 13,500 these days, will vote to select the winning design. Here are their choices:
Named "El Nuevo Sadar", this vision suggests raising capacity of the existing stadium by additional rows on three lower sides, east, north and west. The new size would by 23,600 seats (7,652 added), supported by newly erected external structure. Visually it would decrease the disproportion between south stand and remaining ones by raising their height from 15 to 24 meters. With 30º rake the new auditorium would offer very good sightlines.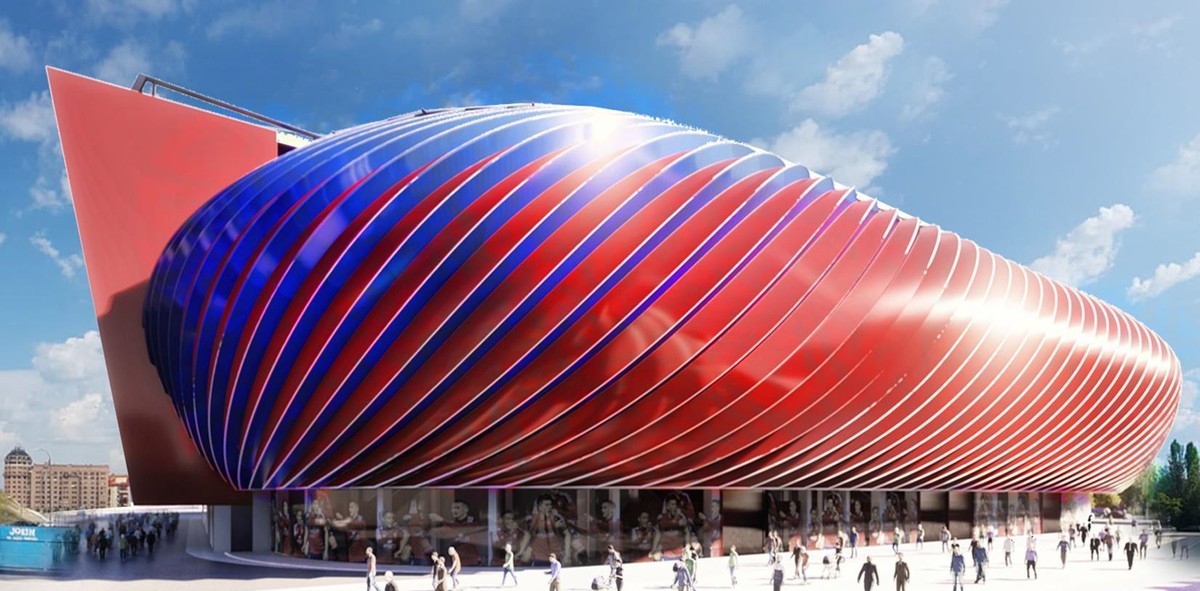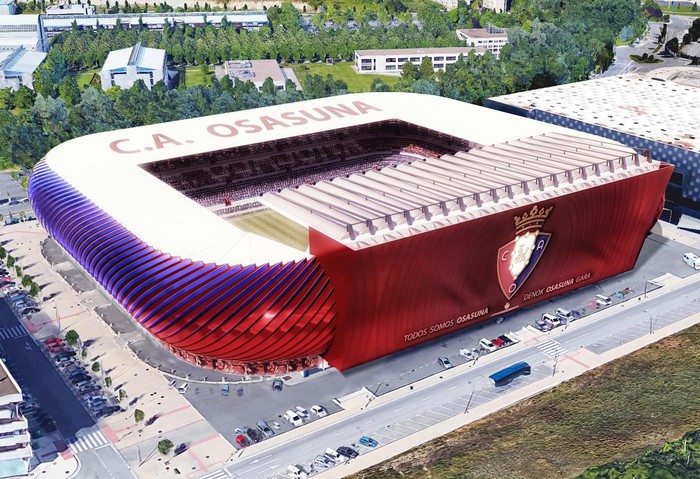 The outer supports and extended seating bowl also provides room for additional infrastructure for spectators. This would include increase in the number of gates and vomitories (thus faster access/egress), brand new concourse with catering and sanitary facilities and over 1,700 m2 of commercial space. Also, improved facilities for disabled supporters would be created.
The project's key feature is its dynamic, diagonal ETFE facade. Representing both red and blue, its colour changes along with the movement of the beholder, catching his eye. Also, the main grandstand would hold a highly contrasting, strong trapezoidal form, opposed to the soft and smooth lines of remaining three parts.
All of the stadium's roof would see at least upgrades, though largely complete replacement with new PVC covering, no longer with supports obstructing views.

Under the misterious name of "Fortaleza Rojilla" (Red Fortress) stands the monumental concept of creating a more symmetric El Sadar, with four stands of equal height. Three additional upper tiers would join the existing and dominant south stand on each of three remaining sides.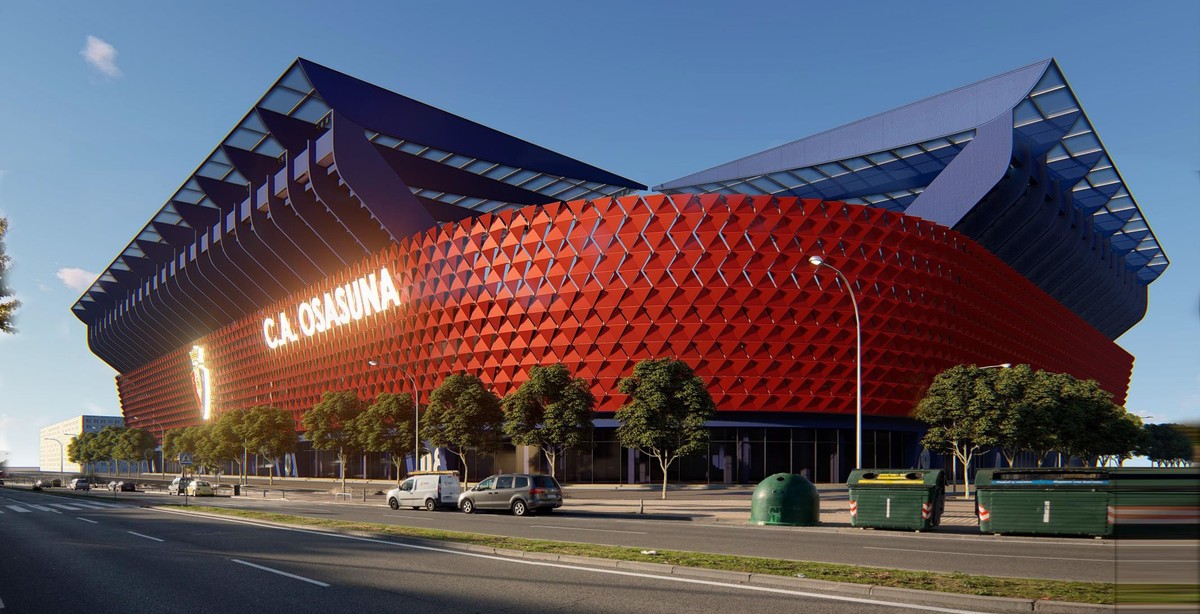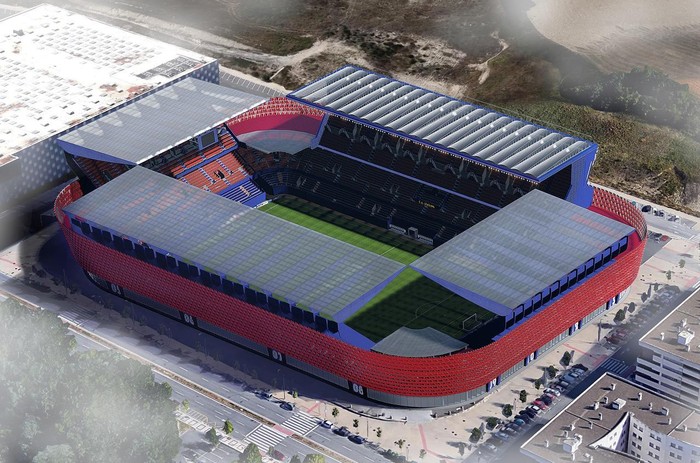 In this layout corners would remain untouched, possibly left for further expansion in the future. Meanwhile the distinct new additions would become even more poignant by blue paintwork, the secondary colour of Osasuna.
Why not the primary red? Because this is reserved to new outer skin, to wrap the entire stadium around. Created by a complex isometric pattern of metallic scales, the cladding would provide shade to supporters, while also ensuring proper ventilation of the interior.
The proposed layout would see 18 rows added on top of all three expanded stands, all under translucent polycarbonate roof. This brings total capacity to 25,000, beyond the required 23,000. There is also commercial space on ground level provided, amounting to 1,500 m2 in initial layout, with potential to create additional 500 m2.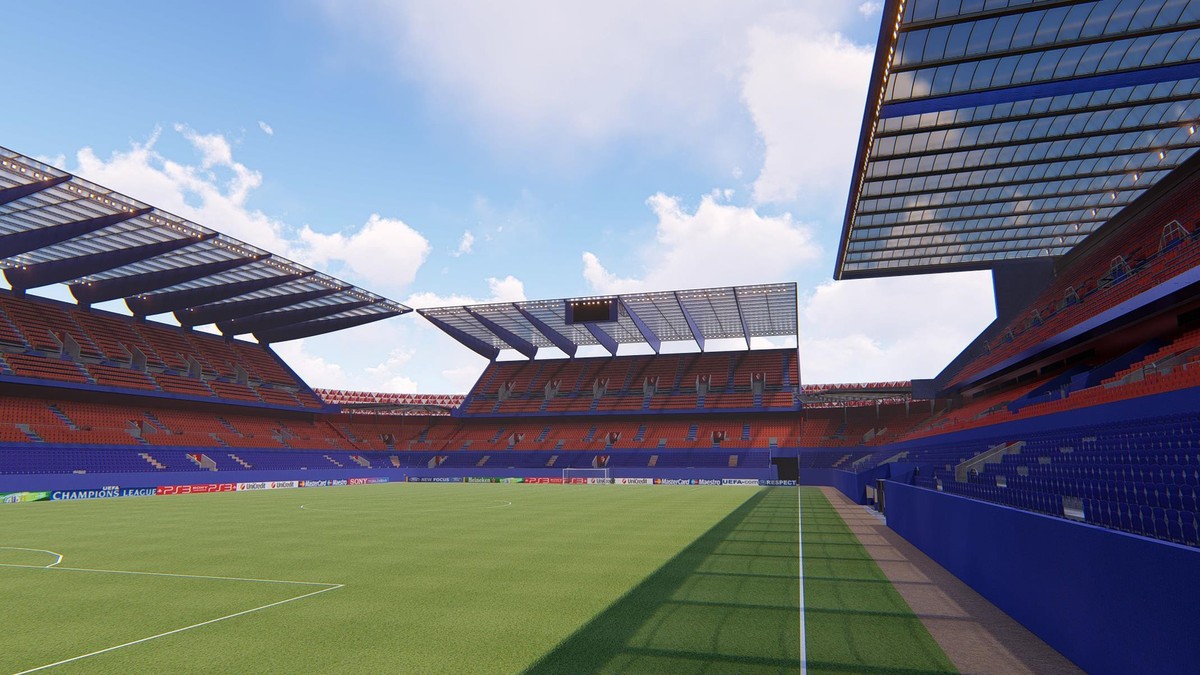 OFS Architects from Gran Canaria are signed under the project named "Muro Rojo" (Red Wall). Instead of a structural solution, the name is associated – as you may have guessed – with the atmosphere generated by supporters. The goal was to create a very atmospheric and imposing stadium, one that would intimidate opposition players.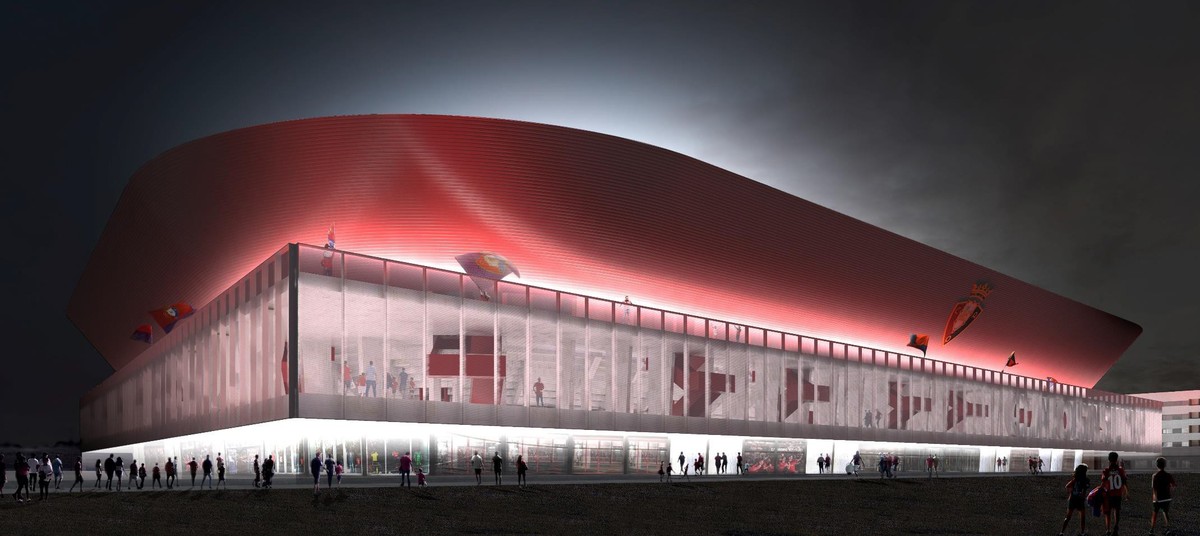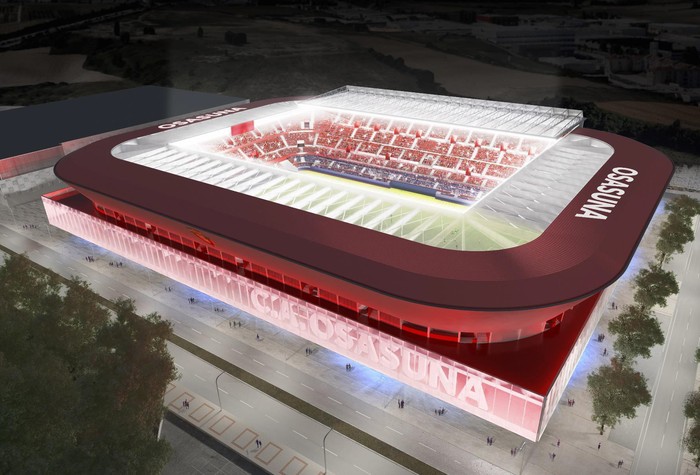 Means of reaching the goal are indeed interesting. The more conventional one is the inclusion of 1,300 rail seats (de facto standing terrace) for the home support. The more impressive one is the addition of a new C-shaped upper tier on three sides. Not only does it enclose the seating bowl, it's also overhanging significantly and has a rake of 40º, making it one of the steepest among new stadia.
Thanks to the vertical expansion, the stadium will have an almost uniform height instead of current domination of the south side. Thie encourages a brand new outer form, which in turn was divided into two distinct shapes. The lower plinth is created with concrete and covered by perforated mesh, while the opaque upper form, more slender and lightweight, should be clad entirely with corrugated metal sheet.
The design created very significant amount of floor space for mixed use. On ground level there's over 1,400 m2 for commercial uses, while provision of further 3,300 m2 on first level makes this proposal stand out among other contenders.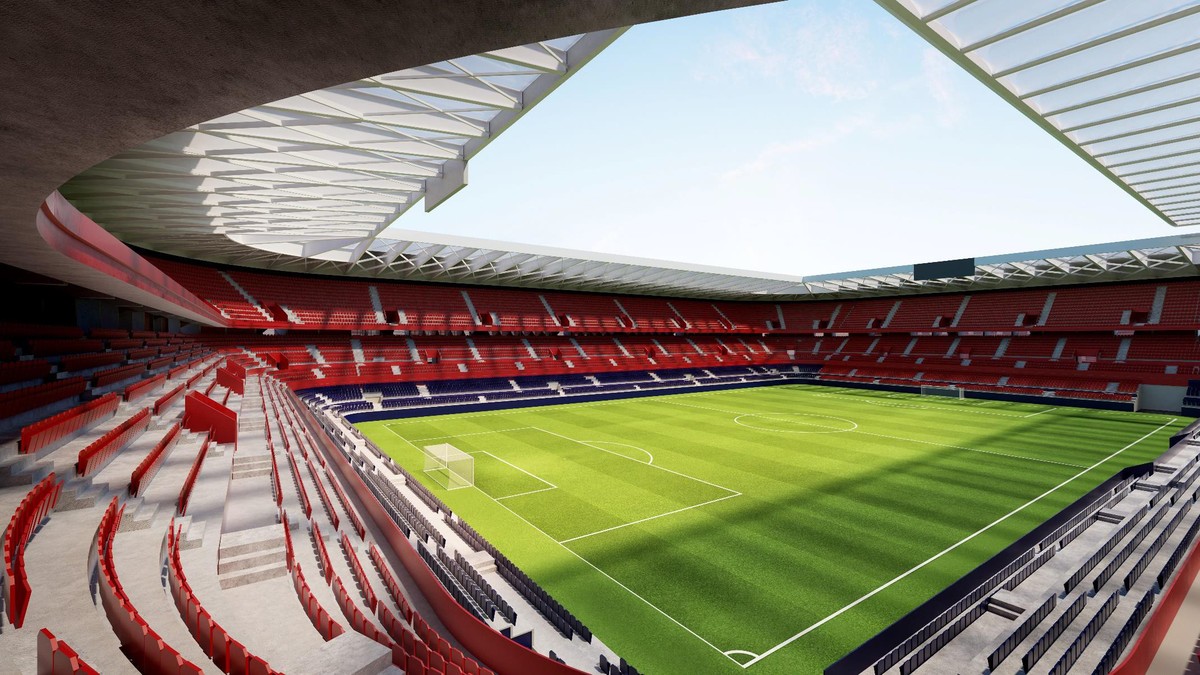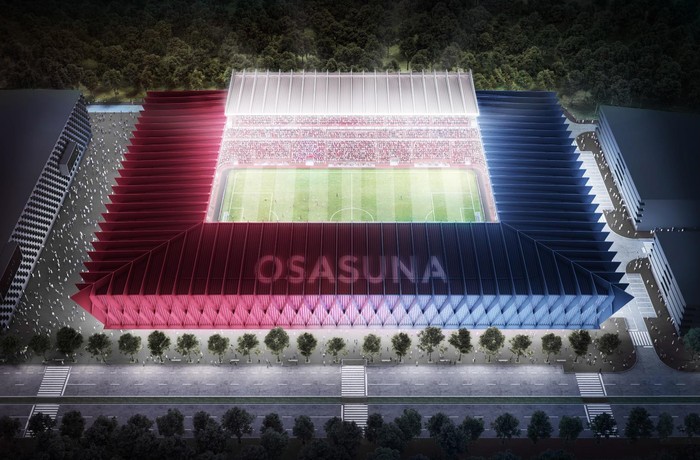 "Rojo-Azul" means simply Red-Blue and that's the principle around the Vaillo + Irigaray Architects entry. El Sadar would be surrounded by brand new kinetic facade, which would change colours between red and blue depending on the beholder's movement. Contrary to common practice, the coloured perforated mesh would not be the most exposed external element, rather providing background to a strong diagonal frame.
The created form is simple, unified, rhythmic and disciplined. It's also visually lightweight as it extends beyond the auditorium itself and hovers above the plaza below. This way shade and rain protection is created among fans gathering for games, while above ground level there's room for quite some additional floor space, to be used on matchdays and beyond.
Inside the stadium atmosphere plays crucial role. With 24,000 people inside the stadium should be intimidating to opposition players. Already the old lower tier provides rake of 35º, which means that overhanging additional seats would be even more inclined, at 39º. Low-hanging roof would amplify the sound which, with entirely enclosed seating, should be kept inside the stadium.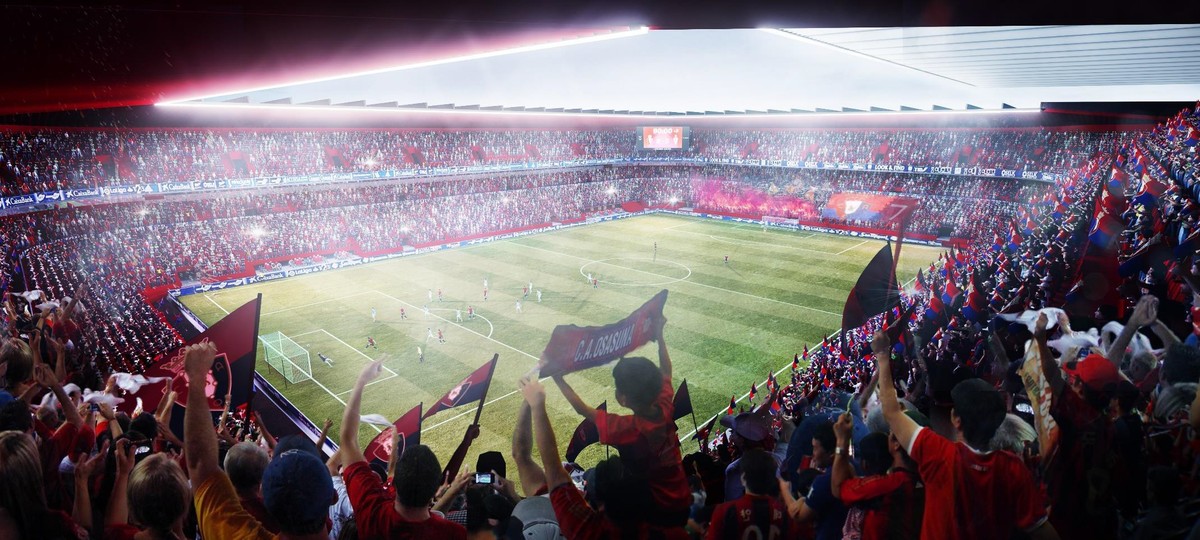 The fifth entry in Osasuna's stadium expansion competition is named simply Sadar Berria, or New Sadar in Basque. It's not just new, it's futuristic thanks to the selected outer form. Existing and added sections are to be covered with an iconic, angular outer form created with triangular segments of aluminium and other materials, some translucent and others with mirror effect.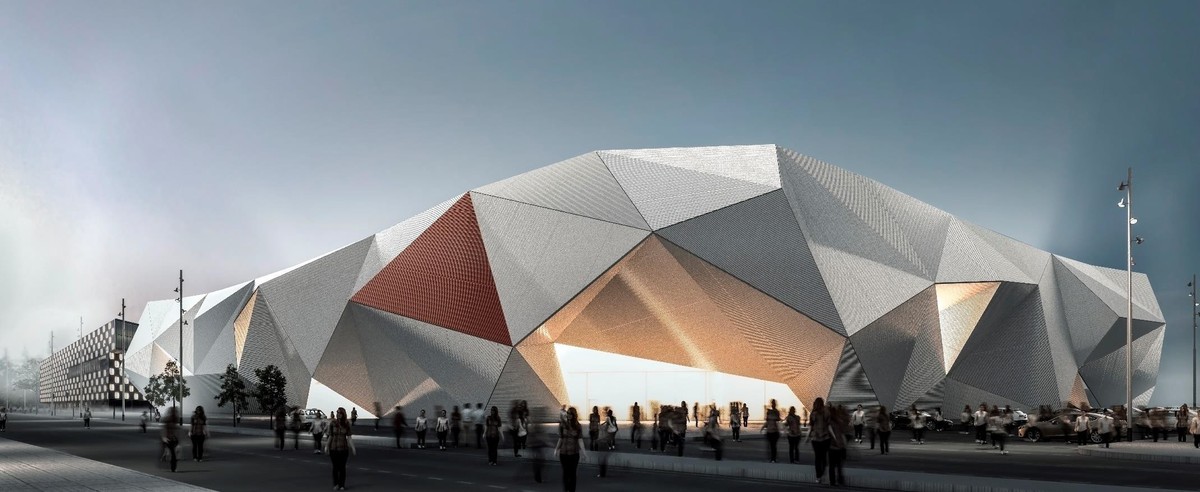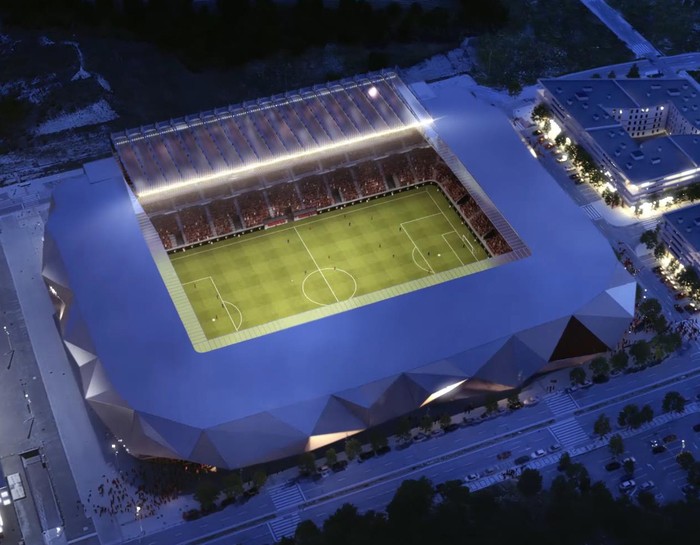 The monumental shape would begin at ground level, which begs the question: how do fans enter the stadium? Four large entries are planned in each corner, all resembling caves leading to a spacious atrium protecting fans from elements.
The auditorium will change significantly, because the project includes intervention in existing lower stands on three sides. Their layout would be simplified, the lower tier extended and 12 additional rows added on top. This way capacity exceeds 23,500, while crowd circulation and safety improves, also thanks to a new concourse being created.
Contrary to most of its competition, this concept includes only symbolic increase in commercial space, of some 300 m2. That said, there's room for quite unique idea of two pavilions hanging above two southern corners of the ground. These could serve as private boxes, studios or conference halls with stunning view of the stadium. On matchdays they would be incorporated into the roof, blending with the bold angular form.