StadiumDB Newsletter: Issue 57 - New designs and more
source: StadiumDB.com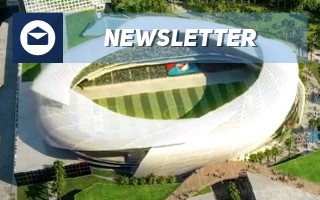 As European games are under way and league season kicks off once more, we've been updating our league tables throughout StadiumDB. Not all are done yet, please remain patient. We're also working on expanding the database not only with new designs, but also many of the missing stadiums.
If you'd like to receive weekly updates on the content we post on StadiumDB.com, please be sure to subscribe to our Newsletter, using the blue box above!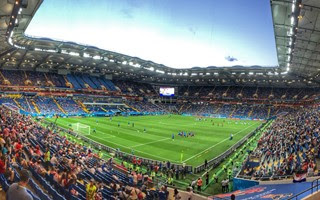 Despite the World Cup being behind us, you may still expect some news from Russia, where the festivities are over and stadiums remain, currently being re-launched in domestic football. Whether they remain to be used well or underused, stay with us to find out! For now we know that they're going to be expensive, like the recent piece of news from Rostov suggests.
The past 7 days delivered some promising news from Germany, where new SC Freiburg stadium saw the green light from local council. It's not all done yet, however (unless a successful legal challenge is made) the €76-million stadium project should get under construction by early 2019. Meanwhile in Cologne the mood is somewhat different. Despite relegation, 1. FC Koeln want to pursue their desired stadium expansion, yet meet the same obstacles as before. Will the latest feasibility study be a game-changer?
Our most surprising addition of the past week was the shocking new stadium plan from Brest, Belarus. Instead of rebuilding the old ground, Arab investors want to deliver a brand new one for as many as 30,000 people and master plan for massive development north of the city is in place. Judging by the renders, cost isn't an issue. What might prove to be one is the determination to carry it out because we've seen more than enough scrapped visions from UAE investors.
One more design, which may sem far more realistic, is the Hardturm concept from Zurich. But, despite traditional Swiss sensibility in terms of scale, successor of the old Hardturm hasn't had an easy route so far. Since 2001 no concept for this historic site came to fruition. This latest 18,000-capacity ground has been on the board since late 2015 and will likely go under construction no sooner than 2019.
Continuing on the thread of David Beckham's MLS stadium in Miami, the city's commissioners have given him the green light. Not for construction just yet, currently it's approval for residents to decide whether they'd lease massive swaths of land in western Miami to Beckham's ownership group. While he's waiting for the public vote, we're waiting for some more realistic renders, because the ones presented are surely preliminary only.