New stadium: Atlanta's Pantheon comes to life today!
source: StadiumDB.com; author: michał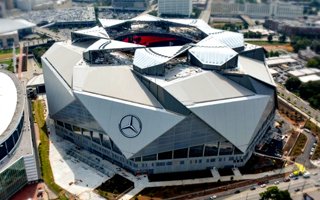 After exactly 1,200 days since groundbreaking the world's most expensive stadium opens tonight. It brings as much to sports as it does to architecture and engineering!
Tonight at 7pm local time Mercedes-Benz Stadium will see its very first game when Arizona Cardinals come to fight the hosts, Atlanta Falcons, in a pre-season game. Surely there's much more than football to look forward to with the world's (currently) most expensive stadium being opened in Georgia.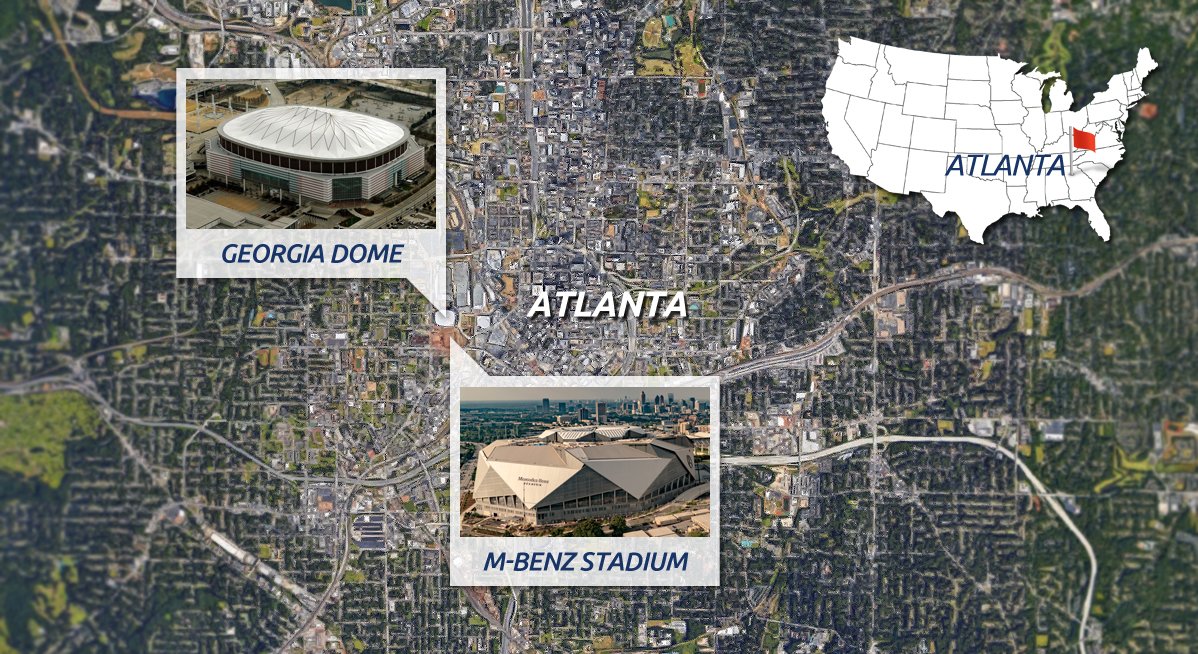 Its story began back in 2010 but got much more concrete in 2013, with the selection of stadium architects. When they were selected to dsign this stadium back in 2013, they were still called 360 Architecture. The company later renamed HOK offered two different stadium options for Atlanta in order to host future MLS and NFL games. First version was a stadium with both the roof and outer walls opening, which would make it the first 'cabrio' ever. It would also be extremely challenging to build and possibly operate, though.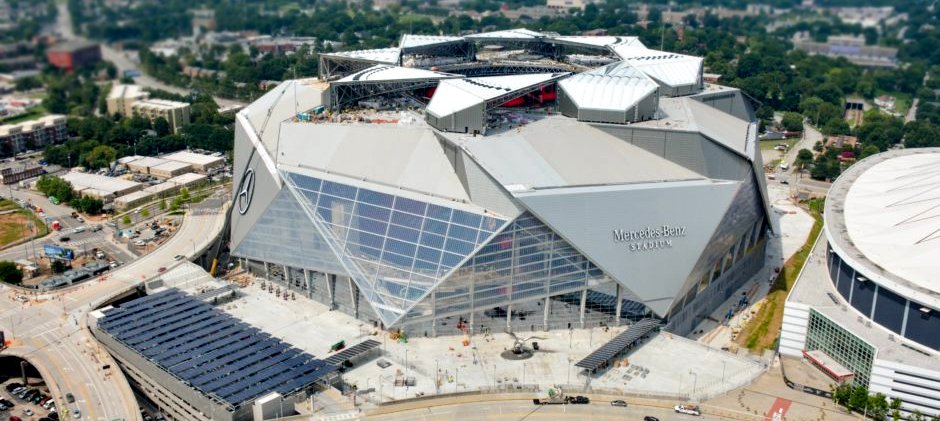 © Atlanta Falcons / Mercedes-Benz Stadium
This is partly why the second option was selected, much more conventional despite its unique qualities. Nicknamed the Pantheon, it mimicked the Roman structure in the dome's function. The enclosed structure was to receive a an oval diaphragm-inspired retractable roof. Created with 8 straight-moving petals, the roof would have been the first of its kind.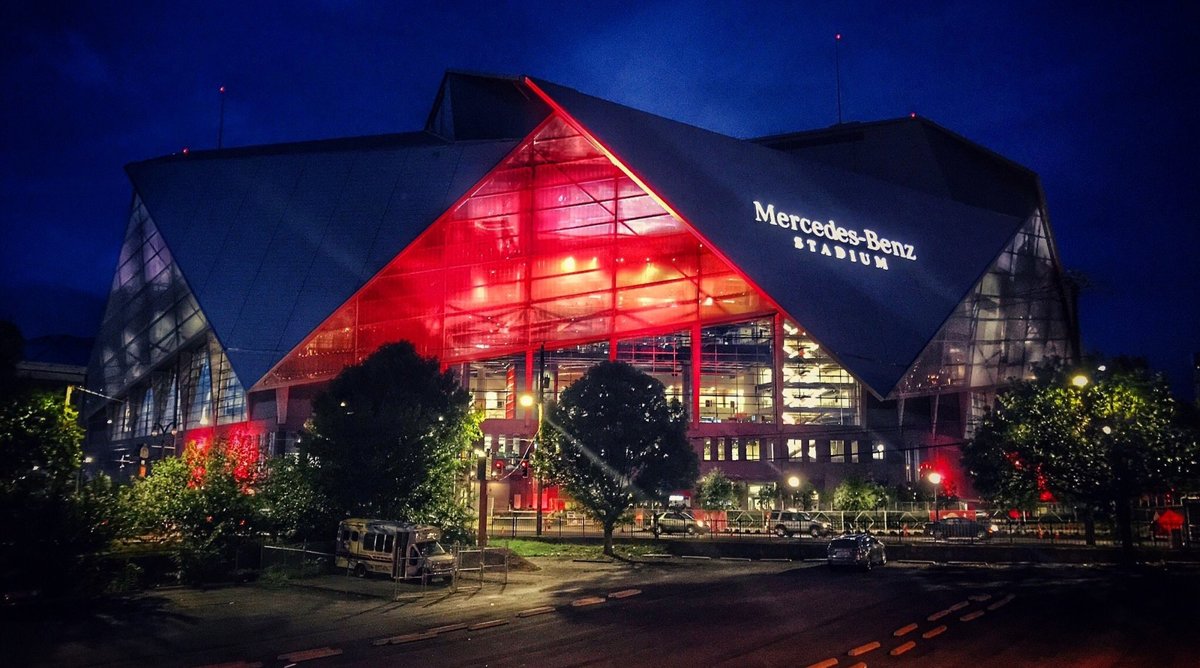 © Atlanta Falcons / Mercedes-Benz Stadium
Just a year after this selection, in May 2014, actual construction began on the site just south of Georgia Dome. The dome's successor was to receive somewhat smaller capacity (71,000 instead of 74,000) but much greater footprint and floor space. This of course means a different seating layout, one that includes both much more legroom and more hospitality and a huge, 16-floor ETFE-covered 'window' in the eastern part, giving fans a view of downtown Atlanta.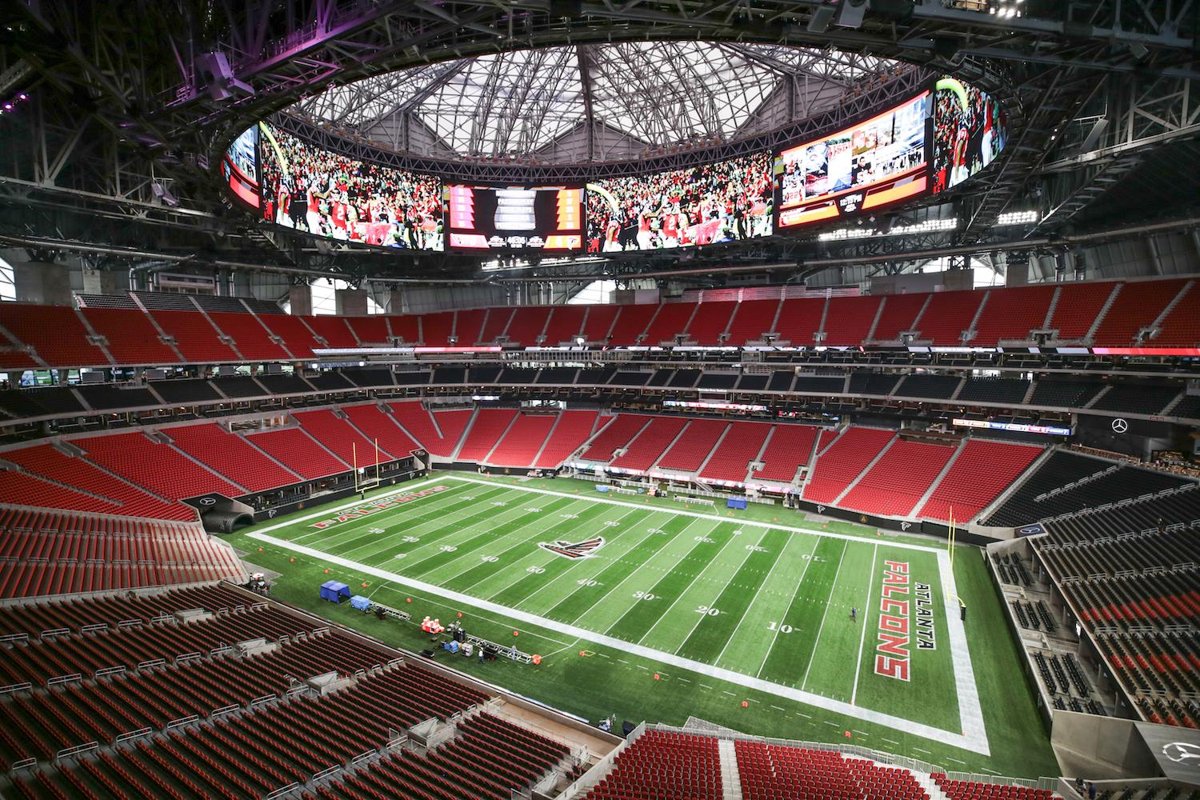 © Atlanta Falcons / Mercedes-Benz Stadium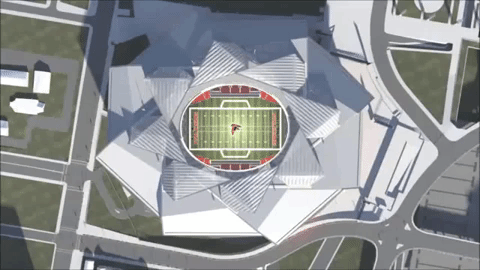 The general public will take much of two large tiers which are divided by two balconies with skyboxes and premium seating. While this is far from the end of corporate hospitality options, the stadium does include one particularly interesting feature: a wing-shaped single tier in the east that includes some of the Falcons symbolism. For regular NFL games the stands hold 71,000 people, while in MLS layout the nominal size will be 32,500. In Super Bowl layout the ground would grow to 75,000 (first time in 2019), while for NCAA basketball the size could exceed 83,000.
The most iconic part isn't where fans will sit though, it's what will hang above their heads. The stadium's octagonal roof is an immense structure weighing 27,500 tons! Of that mass "only" 3,500 tons will be constituted by the ETFE-covered roof petals, designed to open and close within 12 minutes.

Just under the roof another signature feature of the stadium is located: the stadium world's largest ever LED screen, with total surface of 5,793 m2 (62,350 square feet) and 37 million LEDs used. The panoramic ribbon is actually 6-floor tall in order for fans in all areas of the stadium to get a clear, unobstructed view.
The octagonal stadium was also designed in order to become NFL's most sustainable venue, with LEED platinum certification in mind from the start. While not a solar power plant itself, the stadium has 4,000 panels in its vicinity, while its immense rainwater collection canister can become helpful not only for reuse of water but also in preventing local flooding.
Eventually the stadium's construction took months more than planned and ended right before the 2017 NFL season. It took exactly 1,200 days between groundbreaking and the opening game. The cost grew far more, though. Initial estimates from 2011 suggested $700 million, later amended to $950 million before construction even began. In the end the budget rose to stunning $1.6 billion, which makes it one of the most expensive stadia in history, at least until the Las Vegas and Los Angeles stadia open.