Izmir: One city, four new stadiums
source: StadiumDB.com; author: michał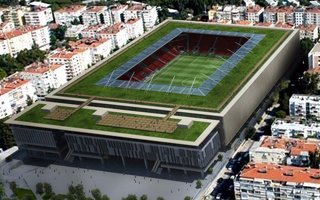 For a limited period of 2017 Izmir will be possibly the only city worldwide to have four professional stadiums under construction. Come with us, let's meet these projects!
Last year we had the privilege of visiting this amazing city, even if during the unfortunate period of July's military coup. So, there was no way of visiting the stadiums. Then again, there aren't too many of them left at the moment: the central İzmir Atatürk Stadyumu, Buca Stadyumu and the youngest one in Bornova, opened in October. None of these stadia is home to any of the city's most famous clubs. This article will show you how much the football landscape is about to change...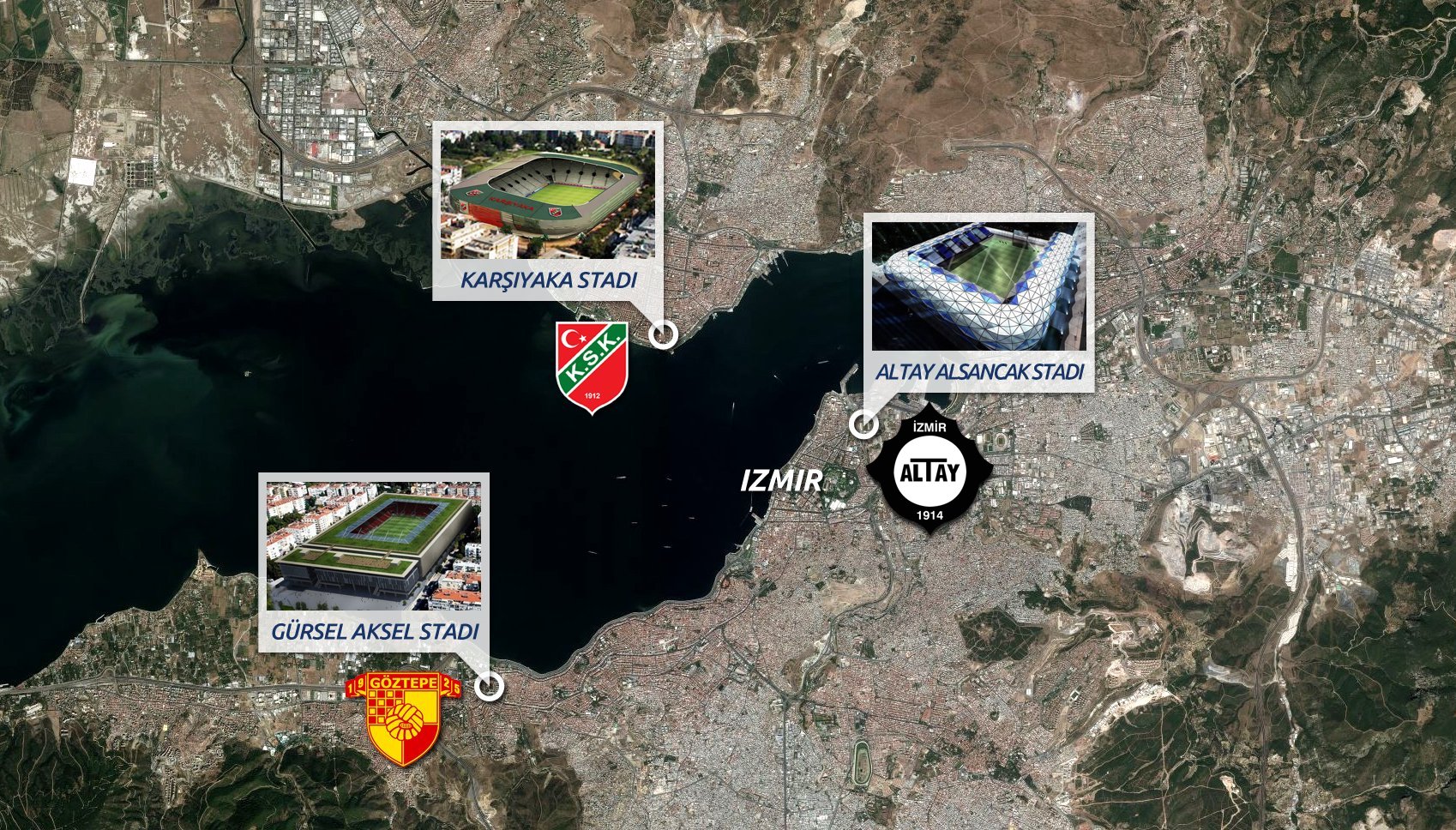 First: Göztepe
For over 90 years the club has been the biggest one in south-western parts of Izmir. Two Turkish Cups, one Supercup and 25 seasons in the Süper Lig is quite a lot for a team from outside Istanbul and "Göz Göz" remain one of the most popular teams in Izmir.
If you're not familiar with this team, that might be because of their serious decline over the past decade or so. They've been hovering somewhere between second and third tiers but that time might be over. In upcoming days they will continue to fight in play-offs to once again join the Süper Lig.
For the time being they have no stadium of their own, playing as guests in Bornova. But that's about to change in quite some style! Göztepe will get a brand new home that will stand out not only among Turkish grounds.

We could easily call this stadium "Suiss" because it includes a spatial layout tested in that country. That is placing the playing field not on ground level but above it, leaving the ground floor for commerce, parking and other uses. Not without a reason, as there is little space left after the old Gürsel Aksel Stadı, just over 30,000 m2 with a tight height limit imposed by local zoning.
And yet the Istanbul-based DB Architects office (known for Vodafone Arena) managed to fit quite a lot here. Apart from stands for over 20,000 people and the ground floor being free for other uses there is also a significant pavilion conjoined with the stadium from the south, ensuring the complex will be able to operate on a daily basis instead of just matchday use.
Even more, the stadium will offer the very first ever green and public viewing deck on the roof. Independently of regular use people will be able to climb all of the stadium and walk around the entire cover to admire the view. Placed at exactly 28.3 meters the roof is below height limit and yet above surrounding buildings, so it gives quite a view of the dramatic landscape and the Aegean Sea.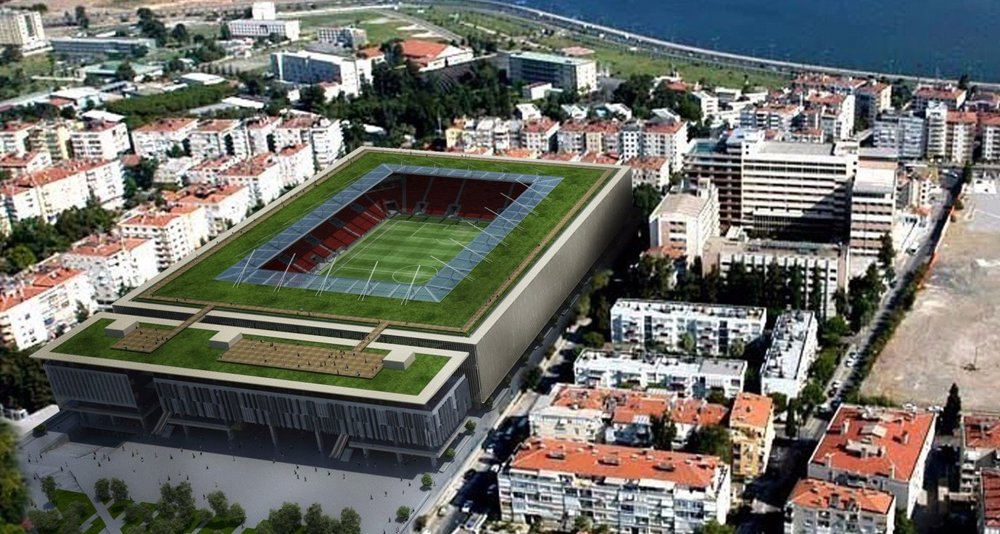 Second: Karşıyaka
The second big club from Izmir rules the city's northern coast and it's exactly the clash between "Kaf Kaf" and "Göz Göz" that's commonly referred to as the Izmir derby. When strong, these teams mobilise thousands of fans in a colourful and fierce rivalry, able to fill the huge Atatürk Stadium.
Except that their fate has been very similar over the past several years. Today Karşıyaka is only a third league (nominally 2. Lig) side and their situation continues to be dire. Recent audit revealed debt of almost TRY 55 million ($15 million). And while they have thousands of people on their side, it's hard to imagine high crowds at the Atatürk giant in these circumstances. In 2016/17 they were close to play-offs but eventually ended just one spot too low.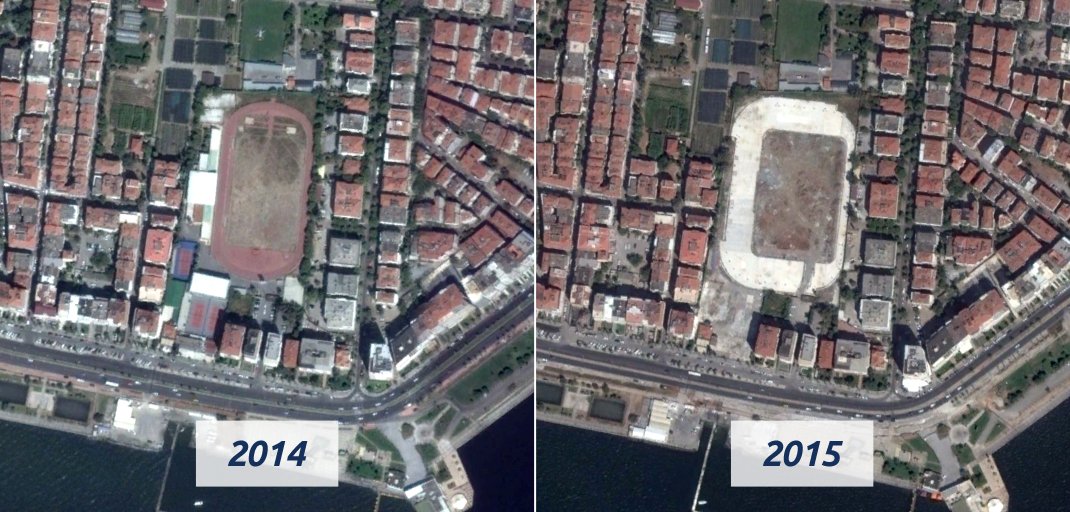 Their stadium is also hardly a success story, at least so far. You may remember its concept from our website because we've had it in our database for quite some time. So, why hasn't it been built? It has but only in a small piece. Demolition of the old one began in 2015 and foundation slab for the new one was indeed laid.
That's when works ended and remained deadlocked until very recently. As far as we were able to establish, it's been on hold for legal reasons. Now the Turkish Housing Agency TOKI is finalising the construction contract once more, giving new contractors 550 days to deliver the 15,000-seat stadium tightly surrounded by housing and leisure.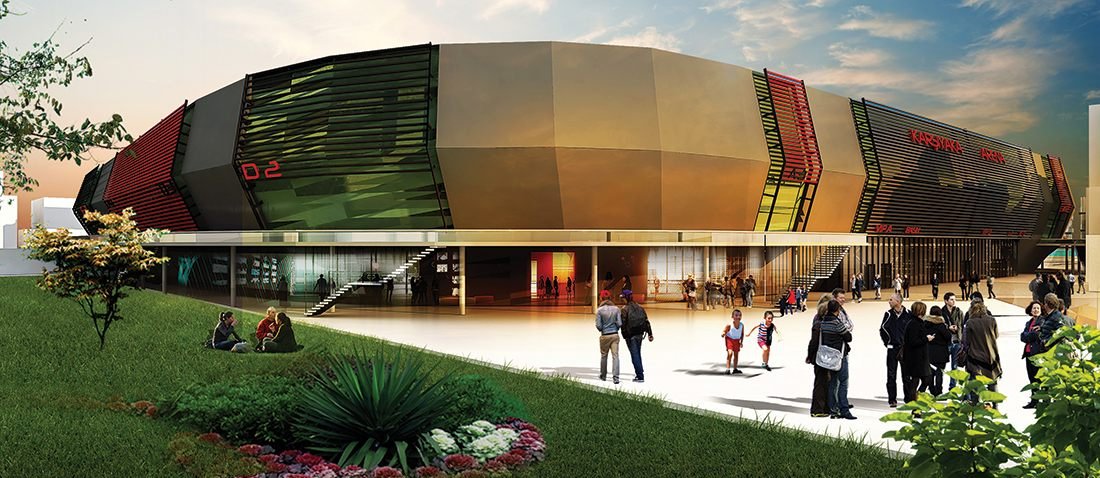 Third: Altay
Nicknamed "The Great Altay", this team indeed has some reasons to be considered great. First, it operates at the very heart of Izmir. Second, it won two Turkish Cups and was third in the Süper Lig three times. It's a team with rich century-long history that has challenged the domination of Istanbul many times. That's a lot for a club currently in... fourth leage. But relax, they've just won promotion to the third tier (Lig 2.).
Altay spent their long history as a club at the compact Alsancak Stadium, demolished in 2015 due to safety concerns. Since then it's been quite a struggle to get a new ground built there and works are yet to begin. There were even considerations of relocating the stadium but the community would thus lose the single only football field in central Izmir.
Finally in recent weeks the stadium's construction tender was completed and new stands for roughly 15,000 people should be delivered by late 2018!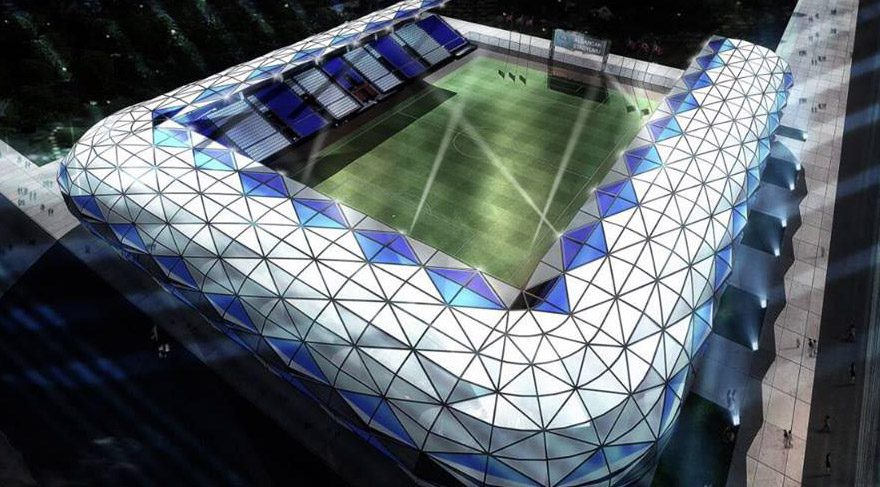 Fourth: Tire 1922
OK, that's quite a stretch. As you can see on the map below, Tire is a remote town well outside of Izmir but we decided to include it because it's precisely the local government in Izmir investing in a new stadium here.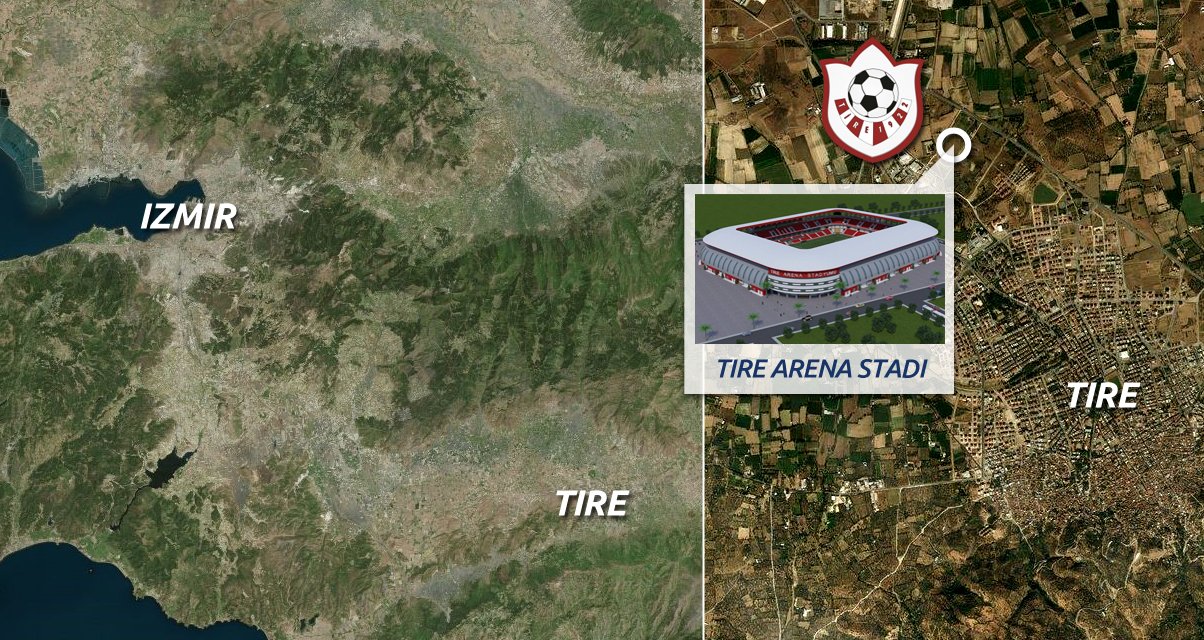 It's hard to say whether it's more impressive or unrealistic. The ground will offer double-tiered stands for well over 13,000 people, which begs the question: how can a town of 55,000 people fill that? Especially that their 3rd league status is hardly the magnet needed to draw every fourth inhabitant to the stadium.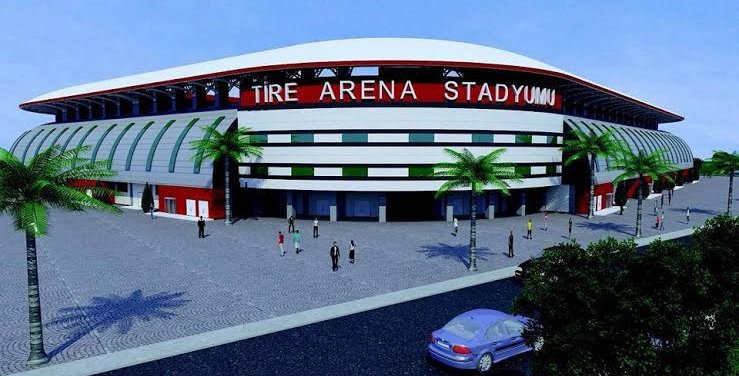 Anyhow, the stadium is being built and it's close to being ready. Initially planned to be delivered on July 3, it will clearly be delayed. That said, its delay may become the very reason for which Izmir will have four stadia under construction in the second half of 2017 and that's quite stunning!