New stadiums: Fresh from Trabzon and Izmir
source: StadiumDB.com; author: michał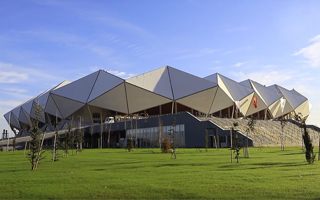 Over the weekend we added two new stadia from Turkey. One of them will see its first football game this Sunday, the other is already well in use, though still not finished.
One of Turkey's only five clubs ever to win the Turkish championship is about to see a historical change later this week. On Sunday Trabzonspor will face Gaziantepspor (who opened theirs last week!) at their brand new stadium in Akyazı. Formally the new arena in Trabzon was opened back in December, which is why you nominated it to be Stadium of the Year 2016, but it was a rally rather than a game. Now we'll see football action at Şenol Güneş Stadyumu so it's time to see it on StadiumDB as well!
It began back in 2007
Already in 2007, long before the nationwide programme of stadium replacement was launched across Turkey, Trabzon had a plan of creating a major sports and leisure precinct in Akyazı, west of Trabzon proper. The city's largest stadium was to stand at the heart of land reclaimed from the Black Sea and its design was based on a proposal previously rejected in German Mainz.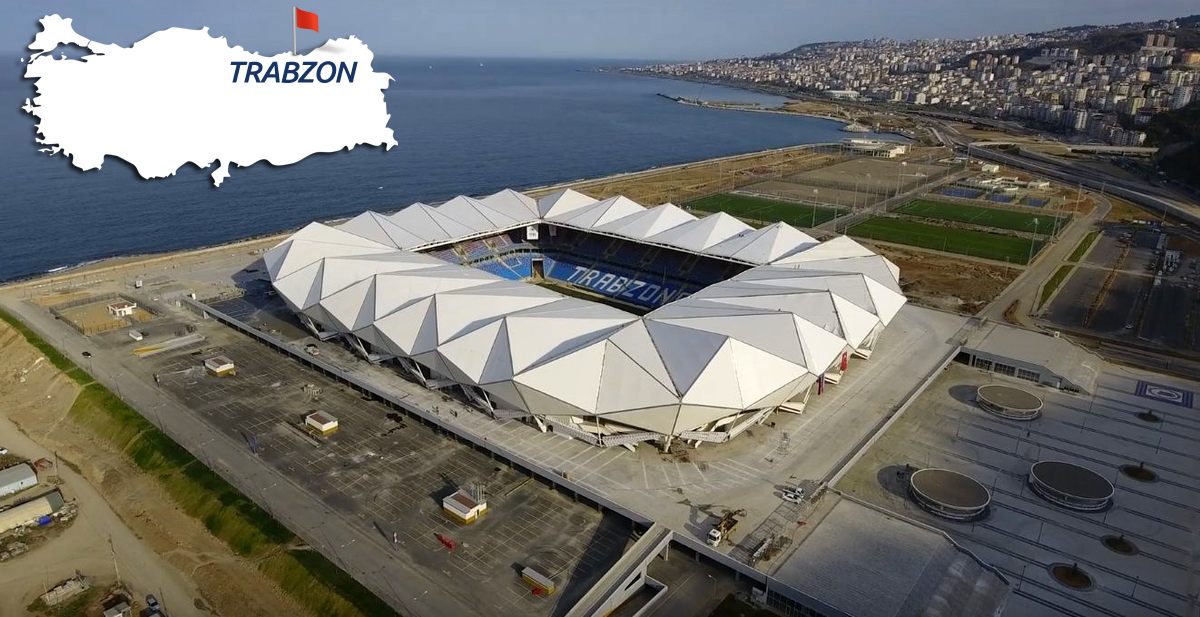 Not built in Germany, this bold concept found approval in Turkey, of course following adjustments in terms of size and access. In 2011-2013 roughly 79.5 hectares of land were created in what used to be a bay, allowing construction to begin. Initially it was hoped the project would be ready within 2 years but in reality it took three to open its doors. Interestingly, both for groundbreaking and opening, the guest of honour was Recep Tayyip Erdogan, firstas prime minister and then as president of Turkey.

Of the 795,000 m2 reclaimed from the sea, 418,000 m2 (eastern part) was earmarked for this project, leaving the rest for complimentary investment in the future. Of the used land 155,000 m2 are occupied by sports facilities, including 7 football fields (two full-sized and five 60x90m), four tennis courts, two basketball courts and more. The remainder is occupied by internal roads and public green areas.
Of course the single largest part is the main stadium. As a building itself it occupies 45,200 m2 and including pedestrian plazas around it 134,900 m2. With 438 indoor parking places (and over 1,000 outside), the stadium sits on a vast plinth, allowing access of the public from the north and south.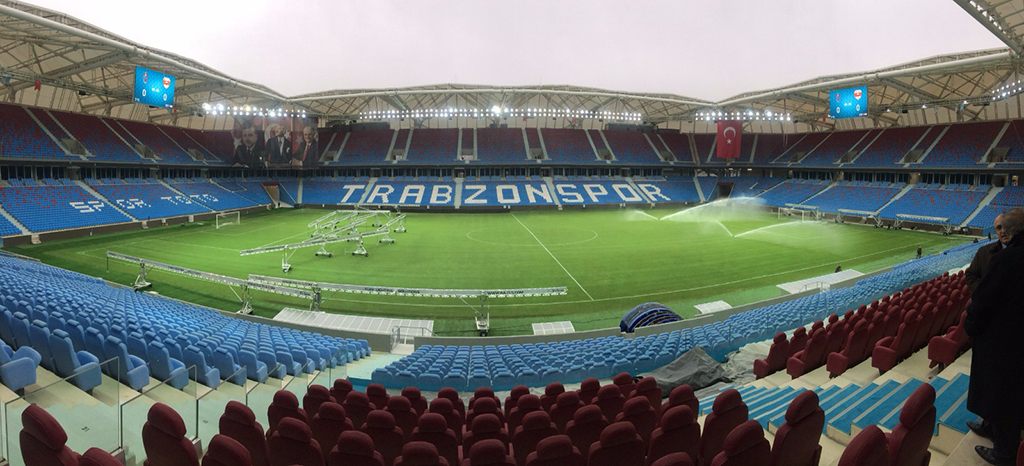 On top of the promenade is a sharp angular form created with triangular membrane sheets. Spreading across a lightweight steel frame, the membrane makes it a landmark instantly recognizable in the world of stadiums. Whiteness is somewhat broken by accents in "Bordo-mavi" club colours and bright red paintwork of the internal side of the stands.
The audience itself is divided into two tiers, offering 41,500 seats. Despite its capacity the Trabzonspor-coloured seating bowl is quite compact, putting fans 8.5m and 10m away from the field (along the sides and behind goals, respectively). The highest row is set at 5-floor height. Lowest in capacity, the west stand also houses bulk of the hospitality and banqueting facilities, including 122 boxes and almost 3,000 business seats.
Far less impressive but still not entirely complete. This one is already in use since October's Göztepe 2nd league game. Works on the new stadium in Izmir's Bornova district (easternmost part) began in 2013, when nearby highway construction opened sufficient traffic capacity. On 27,000 m2 two stands were built first, along the west and east sides, the latter significantly shorter than the field.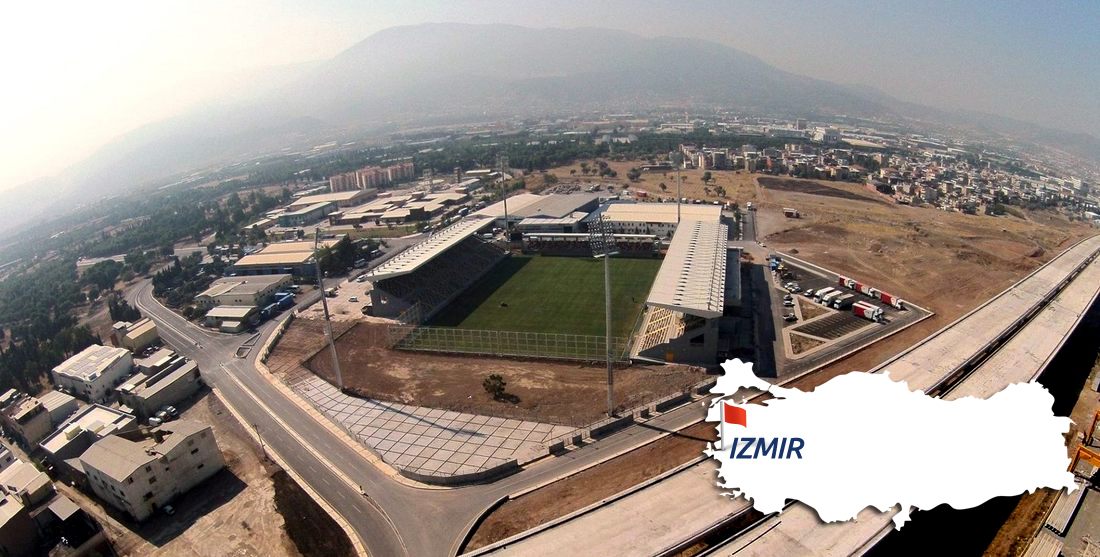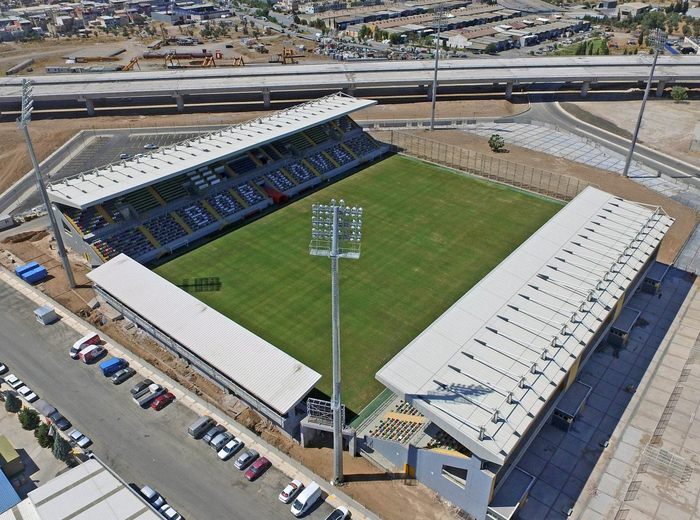 In this layout it was ready for use back in 2015 but official opening only took place in October 2016, when another phase of works was complete. This brought a 1,000-seat covered stand in the south and 50-meter floodlight masts.
With three stands complete, the stadium was certified for domestic and international use (UEFA Cat 3). This opened the chance to host various games and with major projects ongoing in Izmir, Bornova became home not only to Bornova Belediyespor but also more famous Göztepe and Altınordu.
Eventual capacity should reach 12,500 seats in 2017, after completion of phase three. This one will see the stadium's largest stand being built in the north, enclosing the stadium. Altogether the project is expected to cost TRY 32.9 million.