England: Away fans must be placed pitch-side
source: FSF.org.uk; author: michał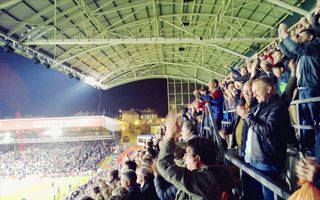 From the 2017/18 Premier League season no club will be allowed to place away supporters far from the field. At least one section has to be placed just behind the field.
Fans in England have been lobbying for the move for a few seasons now and they just proved successful this week. Football Supporters Federation's campaign to bring away supporters closer to the field will become part of Premier League's policies starting next year.
From the 2017/18 season all clubs of the world's most expensive league will have to offer pitch-side seating for away supporters. This means that at least one section of the away allocation will have to begin in the front rows of the stadium, be it along the field or behind it.

© Andrew
FSF chief executive Kevin Miles said: "Placing away fans up in the gods may appear to give home teams a competitive advantage, but often in reality this kills the atmosphere for everyone on matchday, this is why we've been lobbying for such a rule to be introduced. We're pleased to see this step taken.
"Away fans make a massive contribution to the atmosphere by bringing noise, colour and character to football grounds every weekend - and we want football to make the most of that."
Interestingly, at present only Sunderland's Stadium of Light doesn't offer pitch-side seating to travelling supporters. But the new regulation should ensure that all new stadia and promotion clubs are prepared to welcome away support in similar conditions.