New designs: Four stunning visions of Camp Nou
source: StadiumDB.com; author: michał
They didn't win the international architectural competition, but are amazing either way. Meet four of eight finalists as renderings are released to the public!
In March we've been shown the renderings of winning design by Nikken Sekkei. A week ago mockups of all eight finalists were put on display for everyone to see. Now we have for you almost 50 renderings of four finalists that have so far been released.
Please keep in mind that the competition had very specific rules. Not only did every team face the challenge of expanding the stadium to 105,000 seats, providing a roof (no less than 47,000 square meters) and new exterior. They also had to come up with projects that could be phased for gradual implementation. All that said, check out how diverse ideas were presented!
Inspired by the vibrant architecture of Barcelona and the club insignia of FCB, this concept offers an open-air stadium. Instead of a unified, opaque outer skin, it's wrapped in a serious of ribbons in vivid blue-red colours. Not the first building in the city with such bold colour scheme, but surely the largest with entire floor space of over 204,000 m2!
The ribbons have varying shapes depending on height with the top one seemingly set into motion by the wind. That uppermost piece of outer skin would be topped by a stunning viewing deck open to everyone on non-matchdays.
Along the guidelines set by FC Barcelona, this concept offers a lightweight, translucent membrane roof. Underneath it is a more uniform expanded seating bowl for 105,000 spectators.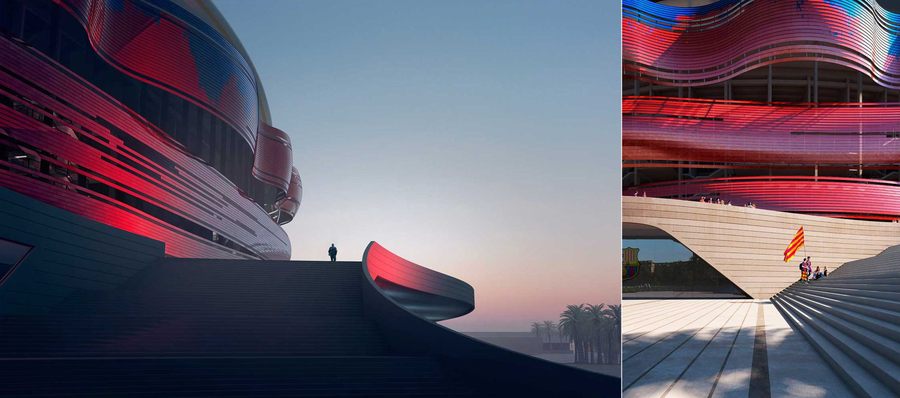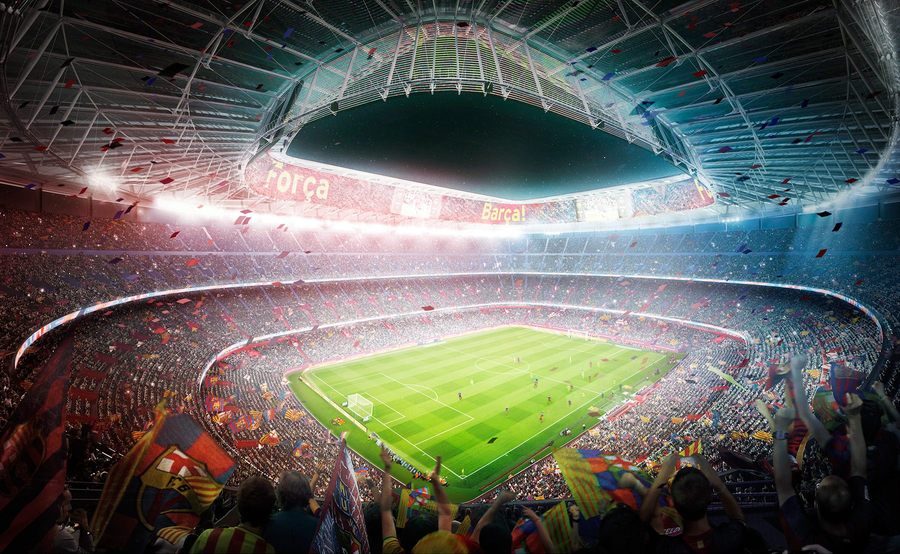 Lightweight, highly perforated outer mesh would create a uniform appearance from all sides, still providing an attractive and dynamic perspective thanks to changing colours. By day the south end of Camp Nou would be sprinkled with blue dots, with the colour changing to red as pedestrians would walk along to the north end. By night this impression would fade as all of the façade could be turned into a giant screen.
Above the stand an interesting roof is planned, created with several rings. Those near the centre and south side would be transparent to allow sufficient sunlight access to the field despite the grandeur of the building.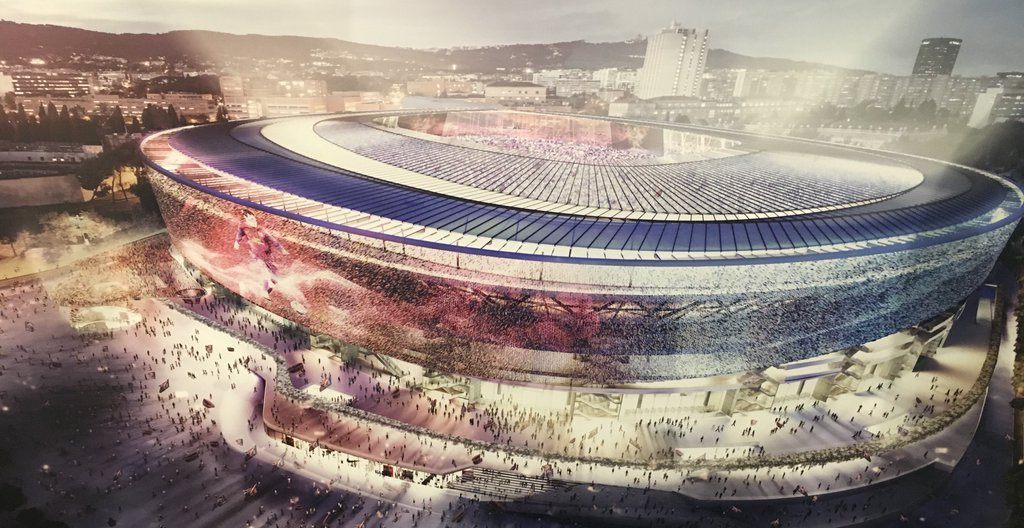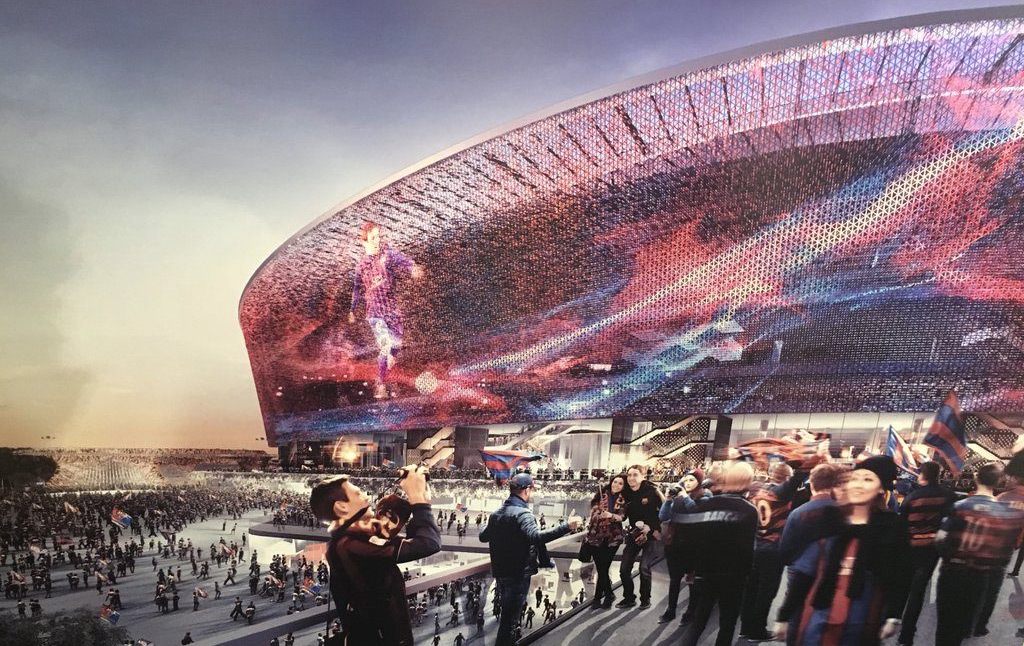 Simple ideas creating a stunning effect – this is how you might describe it in short. Existing Camp Nou structure would be respected fully, even visibly in the seating bowl (added sections cut off from the current ones).
The current concrete structure would see addition of cascading staircases. Not only improving crowd circulation, these would also be an aesthetic feature, spiraling to the top of a 105,000-capacity stadium. On top of all this a light veil of vertical lamellas would cover the stadium, both forming an iconic outer form and allowing overview of the stadium's main structure behind it. Depending on point of view, pedestrians would have a completely different experience of the stadium.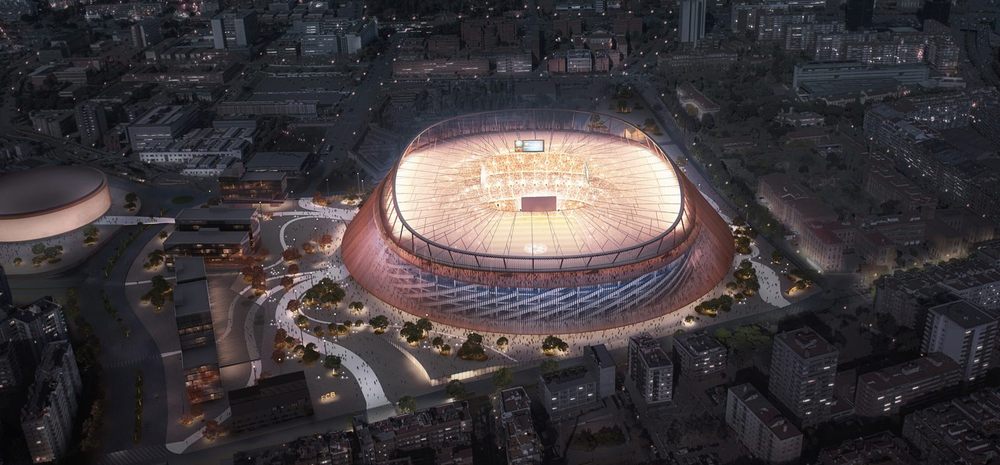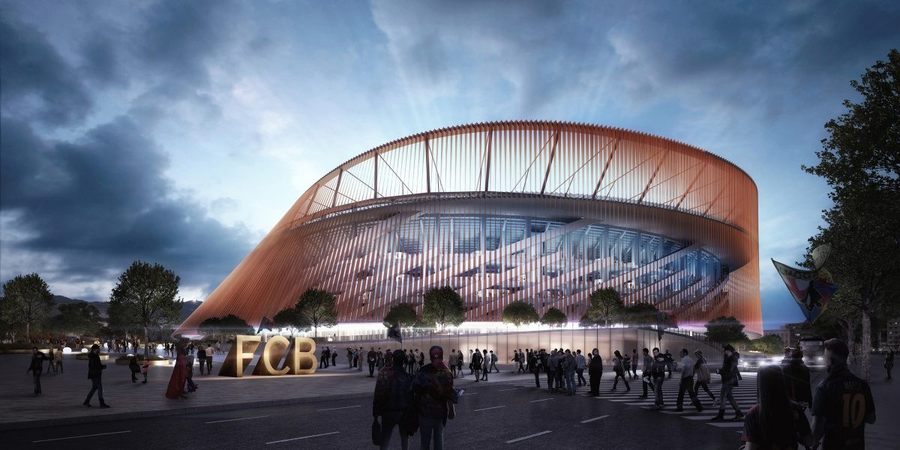 It's the only finalist of FC Barcelona's competition that foresees a strong aesthetic difference between existing Camp Nou and the addend expansion on top of current stands. Though monumental themselves, the stands holding 99,000 people would be topped by a soaring west side. This way a stunning impression would be created for visitors entering the expanded main stand.
Though equipped with greater concourses and equipped with additional access routes, the current stands would retain their sharp, concrete appearance. Meanwhile the new roof and added sections on top of the existing stadium would be smoother and more dynamic, providing interesting contrast between tradition and modernity.