Dortmund: Borussia invests further in Westfalenstadion
source: derWesten.de / RuhrNachrichten.de; author: michał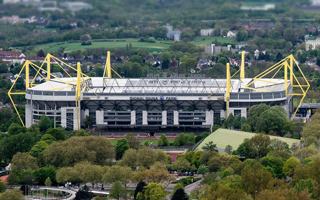 Capacity to grow, comfort to improve and Wi-Fi to… slow down. These are just some of the changes expected in the 2015/16 campaign. Find all alterations here!
New season of the Bundesliga and DFB Pokal will bring some changes to Borussia Dortmund fans. Like nearly every summer in recent years, this one too will result in improvements. After photovoltaic panels or new turnstiles now it's mostly on spectator comfort and safety. Below is the list of changes about to come or already in place:
Northern road access. One of the routes leading to Signal Iduna Park from the north received another lane and new traffic lights to facilitate access for fans. Cost: €450,000 (€140,000 covered by BVB, remainder by the city);
New toilets. If you've ever been to the stadium, you may be aware of the problem. Particularly in sections built back in 1974 there just aren't enough toilets to meet demand. That's why overall 39 toilet cabins and 56 urinals will be added throughout the stadium. Cost: €600,000;
Western entrance expansion (photo below). The main grandstand is getting an upgraded entrance with new facilities for the VIP and corporate guests. This is also where all stadium tours are to begin in the future. Cost: €2.5 million;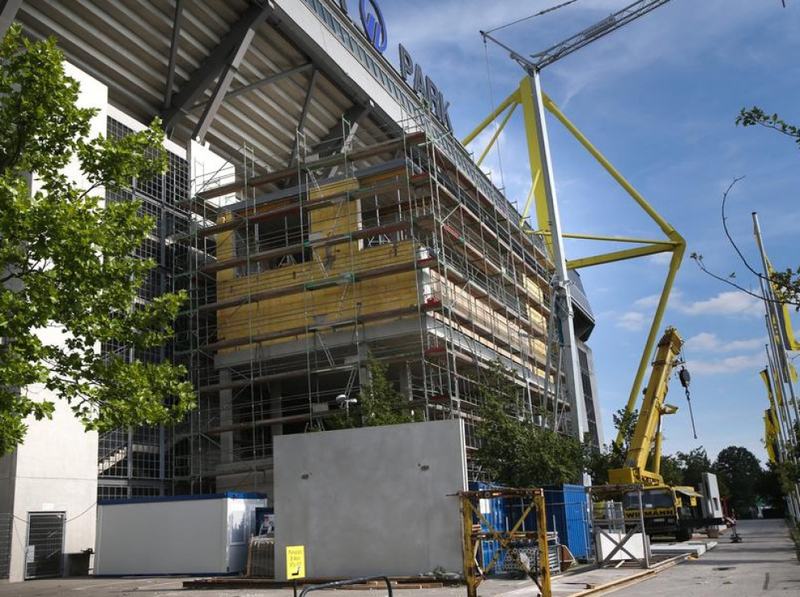 North stand expansion. We already covered this change. Roughly 800 additional places will be created by replacing seats with terracing in the north end. Of course this change will be reverted temporarily every time an international game is to be played. Cost: €600,000.
Improved away fans segregation. If you ever considered smuggling a flare inside the away enclosure, now it's going to get more difficult. Additional spaces for control of fans entering the visitor section are to be created with new fencing outside the stadium. Not clear yet whether the pens created this way would be temporary or fixed. Cost: €100,000.
Improved CCTV. Better and additional cameras are to focus on the north end (away fans) and south end (the famous Yellow Wall). Cost: €100,000.
Goal-line technology. The Hawk-Eye system will check in every Bundesliga and DFB Pokal game whether it's actually a goal or not. Cost: €7,500 per game!
Fast Wi-Fi to slow down
It was barely half a year back when Borussia announced their €1 million spending on great internet access for all fans. Now, having first experiences with the outcome BVB are keen on slowing it down a bit. Fans are simply too focused on their smartphones, so a less comfortable access should get their eyes off the screen a bit more often.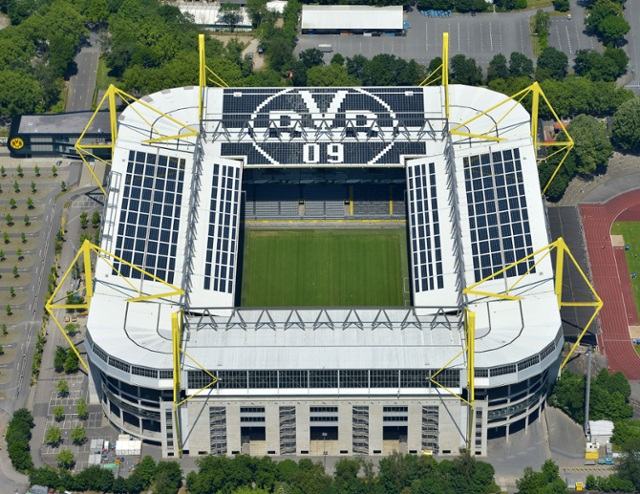 New payment system
Borussia replaced the provider of stadium payment card system. The new one is to be more comfortable without causing additional costs to fans. Interestingly, the pre-paid cards will allow cash withdrawal after the game if anything is left on the card. Also, listening in to the more traditional part of their fanbase, Borussia decided to retain cash payments in some concession stands across the stadium.