Russia 2018: Pressure mounts, less time and money
source: StadiumDB.com; author: michał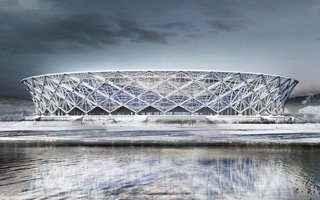 "Main task: price cannot go up by a single ruble", said Sports Minister Vitaly Mutko, who sounds extremely optimistic. If the price stays still, it will only be at the expense of quality.
The earthquake at FIFA is yet to claim any collateral damage in Russia and Qatar. It seems extremely unlikely any of these countries would lose their rights as hosts to the 2018 and 2022 World Cups. But it's not impossible any more, as was described when original corruption claims began surfacing from 2010 onwards. Still, Russia doesn't need that kind of threat to feel under pressure.
Cut cost at all… cost
"Our main task: price cannot go up by a single ruble", said Sports Minister Vitaly Mutko this week. He's now expecting revised projects to be delivered in August. Each stadium still under construction (excluding Saint Petersburg and Moscow, which are more advanced) is to see cost-cutting efforts.
However there's already an indication that revising the stadia might not be enough. Completely redesigned stadium for Rostov-on-Don (below) has its secondary facilities downscaled severely and much simplified architecture. Yet the cost went down from RUB 20.2 billion to 18.5 billion, less than 10%.
And even with that 10% saved, the stadium is still over 3 billion above what was viewed as absolute maximum for group-stage stadiums back in 2014. In practice already in 2014 all stadia exceeded that limit with only Samara passing financial evaluation. Ironically, Samara is now subject to review in financial terms.
Recently new measures to cut costs were announced. Immigration procedures were loosened to allow more migrant workforce into Russia. Huge percentage of 'cheap labour' abandoned the country as ruble plummeted last year and Russian stadiums need these workers. As an example, in Saransk there are currently 900 workers on site of Mordovia Arena (below) and only 200 of these workers are locals. Others are either Russians from other regions or immigrants housed in a temporary camp.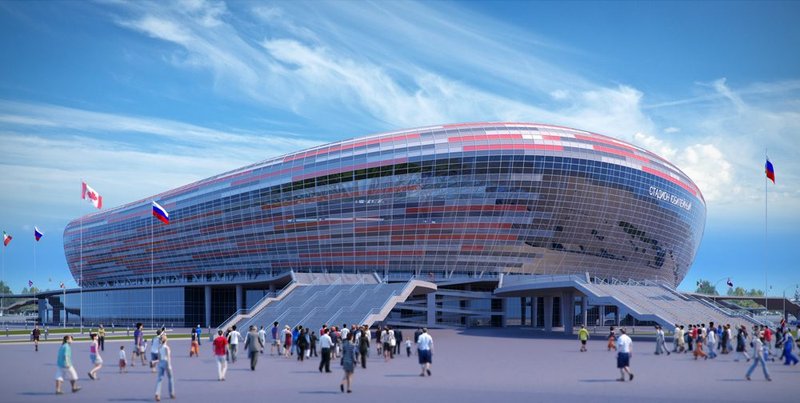 Last week another idea received global coverage: using prisoners as paid employees. This project by prominent United Russia politician Alexander Khinshtein was supported by the penitentiary system of Russia. Of course inmates would not be working on stadium sites, but rather in controlled industrial facilities, manufacturing parts or construction materials.
Time running out
FIFA agreed to a late stadium delivery date of November 2017, just half a year before the 2018 World Cup. After disturbing experiences of South Africa and Brazil the organisation will most likely do anything to avoid similar setbacks in Russia.
Every passing month should be used by the hosts to maximum, but it's not necessarily the case in some cities. Russia still has enough time to deliver all stadiums before the set deadline, but nearly all initial schedules had to be scrapped as delays mount.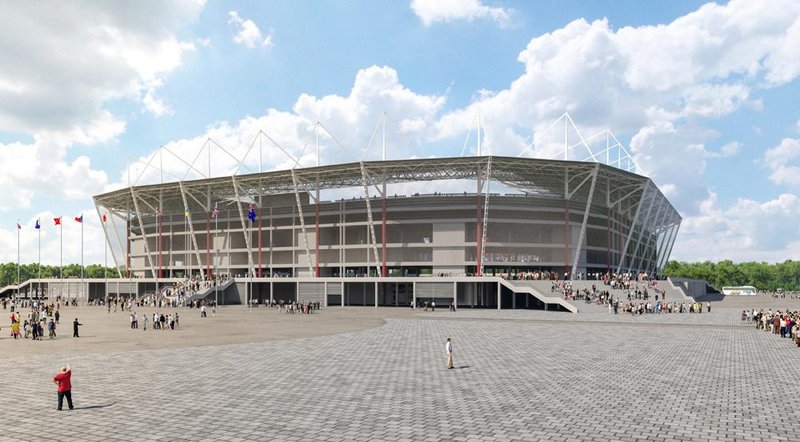 By far the most difficult situation is in Kaliningrad (above), where only site clearing was carried out to date, while impasse with stadium groundbreaking continues. In recent days the governor of Kaliningrad tweeted that he was pressed by the sports ministry to begin construction immediately. As he wrote, workers have to arrive within days. Meanwhile, the final appearance of the stadium is still to be selected. Most likely scenario will see the 35,000 arena wrapped in blue and white, as are the colours of the region and football club Baltika.
Second most vulnerable site is Ekaterinburg, where old stands of local stadium are now being demolished. The added difficulty in this case is the necessity of retaining historical, monument-listed facades. Third very late stadium, though according to Mutko safe, is the Rostov stadium.
As if that wasn't enough
Unstable economy is claiming its victims. Recently a court confirmed bankruptcy of Mostovik, one of Russia's largest contractors. The company left behind debts in excess of RUB 50 billion, costing many creditors their own financial stability. Mostovik was previously hoped to build the Kaliningrad stadium before being replaced by Crocus Group.
Another bankruptcy happened recently in a different market. Future anchor tenants of the Volgograd stadium, second league club Rotor, had to fold in April. The team had over RUB 130 billion of debt and was now re-established in the amateur 4th league, having to work their way up again. It's not a problem for the World Cup preparations, but surely one for legacy. Can a 4th-league club make use of 45,000 capacity? This will be verified in reality, because governor of Volgograd confirmed the new-born club will be awarded tenancy of the local stadium (below).