Stadium of the Year: Look at them shine!
source: StadiumDB.com; author: michał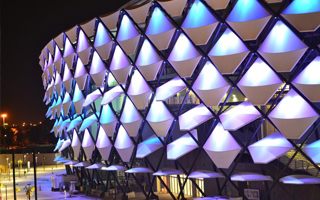 It's been only 14 years since the first dynamically illuminated stadium was opened. Since then impressive lighting has become commonplace, as seen with these Stadium of the Year nominees.
Only over 30 hours are left in our annual Stadium of the Year vote. The voting platform closes on Midnight, Feb 17 (CET). For those of you who still haven't decided on the five favourite stadiums, here's a look at the most stunning nighttime illuminations inaugurated by December 31.
But looking at these amazing light shows, we should remember it's only been 14 years since the first stadium with such lighting was opened. The ideas of St. Jakob Park by Herzog and De Meuron were later developed further in Allianz Arena. And almost ironically that stadium became the one to inspire many others and change stadium design, though its dynamic lighting was initially planned primarily as a way to give the stadium varying identifications for Bayern and TSV1860 games.
Below are some of the most amazing examples of last year's illuminated stadia. Unfortunately we weren't able to find quality images of all stadiums. If you see one missing and know of photos/videos with its illumination, let us know.
The entire stadium is covered with white acrylic glass, which provides a warm light glow at night. However, the main grandstand also has potential to display various patterns. Since the opening it's been used to present flags of teams competing at the stadium.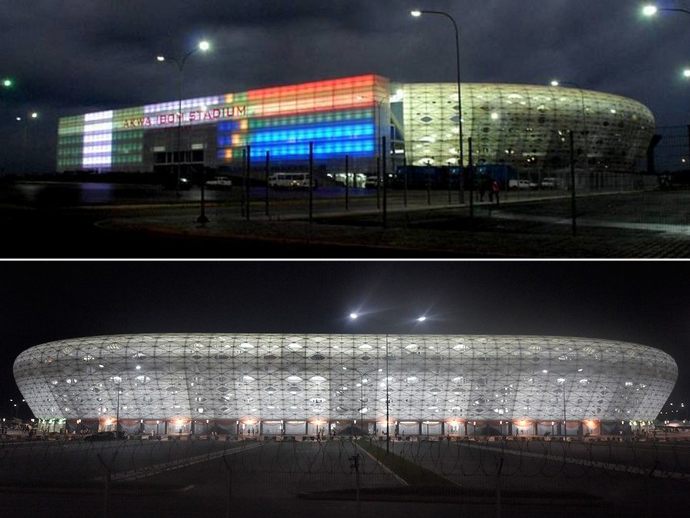 The eastern side is covered with perforated horizontal blinds, which have large lamps mounted into them. This way one of the world's largest screens was created, spanning over 170 meters (20m high). 840 lamps with over 34,000 LEDs in them provide conditions for various theming and messages.
This stadium's most distinctive feature is the steel skeleton, resembling a basket. Between the frames 252 strips of membrane are stretched, giving a total surface of 31,000 meters. At night the membrane has a natural yellowish lighting, but may also be illuminated in other colours, depending on occasion.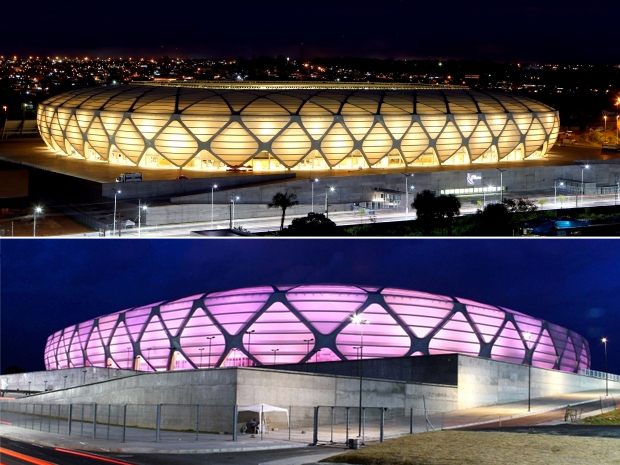 With extreme proximity of housing estates, only the uppermost part of the elevation is strongly illuminated at night, not to pollute the residents with light. Floodlights of the pitch are enough to bring the stadium "alive" from the outside, but there also are other colours that may be used to attract people from afar.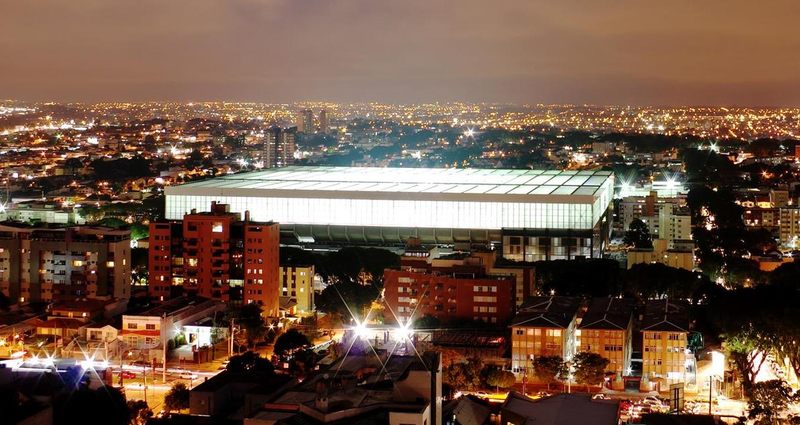 The entire outer wrap with aluminum panels is prepared with light in mind. By day the effect depends on sunlight reflections, while at night all panels may be illuminated in varying colours – simpler throughout the stadium and more detailed at the main grandstand with offices and corporate facilities.
While early renderings suggested the "goalpost" frames supporting the roof would be entirely illuminated, eventually a different concept was implemented. Only the outer webbing has LED lights emphasizing its shape, which offers… and arguably aesthetic impression.
From the outside, this stadium is covered with metallic scales, which reflect light very well both by day and night. This allows lamps outside to display various colours and shapes on the façade, while interior lighting gives a nice glow through large holes in the cladding.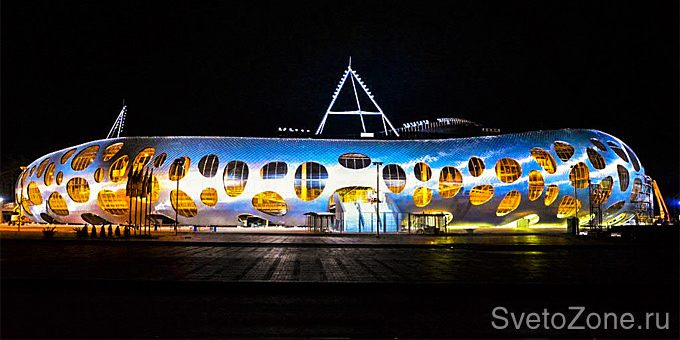 Each of the 65 leaf-shaped roof segments has its own LED lamps to cast various colours onto them. Altogether there are 520 large lamps outside and further inside, making the entire dome glow at night.
Though it's by far the cheapest stadium opened last year and nominated to Stadium of the Year, it still deserves attention. Its outer skin of blue mesh is equipped with lamps throughout the perimeter, enabling simple, yet dynamic effect at night.
The new home of Ferencvaros is covered with a neutral grey webbing, giving it a modest, but airy look by day. At night the net may be illuminated from the inside. Green is the standard colour, but others are also used. However, the effect is minimized as floodlight lamps are turned on for events.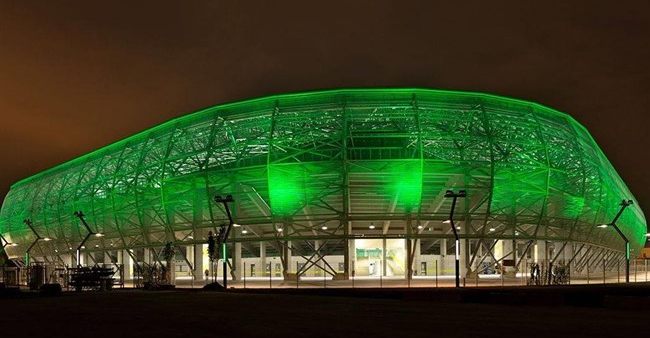 Facades of this stadium resemble a palm bole with 612 opening panels. Each of them has an individual lamp, allowing for simple objects and patterns to be cast onto the stadium.
Visual impact of this stadium is created with several means. First of all, the cut-out façade may be illuminated from the inside, highlighting the Arab geometric patterns. It may also be entirely lit from the outside, this time with colours and patterns added depending on lamps used. And lastly, the roof's membrane creates a flower-alike outline once floodlights are turned on.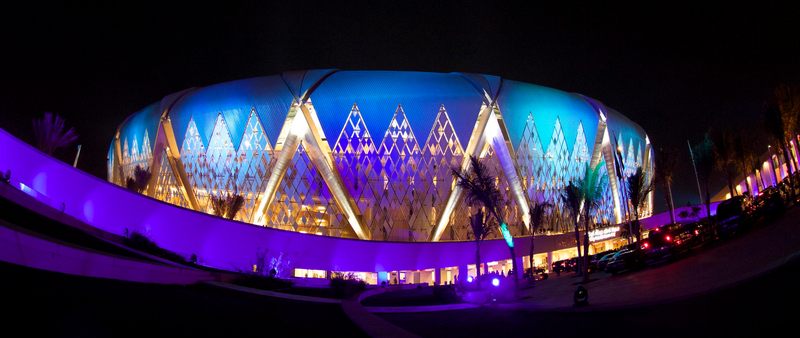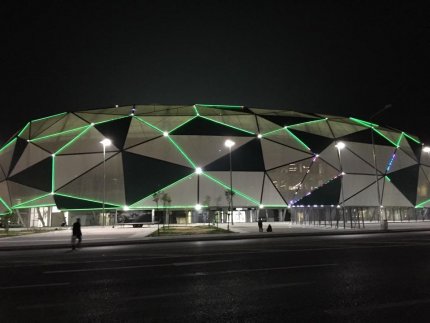 Membrane and polycarbonate facade would almost surely be illuminated from the inside, right? Not necessarily, as this stadium proves. At night it emphasizes the geometric triangular forms used. Each vertex of a triangle has a white lamp, while some edges are also illuminated, giving a rather original effect.
Classic materials – concrete, bricks and glass – ask for classic ways to illuminate them. This Texas stadium has lights elegantly follow its columns and light roof, while edges of the brick walls seem to be cut directly by light.

The stadium's unusually-shaped membrane webbing offers significant opportunities of displaying images. Two rows of lamps are installed throughout the circumference on lower and upper edges of the facades, which give final effect as seen below:
The stadium's outer skin is made with opaque, non-translucent scales, thus lighting it from the inside would prove ineffective. Outer lamps are installed, making the red-white facades visible from a distance. Neutral lighting may be replaced with more colourful if needed.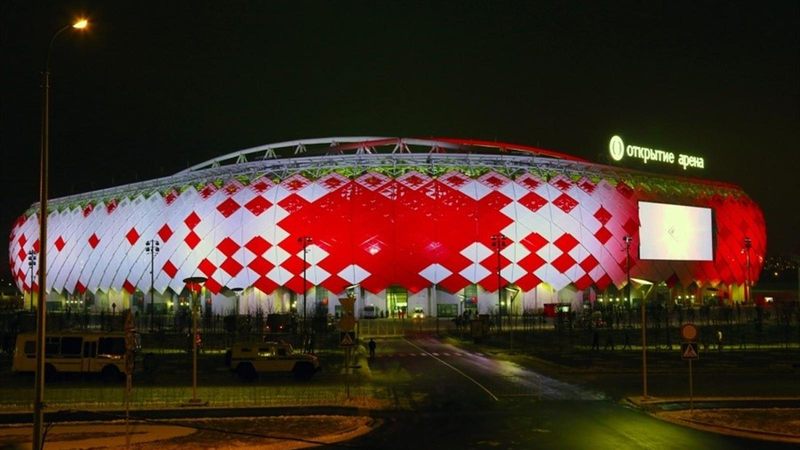 The golden skin of Maccabi and Hapoel's new home shines by day thanks to the sun and by night perimeter lamps assure a similar effect of shining gold is visible. Additionally, the strong concrete columns supporting stands have individually installed LED lamps, offering a more diverse and dynamic illumination.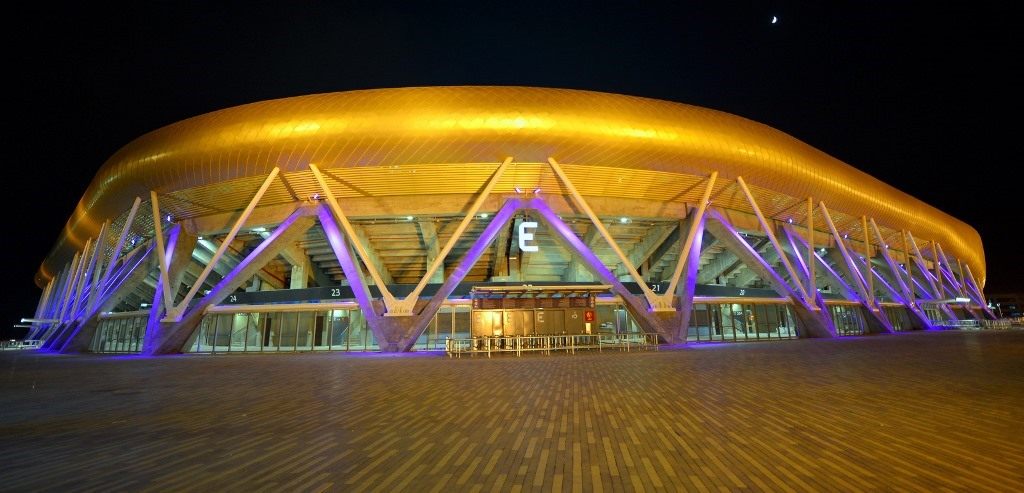 Simple pattern created with twisted white baleens isn't only decorative by day. It actually changes to Bilbao's largest landmark by night, clearly visible throughout the city. The stadium may display even complex images and patterns, reacting to goals and other key events inside.
Illuminating the world's largest free-spanning dome sounds like a costly effort. Perhaps this is why not all of the dome in Singapore is highlighted. Instead, lamps follow the steel structure's pattern, creating a web of light covering the stadium. Also, the retractable roof panels are set alive with all of their surface covered by LED lamps.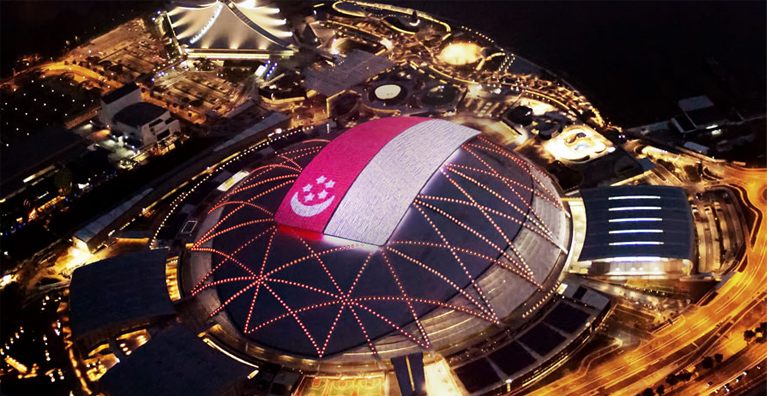 The roof of the revamped Velodrome covers 40,000 sqm of membrane. The wide outer frame, also covered with membrane, adds an extra 20,000 sqm of PTFE cover. Spreading across 240 individual strips of membrane, the frame may be illuminated from the inside as well as serve as canvas for outer lighting.
Thanks to the roof being covered entirely with transparent polycarbonate, turning on the floodlights already provides a strong glow that highlights the steel roof structure. Also the open concourses around stands have significant lighting, adding to the overall effect.