Hungary: Billions for new stadiums in 2015
source: nepszava.hu; author: michał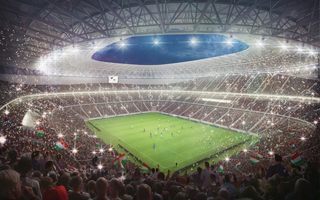 They opened three new stadiums in 2014. This year works are to commence or progress at 22 (!) major projects. The government plans to spend 67.144 billion forints.
The Hungarian government is keeping its promises from a couple years back and progresses with national program of sports infrastructure upgrade. The scheme aims at significantly improving or completely rebuilding all stadiums of top two leagues in the country.
2014 brought the first results of this project as three new stadiums were opened in Budapest, Debrecen and Felcsut. The first two were built with in nearly record time at a very efficient cost, while the third is Hungary's new national stadium for youth teams. All are illustrated below.

This year the governmental program will include 22 stadiums across the country. Annual budget for the projects is set at HUF 67.144 billion (€211m / $250m) for 2015. The below table shows how the money is to be distributed among participating cities of league one (NB I) and two (NB II).