Russia: World Cup stadium in Volgograd approved
source: StadiumDB.com; author: michał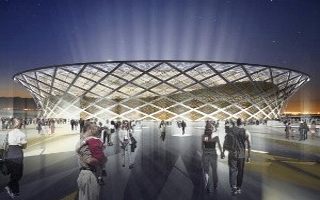 Yesterday the Russian government issued a statement, approving the proposed stadium scheme for Volgograd. No details as to financing were disclosed, prompting further questions.
The Russian government's website released a statement yesterday, informing about the cabinet's approval for Volgograd's stadium scheme. This means that new stadium along the 2013 design will be implemented with surrounding parking sites, also including relocation of a nearby water treatment facility.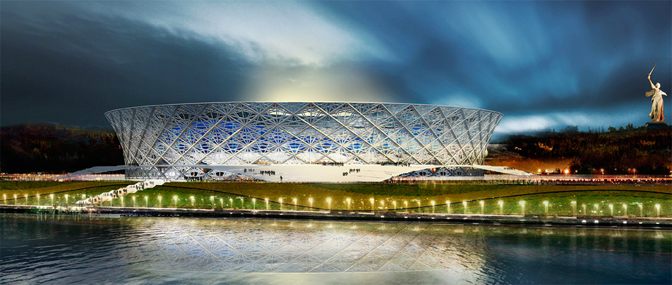 The article doesn't specify financing responsibilities, thus it's not clear whether the stadium will be completely or only partly financed by federal funds. There's also uncertainty as to the price tag. In 2013 the stadium was to cost RUB 12 billion, later growing to 15 billion. However, since June this year the general contractor has been appealing for an increase to 20 billion, arguing the expected cost is estimated below real value.
Along the government's orders, all stadiums need to reach groundbreaking by year end if they are to be delivered timely in 2017. Currently 2 stadiums are built (Kazan and Sochi, though Sochi needs further works). Spartak's Otkritie Arena is nearly complete, while Saransk, Kaliningrad, Samara, Saint Petersburg and Moscow (Luzhniki) are also in progress. Only Rostov, Nizhny Novgorod, Yekaterinburg and Volgograd are yet to start construction.
In a recent poll 58% of Russian citizens are for the 2018 World Cup, while 10% oppose the event. Opinions are more divided about the economic impact. 36% believe the tournament will boost economy, while 28% don't see it as a catalyst.
Just as a reminder, the Volgograd stadium already had two incarnations since the Russian bid was submitted in 2010. First came the German vision of Tim Hupe in 2010, showing an angular, sharp form with local club's colours dominating the façade. Then in 2011 the concept of Arena Pobeda was drawn, emphasizing one stand and giving it view of the nearby monument of victory.