World Cup: All stadiums tested, no serious incidents
source: StadiumDB.com; author: michał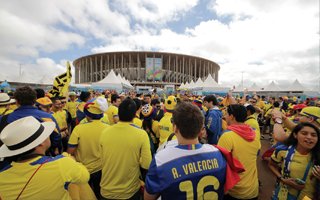 Some may argue that safety infractions happened, that stadiums aren't ready. But in all fairness Brazil is proving to be a great host for tourists. And if Japanese fans cleaning litter make headlines, nothing serious is going wrong, eh?
The 2014 World Cup schedule was designed in a way to enable each of the 12 host stadiums to hold at least one game in the first five days. So after these five days we can take a look at how these stadiums passed their tests. While our website isn't represented in Brazil, we've just browsed through several hundred articles and reports to deliver this summary for you.
It's safe…
Although Chilean fans caused an official investigation into safety lapses by FIFA, this outstanding issue concerns nothing more than flares. And flares not used as missiles, but a means for celebration as their team was winning against Australia. May we add – a safe celebration too, well documented with videos and photos.
Two Argentine fans were arrested suspected of racism, but should we include all verbal abuse during the first games, we'd have to be ready for thousands of culprits. Latin America's fan culture combined with frustration of many Brazilians is quite a mix! As seen during the opening, when president Dilma Rousseff witnessed enough insults to make Diego Maradona leave Arena de Sao Paulo outraged.
But apart from the above, very few incidents were noted, maybe apart from the child releasing doves, who managed to smuggle a flag into the opening ceremony, appealing for more democracy. But can a child releasing doves be regarded as an incident? Especially if video cameras, unfortunately for his cause, were already pointed somewhere else…
But it's not safe everywhere
Don't expect reports of the deadly favelas luring tourists. We mean rather the safety of Brazilians themselves here. Thursday and Sunday saw demonstrations in Sao Paulo and Rio de Janeiro. Neither case could be compared to the protests from last year (hundreds rather than thousands for Rio de Janeiro), but the police response was very similar and similarly disturbing. At least one person was injured in Rio de Janeiro after a real clampdown on protesters, despite previous declarations by authorities that people will be allowed to demonstrate.
Sunday's protests ended with spectacular video footage of two policemen (one in plain clothes) firing what appeared to be live rounds from their pistols – one in the air and one in the direction of protesters. Rio's safety officials declined to comment as the case is being looked into, but no-one was reported to suffer in these situations.
Stands filled beyond capacity? Well, not
It's a case known from previous large tournaments. Beforehand we had announcements of 11 million-strong ticket demand and well over 2 million tickets distributed. Official data suggests that the very first 5 days saw attendance at over 500,000. Can it get any more impressive?
It can, actually. As it turned out, almost every single game had attendance of nearly 100% or… more. As an example: opening game was seen by over 62,000 people, while official capacity was set at 61,606. Overall 8 out of 15 games went beyond the official mark.
This may be even more surprising to those who watched all games on TV, like us, or live. Empty seats were in their thousands at nearly every game, but there's a simple answer why. FIFA only counted tickets sold or given away (while at the same time sharing net capacities, not complete ones), not actual people who showed up.
As if this wasn't confusing itself, several other factors added to the 'number mess'. Weather is one, seeing the least protected stadiums (Natal or Recife) witness heavy rainfall and forcing many people off the stands for shelter. Then there's the game atmosphere – many spectators took their time to return for second half of the Argentina–Bosnia clash, where the Argentine team was far from shining, closer to being outshined.
But, most importantly for organizers, there's a real problem with safety checks ahead of games. In the case of Brasilia's Switzerland-Ecuador game many fans were only able to get inside before the end of first half, while entry queues could only be seen in full from air.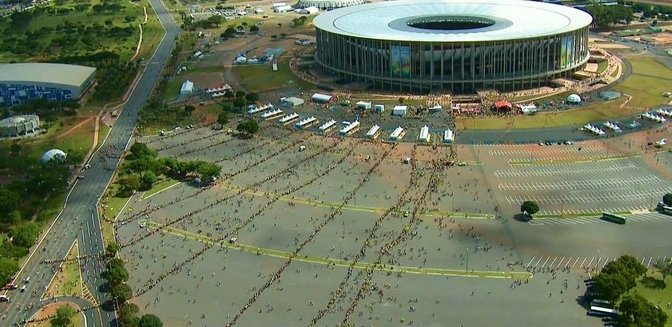 Overall the stands showed a very vibrant and colourful mix of various supporting models. Long tribal dances with instruments from African supporters, loud Chileans and Mexicans and most notably the numerous Argentine fans, known for their melodic songs. Even if heavily outnumbered Bosnian supporters could also be heard at times…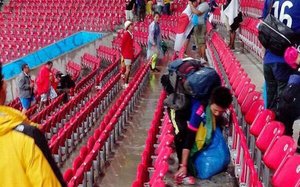 Unquestioned stars of the first days are the Japanese supporters, however. Not for their regular devotion for Nippon's national team, worth praise on its own, but for what they did after the Ivory Coast game. So far we've counted over 1,200 news releases in English alone about how the Japanese cleaned their section after the game. If anything, this fact shows that nothing wrong happened in Brazil. After all, who would have the time to write about people cleaning litter if there were actual problems with safety?
Stadiums are almost ready
And the 'almost' part is of little relevance here, at least for thousands of tourists. Arena da Baixada has no retractable roof or media centre, Arena Pantanal has no public green in the corners, Estadio Nacional with no solar panels atop and Arena de Sao Paulo without pieces of the roof. OK, that's some list, but all of this was known fairly in advance and none of it negatively influences the overall matchday experience.
Some media outlets we managed to catch on attempting to prove construction work is still going on, but these efforts aren't worth the time. After all, it's hard to consider installing temporary metal detectors or fencing as actual construction work at the stadiums.
Obviously, several stadiums weren't delivered with their final surroundings and access routes, like Arena da Baixada or Estadio Beira-Rio. But the arenas are fully operable, while installation of metal detectors is an extra requirement of FIFA, not included in general guidelines.
Specially for our great Readers we prepared a set of infographics, showing basic information about every one of the 12 stadiums. We've been presenting them via facebook and twitter ahead of each venue's first game. Now you may find them below and on both our social media profiles (in full size)!