Euro 2020: Complete list of 19 bidding stadiums
source: StadiumDB.com; author: michał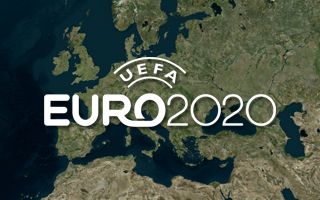 Despite over 30 countries expressing interest initially, the final bidding list is short and will see only 6 bids rejected. Which will it be? Here are all stadiums submitted as candidates.
The deadline for bid book submission passed on midnight and after several hours UEFA released the final list of all bidders to host Euro 2020. A long list of countries decided to withdraw their bids for various reasons.
Finland will have their national stadium revamped in a way not fully in line with UEFA's requirements. Czech Republic, Croatia and Serbia failed to build a solid scheme with financial guarantees. Portugal and Greece saw the 4 group games not worth their hustle, while Turkey and Poland decided to increase their chances in other tournament bids (Euro 2024 and U21 Euro 2017, respectively). Not surprisingly, Ukraine has other problems to worry about.
The final list of 13 host cities in 13 different countries will now be announced by UEFA on September 19. 19 is also the number of countries that eventually decided to submit their bids, meaning only 6 will be rejected by UEFA. This is a significant difference, because initially a total of 39 cities in over 30 countries expressed interest.
There are two kind of packages to bid for: 12 regular ones (3 group games + one knock-out game) and one top package (both semifinals and final). Below is the complete map and list of stadiums still fighting for UEFA's shortlist. Please mind UEFA may accept no more than two stadiums below 50,000 capacity.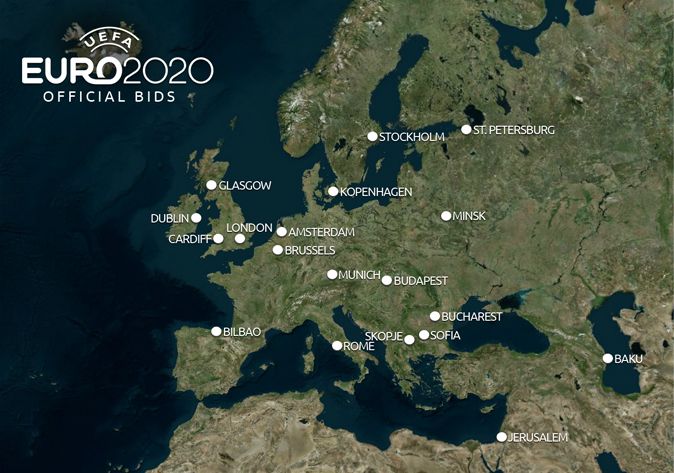 | | |
| --- | --- |
| | Azerbaijan, Baku Olympic Stadium (68,000). Though the final decision was made as late as April, this bid was almost always certain to go forward. Azerbaijan is very ambitious and the giant stadium scheduled for opening next year is a great proof of this attitude. |
| | Belarus, New national stadium (30,000). Initial plans were to redevelop the current Stadion Dinama into a 40,000-capacity football stadium, but these have changed. The old ground will be downscaled twice and left with a running track, while completely new state-of-the-art stadium is expected in a different part of Minsk. |
| | Belgium, Parking C Stadium (60,000?). Belgium applied for the regular package of games with the new national stadium. While no final design is in place, the location next to current Koenig Boudewijn Stadion seems solid. 9 companies are already bidding to build it, all funded privately. To make the venue viable the national team will play all their games there, while Anderlecht are also said to contemplate moving there. Final capacity may be below 60,000. |
| | Bulgaria, Stadion Ovcha Kupel (30,000). The new national stadium of Bulgaria will be built in south-western district of Ovcha Kupel, where current Stadion Slavija (pictured) stands. The national football association, Slavija football club and German developer IFS reached an agreement that will see the new arena built privately. |
| | Denmark, Parken Stadion (38,065). Consequently from the start, Denmark chose to put forward the national stadium bid. After its last 2009 renovation Parken resembles an office block more than a stadium, but in turn offers great hospitality areas. |
| | England, Wembley (90,000). Just as predicted before England chose their national stadium and are now almost certain of getting hold of the final and both semifinals in London. This is the only bid oriented solely on the top package with Turkey out of the race. Although London has applied for the basic package as well, it would be very unlikely for the largest stadium to hold group games. |
| | Germany, Allianz Arena (71,000). Consequent capacity increases in recent years allowed Bayern's home stadium to exceed the required 70,000 for final games of the tournament. Still, Allianz Arena was filed for both the top and regular package, as if DFB was aware of Wembley's advantage. |
| | Hungary, Nemzeti Sportkozpont (65,000). The new national stadium of Hungary already has all governmental guarantees to be built. Whether Hungarians actually need a giant like that is another question, but with the country's stunning football traditions Budapest seems like a very strong contender. |
| | Ireland, Aviva Stadium (51,700). The recently-opened national stadium is backed by the football association, municipality of Dublin and the government in its bid to host Euro 2020. But competition from nearby United Kingdom countries is very stiff. |
| | Israel, New national stadium (50,000). It won't be completely new – the plan to reach 50,000 will be implemented upon existing infrastructure of the Teddy Kollek Stadium. All of the current 34,000 seats will be retained with a new upper deck and brand new roof installed atop. |
| | Italy, Stadio Olimpico (72,698). Contrary to Italy's initial bid, San Siro was dropped as host venue in favour of Rome's Stadio Olimpico. The stadium is severely outdated despite its recent upgrades, but no information was released about its potential improvements ahead of Euro 2020. |
| | Macedonia, Nacionalna Arena Filip II Makedonski (36,400). It used to be simply the stadium of Vardar Skopje, but since complete redevelopment ended in 2009 it's a state-of-the-art national stadium. Though athletic track is installed, steep and compact stands provide decent sightlines for spectators. |
| | Netherlands, Amsterdam ArenA (53,032). While Rotterdam may soon see a great redevelopment of De Kuip, it's Amsterdam that was selected to host Euro 2020. No information as to potential revamps of the stadium was released so far. |
| | Romania, Stadionul National (55,600). Having already hosted Romania's first ever Europa League final, the new national stadium is now fighting for the country's first Euro games. |
| | Russia, Zenit Arena (69,501). Since Saint Petersburg is Russian football's breeding ground, the controversial giant at Krestovskiy Ostrov was selected as the country's sole bidder. Despite its huge size, the stadium was filed only for lower level games. |
| | Scotland, Hampden Park (52,103). Renovated slightly ahead of this year's Commonwealth Games, the Scottish FA's home ground is competing against much newer stadia within the UK and Ireland. So far we have no information of potentially planned redevelopments ahead of 2020. |
| | Spain, San Mames Barria (53,000). Perhaps the biggest surprise of all. Despite Barcelona, Real, Atletico and Valencia having impressive plans, Spaniards chose a smaller stadium, the new San Mames. Perhaps because it's the only one guaranteed to be ready in time? |
| | Sweden, Friends Arena (54,329). Without great announcements and final countdowns, the Swedish FA submitted their bid in advance, proposing to hold 4 games at Friends Arena, the top class new national stadium. An obvious (and only) choice by the SvFF. |
| | Wales, Millennium Stadium (74,500). With London just around the corner Cardiff was always in the shadow football-wise. Will this be a change? Millennium Stadium can surely hold 4 large games in the group phase… |