Winnipeg: Canad Inns Stadium awaiting demolition
source: winnipegfreepress.com; author: michał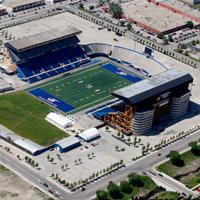 As Blue Bombers move to their new Investors Group Field, the outdated Canad Inns Stadium is being prepared for demolition. Bad new for people enjoying buildings blown up – it will be deconstructed piece by piece. Winnipeg Free Press report.
Within 10 days demolition works should begin at Winnipeg Canad Inns Stadium. Currently it's being checked and prepare for the works.
Gas, electricity and plumbing need to be disconnected and hazardous materials accounted for and removed. Numerous elements have already been sold to fans late last year as memorabilia.
It's not clear how long the process may take as, unlike many other large buildings, this one will not be taken down with explosives. Machinery will remove its structure piece by piece and exact duration depends on actual progress of the works. It's confirmed demolition will start in the north-east part.
However, it's clearly not possible for the venue to last until its 60th anniversary, which would have been August 14.
Canad Inns Stadium will be replaced by a commercial outlet as Blue Bombers move to Investors Group Field, which needs only minor works to be ready for opening in May.